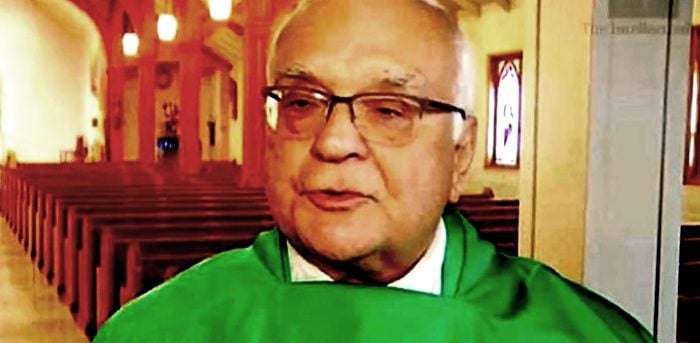 WHEN you're in a hole, keep digging yourself in deeper. That seems the thinking of Rhode Island priest Reverend Richard Bucci, above.
After he was blasted for turning communion into a "political weapon" by barring 44 lawmakers from acting as witnesses to marriages, becoming godparents or performing any reading at a wedding or funeral because they supported the state's abortion protection bill, Bucci responded by saying that abortion kills, but paedophilia doesn't.
Initial outrage erupted after Bucci announced his ban in a flier sent to his parishioners and the lawmakers. A petition – "It's wrong to play politic with Communion" – was immediately set up by Faithful America. It has so far been signed by more that 12,000 people. The petition says:
Another priest is denying Holy Communion to lawmakers, this time in Rhode Island – and he's doing so with the tacit approval of his bishop.

Fr. Richard Bucci recently published a list of pro-choice state representatives in the bulletin of Sacred Heart Church, West Warwick, announcing that not only may the lawmakers not receive Communion, they also may not serve as godparents or read at weddings and funerals.

Bucci even mailed the flyer to some politicians' homes, leading one lawmaker to call it a personal attack on her family. This is no way for a pastor to show love to God's children – and it is a serious violation of the separation of church and state.

Communion, a sacred form of worship started by Jesus Christ himself, should never be turned into a political weapon. We need to show Bucci and Bishop Thomas Tobin that Catholics and other Christians are outraged whenever worship is hijacked for political purposes!
Bucci then went on to attract more outrage by telling local station WJAR that:
Paedophilia doesn't kill anyone and this does.
He claimed that more children have been killed by abortion than have been abused.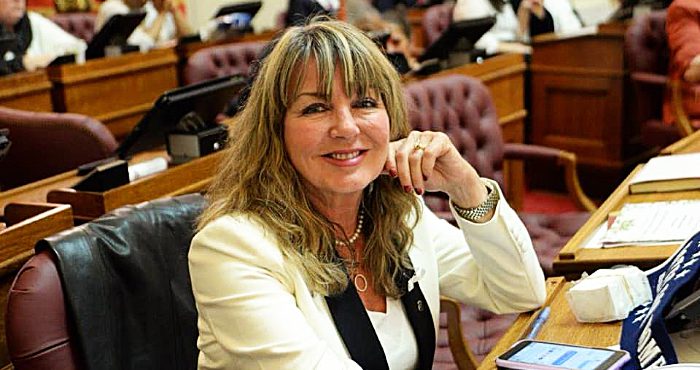 State Representative Carol Hagan McEntee, above, a Democrat who championed Rhode Island's law to extend the statute of limitations for child sex abuse survivors, was horrified. She told CBS News:
When he says that paedophilia doesn't kill people, well, he clearly doesn't understand. He should've come to the statehouse and listened to the testimonies because there are lot of victims who are no longer with us. The injured voices that I heard — they've stolen their childhoods.

They've practically destroyed their lives. And the ones we still hear from are the lucky ones because they're the ones who are still alive; they didn't die of an overdose or suicide. You know, there's plenty of those that never made it long enough to come forward.
McEntee has had a long and fraught relationship with the Sacred Heart Church. She and her older sister, Ann Hagan Web, attended Sacred Heart School from kindergarten through the eighth grade. Ann alleges that she was repeatedly sexually molested by a priest there, who is now deceased, for approximately seven years, beginning when she was just 5 years old.
McEntee's colleague, State Representative Julie Casimiro, whose name was among those published in the flier, said:
The Catholic Church needs to take a look at themselves and ask why they are closing churches and losing worshippers.
In the immediate aftermath of distributing the flier, Bucci told the Providence Journal that local lawmakers were upset because their names and votes were made public:
If they are proud of what they have done, why do they want to keep it a secret?
The issue, however, is not that the votes were made public. In fact, one Democratic state representative called that "laughable," because their votes on every issue are already listed on the General Assembly's website as soon as they are tallied.
McEntee told CBS News that she believes Bucci's letter is less a response to the Reproductive Privacy Act than it is a reaction to her work with child sex abuse survivors.
I just think it's concerning that this is the church that is taking issue with this, out of all the churches in Rhode Island. Personally, I feel this is a continued attack by him on me and my family because of what happened to my sister. And he's come up with this latest way.
Her colleague Julie Casimiro said of banning list:
This is retribution to the Hagen-McEntee family for shining the light on sexual assault within the Catholic Church and Sacred Heart, in particular.
In a fiery Facebook post after the flier was made public, Casimiro went a step further, suggesting that the General Assembly should respond to Father Bucci's list of lawmakers not welcome in his parish by posting:
A list of paedophile priests not welcome at the State House. That is a much longer list.
Rhode Island residents have also expressed their anger at Bucci's decision on the petition.
One said:
If the Catholic Church is going to keep behaving like a right-wing political organization – ending the separation of Church and State – then it is time to start taxing them and to stop exempting them from secular legislation.
Another commented:
You make me ashamed to live in Rhode Island. You are making the name of Christianity repugnant.
Reverend Nathan Empsall, Campaigns Director for Faithful America said:
While it is heartening to see so many signatures on this petition so quickly, it is also not surprising. Christians know that Jesus loved everyone, broke bread with sinners and outcasts, and is never recorded turning anyone away from his table. Rejecting someone in the name of Jesus Christ simply because of their voting record is such an incredible distortion of the Gospel.
Empsall added that Bucci "could not be more wrong" with his paedophilia comments.
Clergy abuse has been the cause of far too many suicides. There should be no place in God's house for disrespecting and dismissing the victims of pedophilia the way that Bucci has done.