EARLIER this month there were jubilant scenes in Switzerland when voters approved a new law that will make it illegal to discriminate against people because of their sexual orientation.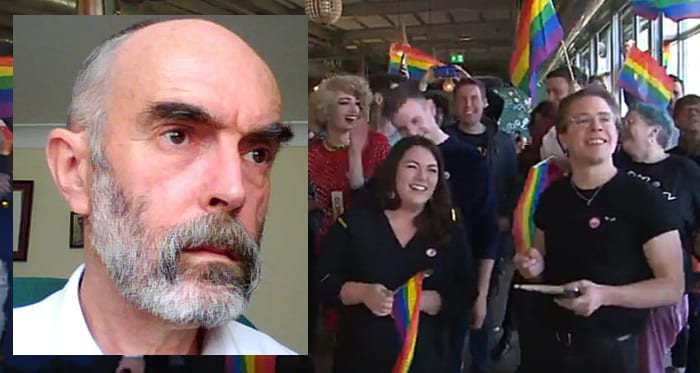 The country voted in favour of the anti-homophobia national referendum by a majority of 63.1 – a fact that has deeply annoyed Dr Campbell Campbell-Jack, inset, who complained that:
Geneva has long abandoned the faith of Calvin, Farel, Beza and Knox. Switzerland's Reformed Church even backed the new law.
So who is this Campbell Campbell-Jack geezer? His Grain of Sand blog says:
An insomniac Scots Calvinist looks at the Church and the world and wonders where it all went wrong.
According to Campbell-Jack, a retired Church of Scotland parish minister , what went wrong in Switzerland is that:
The new law will lead to an inevitable stifling of debate and restriction of democratic freedom. At present same-sex marriage is still not recognised in Switzerland, but there is legislation moving through parliament to legalise same-sex unions.

What will be the impact of the hate speech legislation when upholders of normal marriage enter into the national debate whilst rejecting same-sex marriage?

Will speaking against the legalisation of same-sex marriage be an act of public homophobia worthy to be criminalised? How clearly can biblical Christians express their opposition without falling foul of the law? Even with the firmest assurances, there will still be an amount of self-censorship on the part of Christians, just in case.
Campbell-Jack added:
Anyone who opposes the predominant progressive culture is understood to be weird, even deranged and in need of treatment … Our experience in Britain shows that it will lead very quickly to efforts to silence individual Christians in the public square, especially in corporate life, all branches of education and areas of public service, from speaking on the basis of that citizen's own Christian convictions.

Christians have to accept that we are non-conformists in a world that increasingly demands conformity to non-Biblical standards.
A while back, writing about rulings against Christian bigots by the European Court of Human Rights (ECHR) the old fool said:
We have freedom of worship and can meet in buildings and sing hymns and pray. We cannot, however, come out of those buildings and allow our faith to inform how we live our daily lives. We do not have freedom of religion.

Yesterday's rulings are another step towards marginalising the Christian faith and turning it into a private hobby. In the eyes of the ECHR Christianity is akin to train spotting or embroidery, interesting if you like that sort of thing but with little impact on the day to day world.
Campbell-Jack also has a bone to pick with the authorities in Finland, who are are apparently investigating Rev Dr Juhana Pohjola, leader of the Evangelical Lutheran Mission diocese of Finland, for hate-speech aimed at LGBT communities.