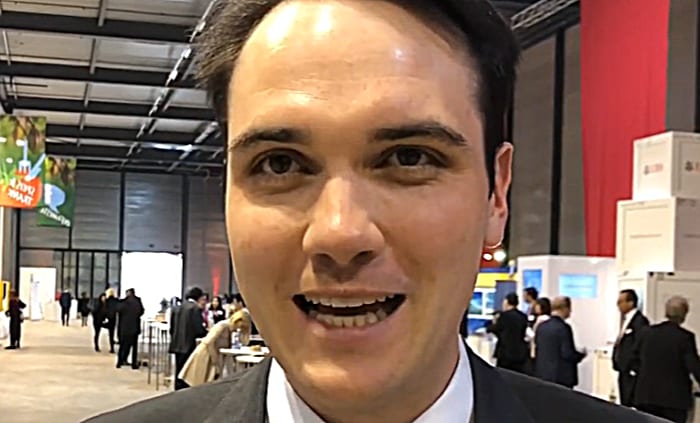 HOSTILE media coverage in Switzerland last year that exposed the anti-abortion and anti-gay agenda of a faith-based chocolate manufacturer has led to Swiss International Air Lines severing ties with the company, headed by Johannes Läderach, above, an evangelical Christian.
For ten years, little boxes of Läderach pralines were given to some passengers flying on SwissAir. But from mid-April the practice will cease.
Läderach's head of marketing, Patrick Onken, said the split was the result of the airline having concerns about the negative coverage.
Swiss news magazine Beobachter said headlines like "Chocolate king fights against abortion and homosexuals" last September were:
Clearly too much for the airline, which has many gay crew members.
Johannes Läderach recently denied being homophobic or misogynist but repeated his opposition to same-sex marriage and a woman's right to have an abortion.
Business continued to grow in 2019, but we have customers who no longer buy from us. However, new customers came into the shop.
Beobachter claimed Läderach would not say how many companies had severed links, but the chocolate maker pointed out that:
In almost all cases a direct conversation could clear up the situation.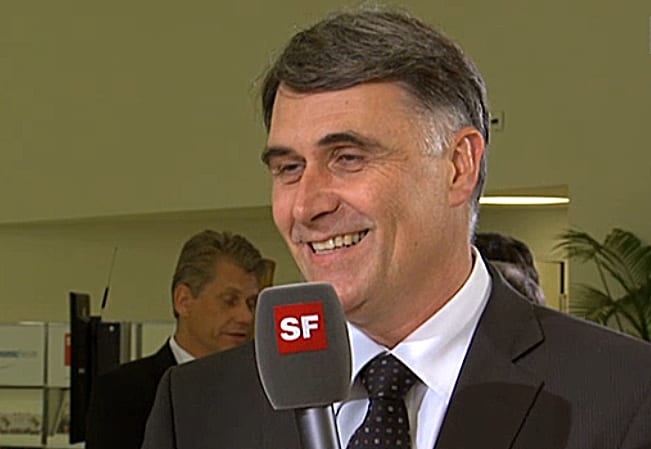 Läderach, according to this report, is a member of an extremist anti-LGBT+, anti-abortion organisation called Christianity for Today (CFT). His father, Jürg Läderach, above, is the group's President.
CFT has also campaigned against sex before and outside marriage, pornography, the musical Jesus Christ Superstar and Harry Potter.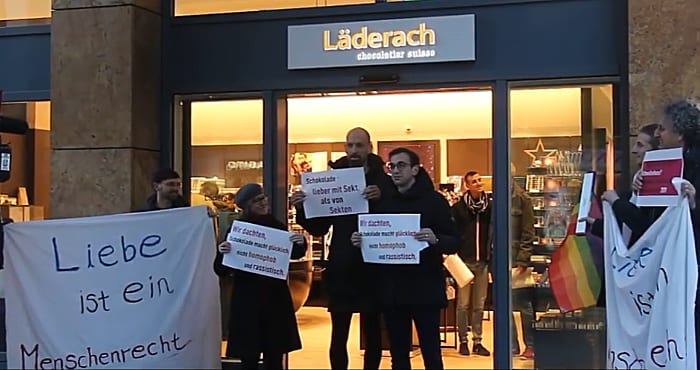 The LGBT+ community in Switzerland has been calling for a boycott of Läderach chocolate shops, and a flashmob chanting "chocolate makes you happy, not homophobia and racism" gathered outside a Läderach branch in Zug last December. Same-sex couples in the flashmob took turns kissing outside the store.
In October 2019, a brand of the chocolate shop in Basel had to be evacuated after a protester let off a stink bomb.
In an interview with the newspaper NZZ am Sonntagexternal, Läderach made "a feeble" attempt to defend his views, and said that he couldn't be homophobic because he employed gay people.
I understand it if people value a woman's right to choose more than an unborn child's right to life. But I ask for understanding for my opinion. I'm allowed to have a different opinion.

No one at Läderach is homophobic – neither the management nor the staff. We have homosexuals working for us. We don't ask about it. Läderach has a zero-tolerance policy regarding discrimination.
The 33-year-old Swiss chocolatier added that he would not be changing his views.
I don't want to stop fighting for my Christian values just because we're having success as a company. Ultimately what counts is not how much profit we make but whether we stand by our convictions.
When CFT was celebrating its 25th anniversary in 2017, Jürg Läderach, speaking of its history, said:
In the 1990s, the general moral decline continued practically worldwide. A small group of young men and women felt compelled to stand up for Christian values in politics and society.
Läderach said the founders saw:
The necessity of representing biblical values in a non-partisan and non-denominational way. For this purpose they founded Christians for Truth.
Originally started in South Africa, the organisation spread to Europe, where in 1992, almost simultaneously, offshoots were founded in Germany, France, Belgium, the Netherlands and also in Switzerland. The outfit was recently renamed Christians for Today.