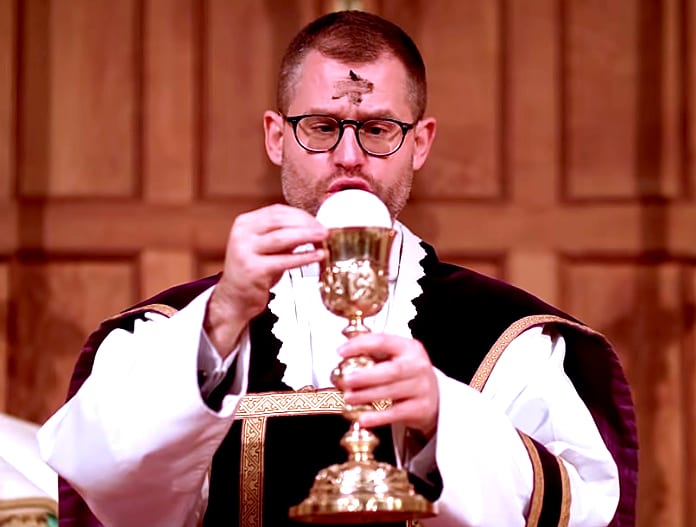 YESTERDAY was Ash Wednesday, a virtue signalling occasion that marked the beginning of Lent and gave silly Christians the opportunity to have ashes daubed on their forehead – a practice that can have dire consequences.
Never passing an opportunity to trumpet his faux piety, Trump used the day to send out a message to his adoring Christian followers:
For Catholics and many other Christians, Ash Wednesday marks the beginning of the Lenten season that concludes with the joyful celebration of Easter Sunday. Today, millions of Christians will be marked on their foreheads with the sign of the cross. The imposition of ashes is an invitation to spend time during Lent fasting, praying, and engaging in acts of charity.
Trumplethinskin or Trumpzilla or the Orange Tornado as he's sometimes called, added:
This powerful and sacred tradition reminds us of our shared mortality, Christ's saving love, and the need to repent and accept the Gospel more fully We join in prayer with everyone observing this holy day and wish you a prayerful Lenten journey. May you grow closer to God in your faith during this blessed season.
Some years back, in the print edition of the Freethinker, Richard White wrote:
As a young child I attended a Catholic primary school, and every year we would be ushered into the school hall for the priest to wipe some ash onto our foreheads, in the shape of an archaic torture device. The act of human graffiti was accompanied by the usual Catholic guilt trip: "Jesus… sins… died… sinner… not worth… sin… punishment… reflect…" – you know the routine. But we were told this was Lent.
As an adult, I don't even think about Lent, except for the past couple of years when my social media feeds keep informing me about what people are giving up. Usually anything with sugar but particularly chocolate and alcohol.
In previous years I've simply viewed these posts and thought nothing of them except preferring my own choice of eschewing Lent itself. But this year, skimming Facebook soon after waking and seeing more of these statuses, I realised how trivialised Lent has become for so many modern Christians. Considering that this period began as a time of penance, to make the sacrifice of useful things, to share in Christ's suffering and perhaps to help others to connect with God, it demonstrates a true bastardisation of it to use that time to give up chocolate instead.
Actually, I find it sad, sometimes grotesque, that people are putting themselves through a level of self-imposed punishment for the sake of a bronze-age myth.
My musings on the trivialisation of Lent have more to do with how much the meaning of these holidays and traditions has been lost. One could argue that they only continue through name and not action for so many people. I also find it particularly amusing, and somewhat ironic, that people spend Lent avoiding chocolate and sugar, only to feast on chocolate eggs when Easter rolls around.
Could this be a sign that the power and respect religion once commanded is slipping? That Lent, one of the big events in the Christian calendar, has now been reduced to something like a 40-day New Year Resolution affair rather than a spiritual reflection of self and God, and their relationship?
It could be an indication that Christians are no longer using this time to re-establish a connection with their creator, nor to reflect on their shortcomings or how grateful they are Jesus's sacrifice, but instead to focus on their waistline or consumption levels – actions that are necessarily selfish.
Put another way, many modern Christians are not using an important religious holiday to focus on their religion, morals, spirituality or beliefs, but to embark on vanity projects instead.