THAT'S the view of Mike Berry, above, of the First Liberty Institute, who has intervened in a row concerning a 12-week seminar called 'Lead Like Jesus' at Naval Station Newport in Rhode Island. 
Last month a flyer promoting the seminar – sent out by Cmdr Richard Clay Smothers, chaplain at the station – caused widespread anger and sparked a demand by the Military Religious Freedom Foundation (MRFF) to investigate the ad and punish those who sent it.
Berry is now claiming that the MRFF is unfairly targeting the chaplain – and that that it's perfectly legal to study Jesus's leadership.
In fact, some of our military leaders would do well to study Jesus' leadership a bit more. None other than our first commander in chief, George Washington, looked to Jesus as a model of leadership.
But retired Air Force Brigadier General Marty France — a MRFF board member — sees things quite differently. Last month he fired off an email to the base commander, Capt. Ian L Johnson, urging him to:
Move quickly on this blatant violation of the Constitution (that we both swore to uphold) as well as DoD regulations.
France asked Johnson if he would be comfortable with a subordinate who publicly called on commanders to "Lead like Mohammed" or pitched a pro-atheist message on how to lead others.
Please, swiftly and effectively put an end to this Constitutional mess and make sure that, as I'm sure you agree, there is no single religious perspective that is considered a necessary or sufficient condition for leadership in your or any command.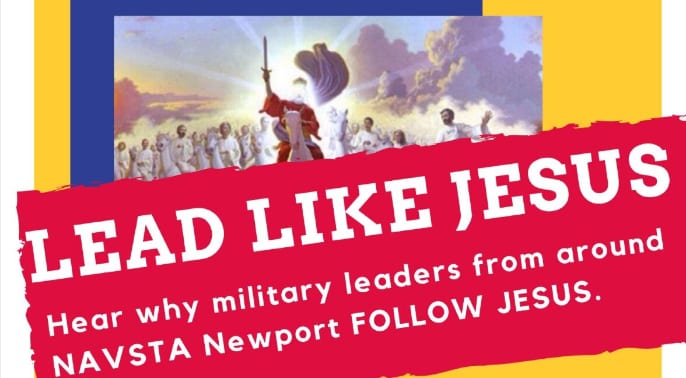 Sent to leaders of the tenant commands at the Rhode Island base, the flyer featured an image of Christ on a stallion, sword drawn, leading a host of white robed angels at full gallop across the clouds.
MRFF founder Michael L "Mikey" Weinstein told Navy Times Smothers appears to have "weaponised Christianity" in his message and called for those behind the outreach to be:
Visibly and aggressively investigated and punished. Nothing could be more disruptive to good order and discipline and unit cohesion than a message like this.
Weinstein claimed that more than 40 military members had reached out to his foundation to complain about the chaplain's message. The majority were Christians, Weinstein added.
Had Smothers sent the message to members of his own flock, and not an entire command staff of diverse faiths, it wouldn't have violated constitutional protections or Pentagon and Navy regulations.