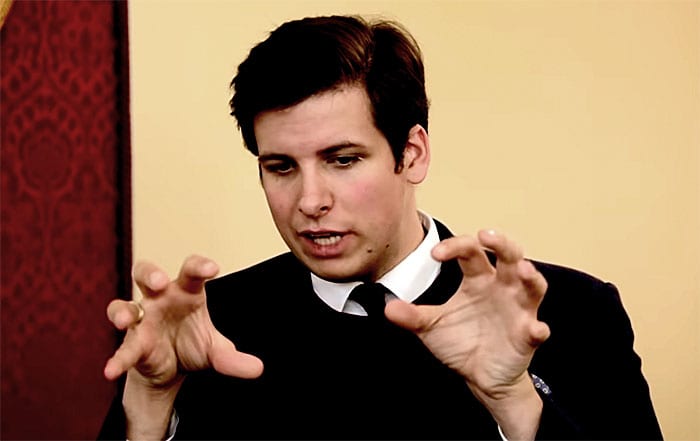 ALEXANDER Tschugguel, one of two Catholic vandals who threw Amazonian idols into the River Tiber last year, is reportedly 'in a bad way,' having caught the Coronavirus. He was struck down apparently after speculating that the pandemic might be God's way showing disapproval for Rome's accommodation of several Pachamama statues.
According to Church Militant, he convalescing in his native Austria "and is in great need of prayers."
Catholic author Taylor Marshall said in a video:
Alexander Tschugguel has the Coronavirus and is in bed with a high fever for a week. He and his wife would like to start a prayer call for him. He's not in good shape but so far out of the hospital. It's really got him in a bad way.
Archbishop Carlo Maria Viganò praised Tschugguel in November as a "hero" for defending the first Commandment that forbids idolatry.
Like many others, including Bp. Athanasius Schneider and Prof. Roberto de Mattei, I think that this young man is a hero. He is a person who wished to defend the first Commandment.
He became a poster boys for many Catholics for standing against what many considered an act of idolatry committed by worshippers of Pachamama statues in the Vatican during the Amazon Synod.
After pitching several statues off the bridge in front of Castel StAngelo, Tschugguel told Church Militant that he had received broad-based support from Catholics in Austria, France, Germany, Britain, Italy and elsewhere including the United States.
In an interview with Marshall he wonders aloud whether the global pandemic is related to the worship of Pachamama in the Vatican.
President of the Italian Episcopal Conference, Cdl. Gualtiero Bassetti, is thinking along the same lines. In March, Bassetti apparently conceded that the pandemic may be interpreted as a form of chastisement owing to a rebellion against God. Asked during an interview earlier this month if coronavirus was a divine chastisement, Bassetti responded by quoting Scripture.
Your wickedness will chasten you, and your apostasy will reprove you (Jeremiah, 2:19).
Marshall finished his plea by urging Catholics to specifically pray the Rosary for Tschugguel.
Pray the Rosary for Alexander. If you don't pray the Rosary every day, you're not on the team, Let's lift up a guy on the team, Alexander Tschugguel. He has corona. Pray for him.
Two days ago Church Militant confirmed with Tschugguel he continues to do poorly.
Last year, the anti-gay Tschugguel lead a protest against the historic Catholic cathedral of St Stephen in Vienna when it hosted its third 'blasphemous' AIDS charity event in November.