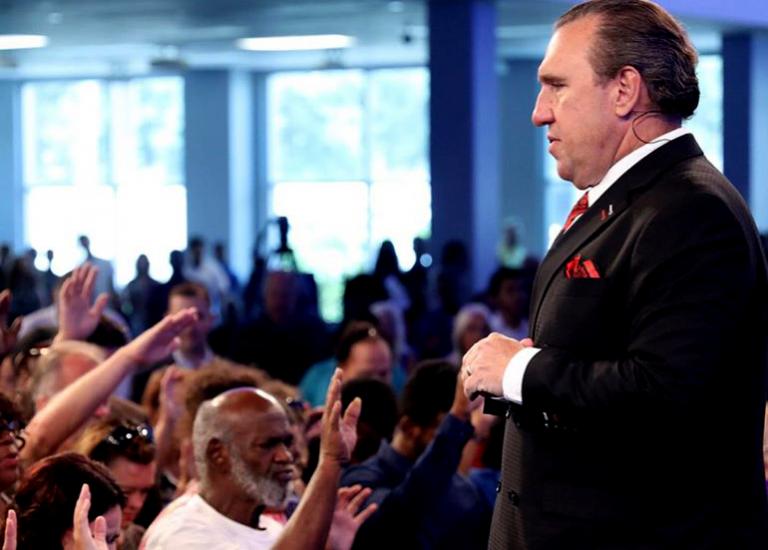 IN a round-up headed 'Coronavirus and the Christian crazies', published on March 17, I included right-wing pastor and radical conspiracy theorist 'Dr' Rodney Howard-Browne, above, who vowed to keep his church, The River at Tampa Bay, open despite COVID-19. He defiantly declared, 'we're raising up revivalists, not pansies.'
Well, yesterday (Monday) millionaire Howard-Browne – (AKA "The Fleecer" because he is alleged to have once said of his followers "sheep needed to be fleeced or they would have too much hair and could not see where they are going) – was arrested for being in direct violation of a social distancing order issued last Friday by Hillsborough County officials.
Said Hillsborough County Sheriff Chad Chronister:
We received an anonymous tip that Dr Rodney Howard-Browne refused a request to temporarily stop holding large gatherings at his church. Instead, he was encouraging his large congregation to meet at his church.
Soon after, the sheriff, along with Hillsborough State Attorney Andrew Warren, filed two of charges against Howard-Browne, including unlawful assembly.
Howard-Browne, creator of a DVD entitled Who Wants to be a Millionaire, was booked into the Hernando County Jail and was charged with unlawful assembly and violation of public health emergency rules. A violation of the county's "safer-at-home" order is considered second-degree misdemeanors punishable by up to 60 days in jail and fines of up to $500. Howard-Browne posted bond of $500 and was released.
In a statement posted earlier this month on Facebook and on its website, the church explained why it's keeping its doors open when so many other places across the state and nation are closing.
The statement read in part:
In a time of national crisis, we expect certain institutions to be open and certain people to be on duty. We expect hospitals to have their doors open 24/7 to receive and treat patients. We expect our police and firefighters to be ready and available to rescue and to help and to keep the peace. The Church is another one of those essential services. It is a place where people turn for help and for comfort in a climate of fear and uncertainty.

Therefore, we feel that it would be wrong for us to close our doors on them, at this time, or any time. In a time of crisis, people are fearful and in need of comfort and community, more than ever before.
Here are a few fast facts about Howard-Browne culled from Wiki:
⭐ He is originally from South Africa and came to the US in pursuit of the elusive dollar in 1989 – and soon found it.
⭐ He invented the concept of "holy laughter". His services are characterised by laying on of hands and worshippers giggling with apparent drunkenness, speaking in tongues, making animal noises, breaking into uncontrollable "holy laughter", shaking with mirth, dancing in the aisles, or falling to the ground. He refers to himself as "God's bartender" and the "holy ghost bartender." Some are so affected they feel physically unable to get up, stuck in what they call "Holy Ghost glue." These believers say they are "slain in the spirit."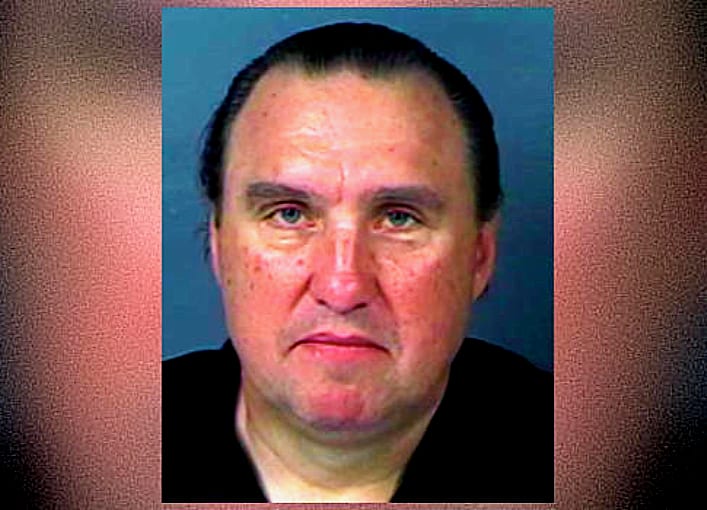 ⭐ He fancied himself as a second Billy Graham. He first came to national prominence in the US in 1999 when his Revival Ministries organisation rented Madison Square Garden in New York City for six weeks. The event, called "Good News New York", was described as "an effort to achieve a Billy Graham-style faith uprising", but was "derided in local media as a giant flop". It was estimated to have cost him in the region of $10 million but only 3,000 people were in attendance at the 19,000-seat arena. Investigative journalists in his home town of Tampa reported at the time that since arriving from South Africa almost penniless in December 1989, his sudden wealth included a boat, a Harley Davidson motorcycle, a home in one of Tampa's exclusive gated communities and access to a private jet; however, they were unable to find evidence of financial wrongdoing.
⭐ In 2012, it was reported that Howard-Browne's River Church had hosted political meetings for the Florida chapter of the Republican Party during the preceding two years, including a rally for then presidential candidate Newt Gingrich, at which Howard-Browne called for a national "rising" of Christian Americans "that will not sit idly by and allow the killing of unborn babies and allow Islam to take over this country". At the same event, he described Mormonism as a "cult" that, in the 19th century, "had death squads that would go around killing everybody that was not a Mormon". He later took the remark back, saying Mormons were "honourable people".
⭐ Howard-Browne's evangelical movement has been rejected as cult-like by many mainstream Christian organisations, and it has been described as "a combination of brimstone and fire about God's power, sprinkled with hipster references and a conviction that church – like Disneyland –should be 'the happiest place on earth'." The Christian Research Institute labelled his operation a "cult" and called the him "a good stage hypnotist" who has made millions from vulnerable believers. According to The Tampa Tribune, critics have described him as "a manipulator leading followers into a cult; a circus ring leader making a good living."
⭐ Howard-Browne claimed to have earned a "doctorate of ministry degree" in 1992 from "The School of Bible Theology", a non-accredited Pentecostal correspondence school in San Jacinto, California, which has been described as a "diploma mill".
The charlatan's Revival Ministries was due to hold a shindig in Washington DC in April, but its website – with a prominent "invest" button – says: "Celebrate America 2020" has been postponed:
Due to the District of Columbia rulemaking that prohibits certain mass gatherings of two hundred and fifty or more persons
Every cloud and all that …
Hat tip: Mark Palmer and BarrieJohn