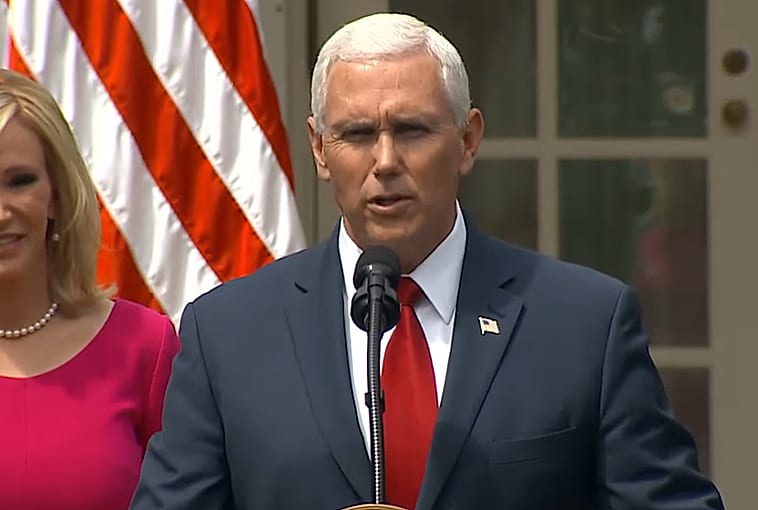 WHEN it was announced last week that Trump had appointed Vice President Mike Pence, above, to pray away the Coronavirus reaction ranged from howls of derision to outright horror.
A photo of the all-male Cononavirus task force at prayer in the White House was seized on by New York Times Magazine writer Thomas Chatterton Williams who tweeted:
Mike Pence and his coronavirus emergency team praying for a solution. We are so screwed.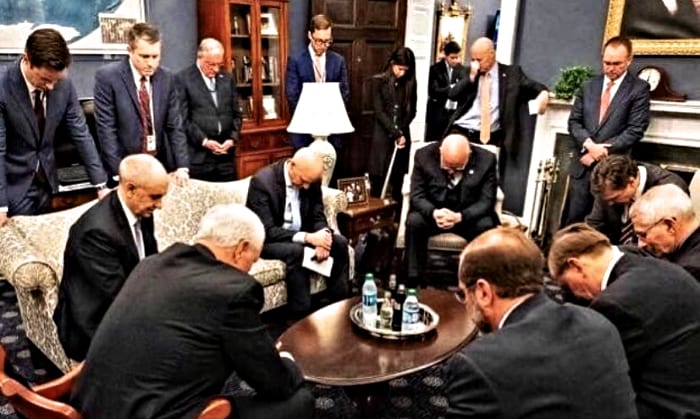 A perfectly justifiable reaction, given that Bible-believing Pence's record on public health is pathetic. As governor of Indiana, he slashed public health spending and delayed the introduction of needle exchanges, which led to the state's worst outbreak of HIV.
Pence also has a history of downplaying the link between smoking and lung cancer, writing in a 2000 op-ed that:
Despite the hysteria from the political class and the media, smoking doesn't kill.
Yale epidemiologist Gregg Gonsalves, who conducted the research linking the Indiana HIV outbreak to Pence's policies, tweeted:
Oh my f—cking god. He's putting @VP Mike Pence in charge of #coronavirususa. This is a man that totally botched HIV outbreak in Indiana. This is not a good idea and speaks to a lack of seriousness by the @WhiteHouse.
And as for his Pence's knowledge of science, well, this report on his stance on evolution – "it's just a theory" – says it all.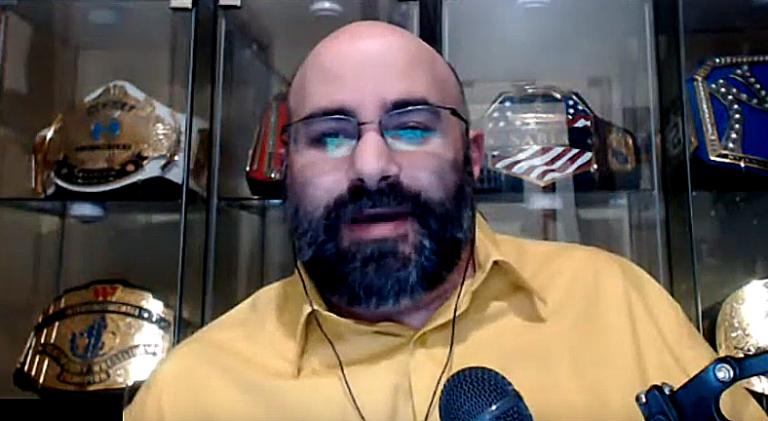 Not best pleased by the reaction to Pence's appointment as "Coronavirus czar" is Carmine Sabia, above, a far-right radio host, who writes for the Western Journal. Yesterday he thundered:
The left will use any reason to hate on Vice President Mike Pence, Christianity and white males, even during a pandemic.

It is a sad day in America when the act of appealing to our Lord for help is seen as worthy of mockery.

It is because many leftists do not comprehend what prayer means to us and what prayer is all about.

We are not praying for God to swoop in and cure the disease for us. We are praying for him to grant our doctors, scientists and researchers the wisdom to fix it.

We are praying for the strength to deal with this crisis and for those who are afflicted to be helped in their struggle.

Many of these people do not believe in God because they have treated him like the genie in the magic lamp in the past, and they did not get what they wanted when they made a wish.

That is not how this works. It has never been how prayer works.

And it is telling that when you see them mock a photo of a group of people praying those people are almost always Christians.
Meanwhile it's reported here that the French Shrine of Our Lady of Lourdes has announced that, while pilgrims were still welcome, the the pools the sick bathe in hoping for healing would be closed temporarily.
A note posted on the shrine's website said:
Our first concern will always be the safety and health of the pilgrims and the shrine's working community. As a precaution, the pools have been closed until further notice.
Hat tip: Robert Stovold (Lourdes)