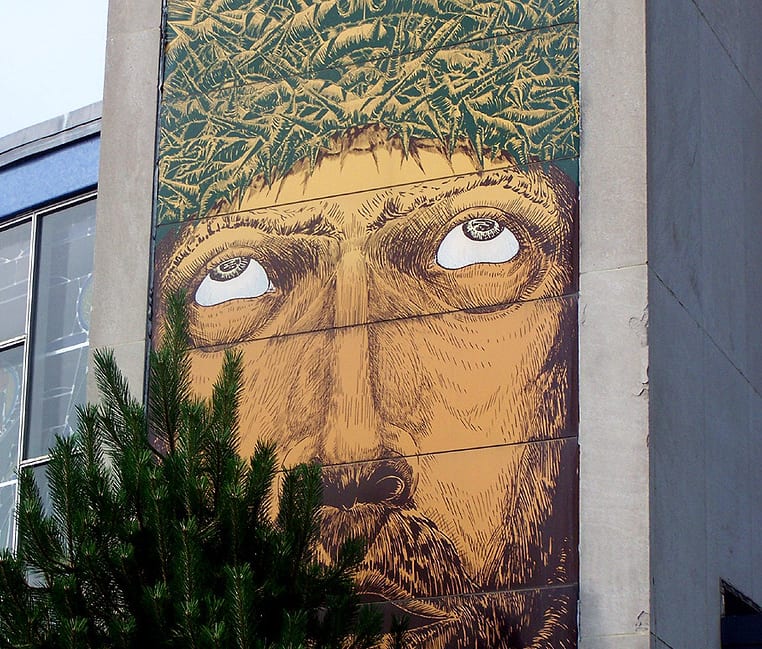 FOR years a 'creepy' Jesus mural had been hidden behind a tree planted outside the Holy Cross Church in South Portland, Maine. But, for reasons still unclear, the ailing pine was recently cut down, re-igniting a debate about the artistic merits of what people call 'Googley-Eyed Jesus'.
According to this report, one local who was delighted to see the tree come down and Jesus revealed was Amy Simpson Tavano, who said on Facebook:
I'm so excited to go see him. I've lived in this house long enough to see the tree planted, watch the tree grow, plot the tree's death and see my wishes fulfilled. What a day.
Others on Facebook were less impressed. One called it "Our Lady of the Bad Acid Trip" while another wrote:
My dad always used to say they ought to change the name from Holy Cross to Holy Shit.
Yet another chimed in with
The world needs Scary Jesus now more than ever.
Artist John Laberge created the landmark enamel and steel mural in 1980. It didn't become controversial until roughly two decades later when the church was undergoing renovations. Some locals and parishioners thought the image was "creepy" and wanted to see it taken down. Others thought it was a realistic depiction of their savior's pain and suffering.
At the time, Laberge refused to change the mural but said he would not fight efforts to get it removed. That's about the time the tree appeared.
In 2016, Monsignor Michael Henchal, who oversaw the parish including Holy Cross, told the Portland Press Herald that the tree's planting predated him and no one on his staff knew how or when it got there.
It's also unclear why the tree was removed this week. Messages to the Portland Roman Catholic Dioceses had not been returned by last Thursday.
Update: This morning I discovered a satirical piece headed "Atheists sneaking into churches and putting googly eyes on all the Christs." Made me laugh out loud.