YOU'D think by now that public schools in America would know that it's totally unconstitutional to emblazon biblical messages on their walls, but the message clearly didn't get through to a school board in Kentucky.
According to the American Civil Liberties Union (ACLU):
The Constitution commands that public schools may not take sides in matters of religion and may not endorse a particular religious perspective or any religion at all.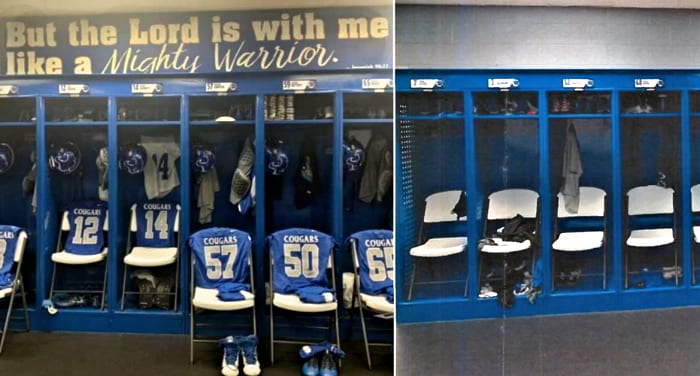 But even though the prohibition dates back to the 1960s, it didn't stop Letcher County Central High School painting a bit of Jeremiah 20:11 on a locker room wall. It was then was forced to obliterate this gratuitous bit nonsense.
When the Freedom From Religion Foundation got wind of this blatant violation last year it contacted Letcher County Public Schools District reminding it that public schools may not advance, prefer or promote religion.
FFRF first contacted the district in October after an area resident reported multiple instances of Letcher County Public Schools promoting and endorsing religious messages. A complainant reported that Fleming Neon had a display in its hallway that says "Jesus is my savior. You can't scare me!" and that Martha Jane Potter Elementary School posted a prayer on its official Facebook page:
Dear God,
Thank you for the gift of education in every form. As our children prepare to start a new year may confidence be their foundation, may grace be their guide and may hope be their compass toward a bright future. I pray they would have eyes to see the needs of those around them and a heart to love well. May they face each day with positivity knowing that no matter what comes their way, they do not have to face it alone. Amen.
In both letters of complaint, FFRF asked the district to remove all religious messaging and iconography from public school property in recognition of its constitutional obligation to remain neutral towards religion. FFRF Staff Attorney Chris Line pointed out at the time:
Courts have continually held that school districts may not display religious messages or iconography in public schools. These religious displays are particularly inappropriate, given that about 38 percent of Americans born after 1987 are not religious.
FFRF Co-President Annie Laurie Gaylor added:
The wanton displaying of religion all over the district shows a callous disregard for students who are not Christian. Public schools must be welcoming to all students, and must stay out of religious proselytizing.
Well, today (Wednesday) it was reported here that Letcher had caved in. Superintendent Denise Yonts, confirmed that the displays had been removed from Fleming Neon and Letcher.
The bulletin board has been replaced and the locker room has been repainted.
This pleased Gaylor, who said:
We applaud the district for taking action to remedy this violation. Students in our public schools are free to practice any religion they choose – or none at all.
But First Liberty Institute, a religious freedom law firm, said the district may have taken action too soon.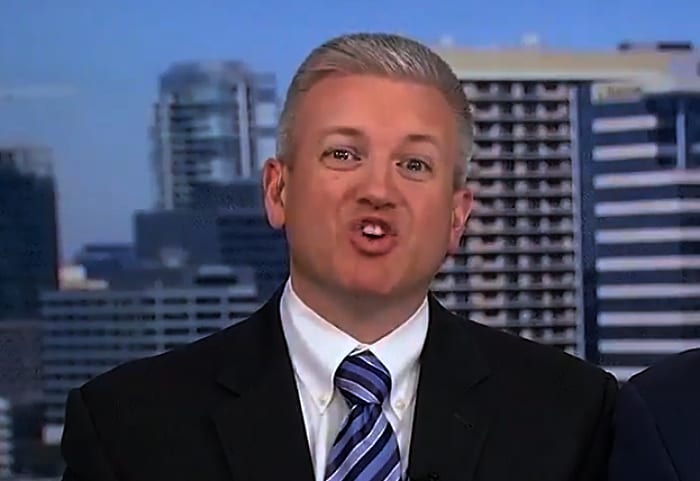 Hiram Sasser, above, General Counsel for First Liberty, said:
It is unfortunate that the school took such a drastic step before fully vetting the complaint and doing a proper investigation of the background facts. It may be the case that the school committed a First Amendment violation by erasing the messages, but until a full investigation is done, it's impossible to know the correct legal course.