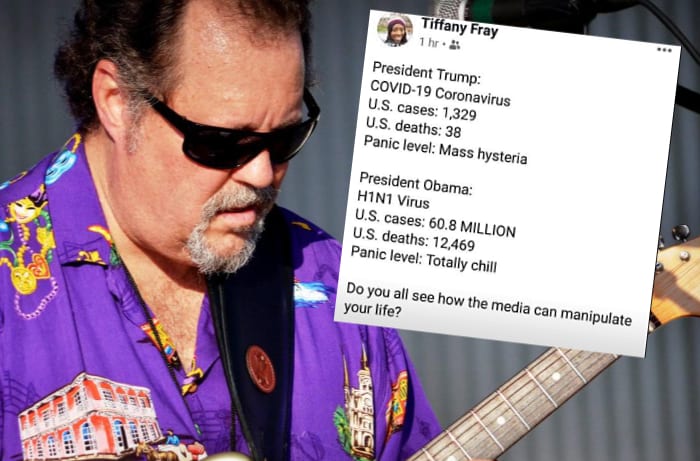 JUST 13 days after he a shared a graphic on his Facebook page suggesting that 'mass hysteria' over COVID-19 was being generated by the media to get at Trump, Virginia pastor Landon Spradlin, 66, died of the virus.
There's always a temptation to point and laugh when reports such as this surface, but, from what I've read, it appears that Spradlin was a really nice guy who chose to bring Jesus to the masses via music and not thunderous hell-and-damnation rants.
He was a highly acclaimed singer who was inducted into the Blues Hall of Fame in 2016.
He led a number of non-traditional churches, including one in the 1990s that was located between two strip clubs in New Orleans and another for bikers in Texas that met at a bar.
Jesse Spradlin, the couples' daughter, described him as "a modern-day Apostle Paul" and Judah Strickland, another of his daughters said:
My father was a very big bunch of people-loving, Jesus-loving dynamite in a small package.
McGrath's wife, Kirsten John, was an atheist the first time she walked into the Spradlin's church in Gretna. But when Spradlin prayed over her, she said she felt "something bubbling" in her stomach.
He had to be the only person that made me feel like Jesus was actually real. He was a rare gem.
Three days before he became ill, Spradlin was in close contact with a lot of people in New Orleans, where he performed for homeless people. On his Facebook page the following exchange erupted as a result his presence there: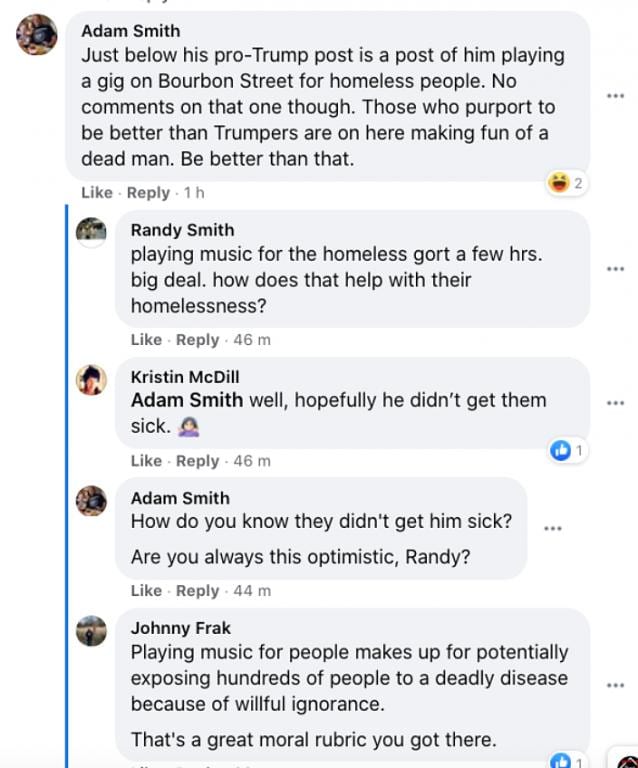 Many of the comments on Facebook are downright nasty. Let's not react in the same manner here.
Meanwhile, it's reported from India that a Sikh priest, who had ignored advice to self quarantine after returning from a trip to Italy and Germany, has died. The man, identified as Baldev Singh, 70, had visited a large gathering to celebrate the Sikh festival of Hola Mohalla shortly before his death.
A week after his death, 19 of his relatives tested positive – and the authorities in the northern state of Punjab have quarantined around 40,000 residents from 20 villages following a Covid-19 outbreak linked to Singh.
Hat tip: BarrieJohn.