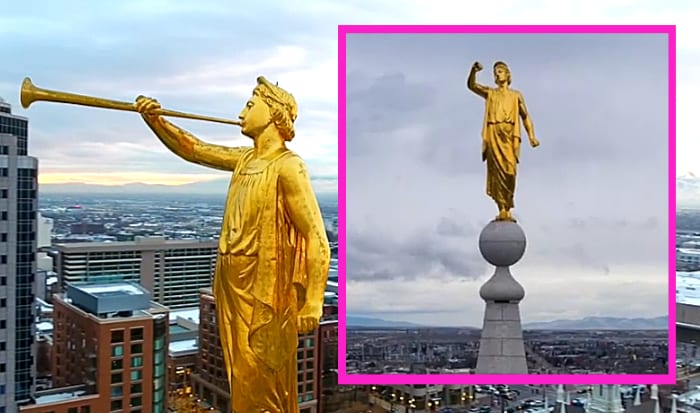 THE news that the Angel Moroni lost his horn in an earthquake on Wednesday gave evangelist Adam Fannin of Law of Liberty Baptist Church in Jacksonville, Florida, a marvelous opportunity to remind his followers in a YouTube video that Moroni is not an angel but 'Satan or Lucifer.'
The statue stands atop the Mormon's Salt Lake City's iconic temple which is "the spiritual focal point" for the 16 million members of The Church of Jesus Christ of Latter-day Saints.
Said Daniel Woodruff, a spokesman for the church:
The trumpet on the Angel Moroni statue fell off, and there is minor displacement of some of the temple's smaller spire stones.
Aerial photos show the fallen trumpet appeared to land on the roof of the temple near the base of its spires.
The Salt Lake Temple, dedicated in 1893, was the first temple topped with Angel Moroni, according to the church. The 12-foot-5-inch statue, made of copper and gold leaf, stands on a stone ball atop the 210-foot central spire on the east side of the temple.
An iconic symbol of the faith, Moroni stands atop most of the church's 134 temples worldwide.
The church teaches that Moroni was an ancient prophet who led Joseph Smith to the golden plates from which the Book of Mormon was translated. Moroni's horn, the church says, symbolises spreading the message of the restoration of Christianity that members believe was begun by Smith.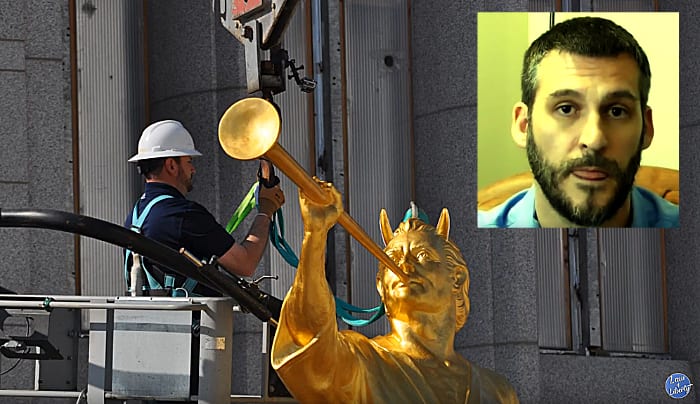 Fannin, inset above, who gave Moroni TWO additional horns in his video, is a seriously deranged homophobe and anti-Semite.
Last year he called for the death of comedian Sarah Silverman who tweeted video of Fannin telling parishioners that she is a "witch".
During the sermon, Fannin used extremely offensive remarks about Jewish people and said he hoped she dies.
You know these Jewish false prophets, anti-Christian, anti-God, they're willing to put Jesus to death again. You heard this comedian Sarah Silverman? You guys know who I'm talking about? … Listen, she is a witch. She is a Jezebel. She is a God-hating whore of Zionism.

I hope that God breaks her teeth out and she dies. She is a wicked person and she is like the perfect representation of religious Judaism. She is Satan's scoffer and she is there to take the world and make 'em laugh and then diss Jesus, try to take away the respect from Jesus.
In a statement on its Facebook page, Fannin's former church, Stedfast Baptist, distanced itself from the evangelist, writing:
For those who haven't been paying attention: Adam Fannin is NOT affiliated with Stedfast Jacksonville anymore. He started his own 'church' called Law of Liberty Baptist Church. Our pastor is Jonathan Shelley.