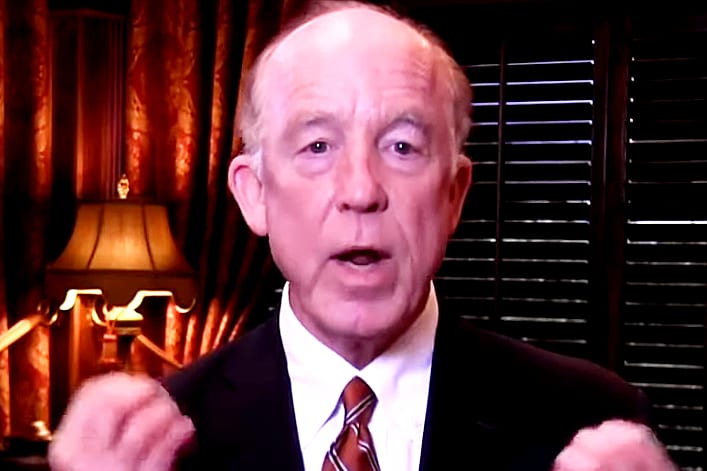 THE President of the Conservative Republicans of Texas, Dr Steve Hotze, above, is notorious for battling against 'homo-fascists', same-sex marriage and sodomy, but COVID-19 has provided him with a new target: Harris County Judge Lina Hidalgo.
This week Hotze, together with three pastors, launched a lawsuit in the Texas Supreme Court against Hidalgo, demanding that a stay-at-home order she issued last month be rescinded. The order required all non-essential businesses to close, including churches.
In an online video, Hotze – founder of "Real Marriage: One Man/One Woman for Life", CEO of the Hotze Health & Wellness Center and Hotze Vitamins and Hotze Pharmacy – said that the First Amendment dictates that:
We have the right to practice our religion freely and we also have the right to peacefully assemble. It doesn't stay anything about whether or not you are sick or well, whether or not you can meet to do these things.

If a church wants to have online services, that is their business to do that. But if we want to meet, that is our choice, not the choice of the government. It's tyranny for the government to impose this upon us. That is why I oppose it.
A petition to the Texas Supreme Court on Monday was filed on behalf of Hotze and the pastors by Houston attorney Jared Woodfill. It says:
Relators and those similarly situated are having their constitutional rights and the constitutional rights of their congregants continuously infringed upon as long as Judge Hidalgo's Order is allowed to stay in place.
According to the plaintiffs, Hidalgo's order on March 24 imposes fines and even incarceration for individuals who operate non-essential businesses, congregate outside residences, operate a gun store or attend in-person religious services.
The petition argues:
If the order is allowed to remain in place, the harm to individuals, businesses, the general public, people of faith, and the fundamental rights guaranteed to Harris County residents under the United States and Texas Constitutions would be impossible to undo.

Emergency mandamus relief is necessary from this Court to prevent Judge Hidalgo's draconian, unconstitutional Order from further harming and infringing upon fundamental rights guaranteed to those living in Harris County, Texas.
Woodfill said of the order:
It is even more egregious and draconian when you consider the fact that if you are a pastor and choose to hold a service, you are looking at a $1,000 fine and up to one year in jail. If you are an individual and choose to go to church, you are looking at a $1,000 fine and up to one year in jail. That is Harris County today.

When a judge decides to trample on fundamental freedoms and liberties that hundreds of thousands of people have given their lives for us to enjoy, that is something that we have to take extremely seriously.
He added that he hopes that a ruling in their favour will send a clear message to other judges across the state who decide to implement similar orders.
Two days after the lawsuit was filed, Texas Republican Governor Greg Abbott and Attorney General Ken Paxton issued joint guidance defining religious services as "essential services" under an executive order signed by Abbott calling on Texans to obey social distancing guidelines.
However, Houston Mayor Sylvester Turner spoke out against the idea of allowing religious services during the pandemic.
In Texas, there were over 4,600 confirmed cases of Coronavirus as of Thursday afternoon, according to Johns Hopkins University & Medicine's Coronavirus Resource Center. In Harris County, there have been six Coronavirus-related deaths and at least 847 confirmed cases.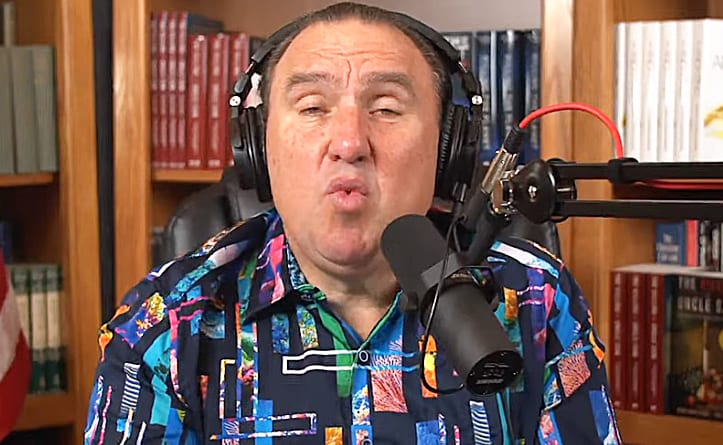 Meanwhile, it's reported by The Christian Post that that Florida pastor, Rodney Howard-Browne, above, arrested for holding worship services during the COVID-19 pandemic in violation of a "safer-at-home" order, has claimed that shots were fired at his River at Tampa Bay Church and that he's getting death threats.
The millionaire megachurch charlatan made the claims in a Facebook broadcast – and blamed media coverage of his arrest for shots being fired at his church sign and the threats he was receiving on social media:
The media are stirring up every kind of religious bigotry and hatred right now. It's beyond the pale … people have basically, literally lost their ever-loving minds.
He said the shooting had been reported to the police, but no action was taken because of the absence of bullet holes.
It was not immediately clear which sheriff's office was called to report the attack on his church but an official at the Hillsborough County Sheriff's Office, which announced his arrest Monday, told The Christian Post that they have no record of the alleged gunfire incident at the church.
Howard-Browne, who is now being represented by Liberty Counsel – an evangelical Christian outfit famous for defending Kentucky's homophobic Kim Davis – has since announced that he's shutting his church:
I actually have no choice at this juncture but to shut the church down this Sunday. I have to do this to protect the congregation – not from the virus but from a tyrannical government.