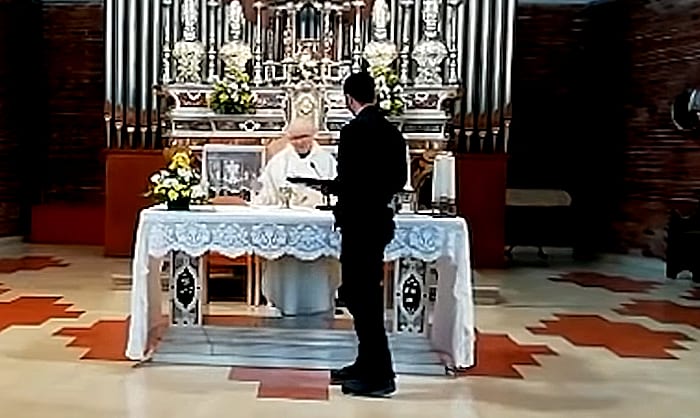 AFTER police interrupted a Mass conducted in defiance of of Italy's COVID-19 lockdown measures, Catholic news outlet La Nuova Bussola Quotidiana pointed out that the raid 'might actually constitute a violation of international law between Italy and the Vatican.'
According to LifeSiteNews, the priest who held the Mass last Sunday in the northern Italian village of Soncino, close to Milan – with only 12 congregants present – was Don Lino Viola. He was fined €680, and others at the service were each hit with a penalty of €280.
Viola told his flock not to pay, saying that:
If anything, the parish will take care of it. I'm convinced that I haven't created an assembly.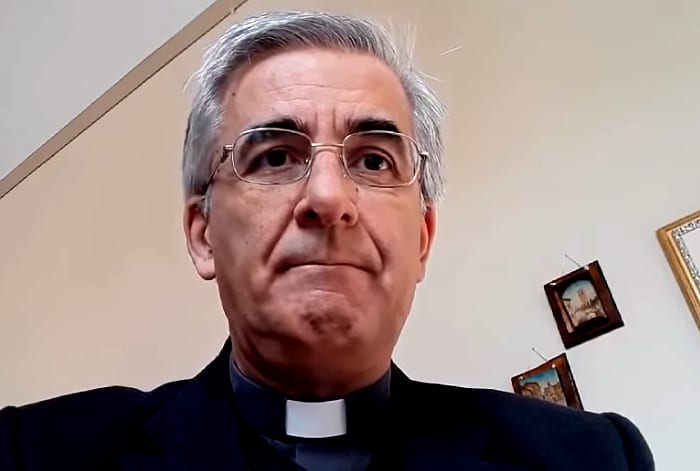 Bishop Antonio Napolioni of Cremona, above, did not support his priest. A statement issued by the diocese on Monday called out Viola for:
Failing to comply with current emergency regulations prohibiting the celebration of Mass in the presence of the faithful.
The interruption of the Mass in Soncino was not the only case of government "harassing" priests.
In mid-March – "in a scene from communist China" – a priest in Marina di Cerveteri outside of Rome had a service interrupted when two local police officers in antiviral masks carried out a raid.
Archbishop Carlo Maria Viganò, the former Apostolic Nuncio to the United States, suggested that this case:
May simply have been an excess of zeal by two local policemen, especially if they have to work under all the extra stress that has arisen since to coronavirus outbreak.

It must also be clear, though, especially in a country like Italy which signed a Concordat with the Church in 1929, that the ecclesiastical authorities have sole rights over places of worship. The Holy See and the local Ordinary really ought to have protested over such a violation of the Lateran Treaty, which was confirmed again in 1984 and which is still in force.
According to Viganò:
The authority of Bishops, given directly to them by God, melts away like snow and shows how cowardly they all are. This might lead to even worse abuses in the future if it is not corrected now. Let me take this opportunity to ask for a forthright condemnation of this unacceptable meddling by government forces in affairs which are the direct responsibility of the Church Authorities.
In March Viganò told bishops around the world to:
Open wide the doors of our churches. What is at stake is not only public health but the salvation of souls.
The archbishop described images of closed churches as "surreal" and "spectral," saying they express:
The darkening of the faith that has struck the heights of the Church.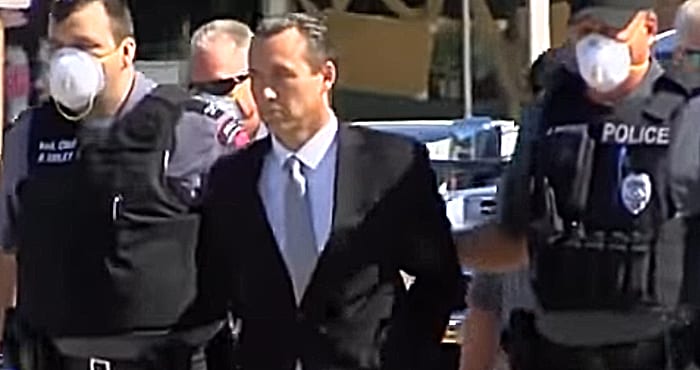 Meanwhile it's reported from Louisiana that the deranged and attention-seeking Tony Spell, pastor of Life Tabernacle Church in Baton Rouge, was handcuffed and taken into police custody yesterday for allegedly driving a bus at a lone protester who had had been objecting to Spell's violation of lockdown orders.
A day earlier, the Central Police Department had issued a warrant for his arrest, accusing him of aggravated assault.
After Spell was released on bond of $5,000, he defiantly told a crowd of ecstatic supporters that he would continue to violate social distancing orders.