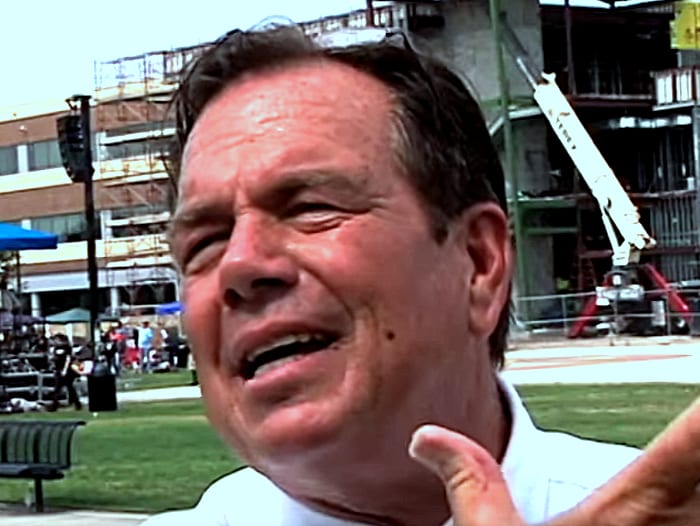 IN 2018 North Carolina pastor Phillip 'Flip' Benham, above, was arrested after he was accused of telling a family planning volunteer outside of one of Charlotte's busiest abortion clinics that she was 'a dead woman walking.'

But Benham, an anti-abortion zealot who is also known to disrupt LGBT Pride events, insists that there was nothing threatening in the way he spoke to the woman.
He said that the abortion clinic volunteer in question began using a loudspeaker to scream across the street to those gathered "for praise and worship."
So I figured I would just go get in front of that and talk to her. I did and told her: 'You are just a dead lady walking. You really are. You are dead in your trespasses and you are dead in your sins and the only way that you are going to get into Heaven and the only way that you are going to get out of that is with Jesus. What you need is Him. That is what you are longing for. That is why you are so angry.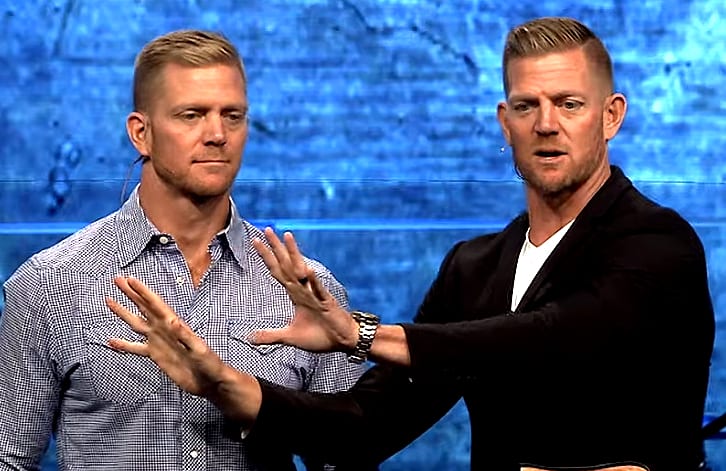 Bentham is the father of a couple of muscle Marys. Former baseball players and TV "personalities" David and Jason are every inch as batshit crazy as their father.
One of them, David, was arrested at the weekend for "providing counseling" outside a North Carolina abortion clinic despite a stay-at-home order amid the COVID-19 pandemic.
Benham, wh0 along with his twin made national headlines after getting dropped by HGTV for their homophobia, posted a video of the arrest outside the offices of A Preferred Women's Health Center of Charlotte. He alleges officials are using the virus as cover for discriminating against pro-life groups.
It's government overreach. It's viewpoint discrimination. It's selective enforcement of the COVID law. It's the suppressing of religious expression. It's all those things. It's just a straight-up breaching of my constitutional rights.
The Charlotte-Mecklenburg Police Department pointed to the county attorney, Tyrone Wade, for interpretation of a stay at home order. In a statement to Fox News, Wade said:
It is reasonable to limit a person's freedom or movement to a gathering of no more than 10 people and a requirement that each person remains at least six feet apart to protect the public. On Saturday, officers observed approximately 50 protesters congregating outside of the clinic. The gathering was determined to be a violation of mass gatherings in the North Carolina Stay at Home Order.
Benham said he was only joined by three sidewalk "counselors" and accused the mayor's office, the city attorney and local newspaper the Charlotte Observer of colluding against them.
We're dealing with a radical left agenda that is deliberately lying, falsifying information to lead the public astray.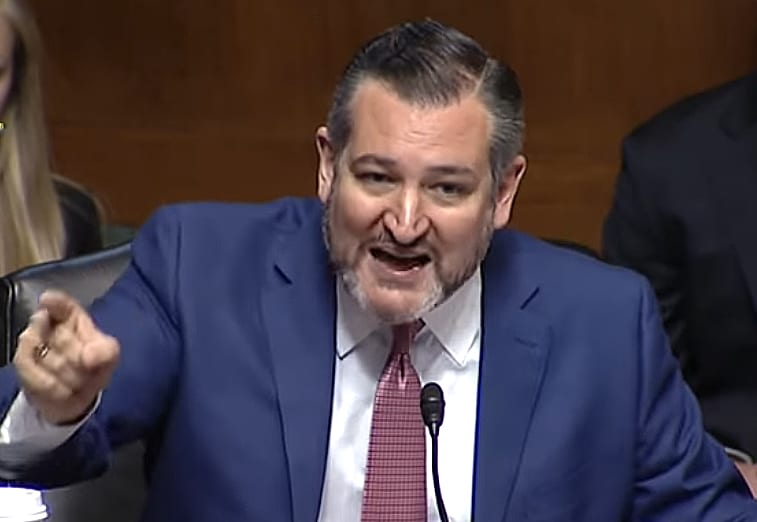 Texas Republican Senator Ted Cruz, above, called the arrest of his friend "wrong" and "unconstitutional."
Because elected Dems are pro-abortion, they are abusing their power in a one-sided way to silence pregnancy counselors.
He later added:
NC Dem Gov has wrongly deemed elective abortion 'essential'. If providing abortions is essential, then peacefully giving pregnant women counseling on alternatives to abortion is also 'essential.'
Benham explained that he has been doing ministry with his non-profit, Cities for Life, outside the clinic for the past 10 years and has never been arrested. Their group scaled down their operation after the Coronavirus orders started and on Saturday he said there were only three sidewalk counselors with him and they had chalk to show they were six feet apart.
He sees clear bias, saying that of the more than 1,400 COVID-related complaints the city has received, all eight arrests were in front of the abortion clinic.
After he was arrested in 2018 Phillip Benson amazingly claimed the he was:
Not trying to bully anybody. The big bullies are right there and they are going to try to shut us up. But we are not going to shut up.
Benham Sr then added that he and his anti-abortion cronies:
Care about choice. At abortion mills, we are doing everything we can to help moms have a real choice because so many of them feel like they have no choice at all. They go into that abortion mill and they are desperate and they feel like an animal caught in a trap and they are trying to gnaw off their own leg to get free.

We come with a sonogram unit and all sorts of things and nurses to help them along the way. We have places for them to stay if they get thrown out of the house.