TWO New York cops pinned performance artist Reverend Billy to the ground seconds after he a planted a rainbow flag in Central Park, close to the COVID-19 field hospital set up by Franklin Graham's Samaritan's Purse.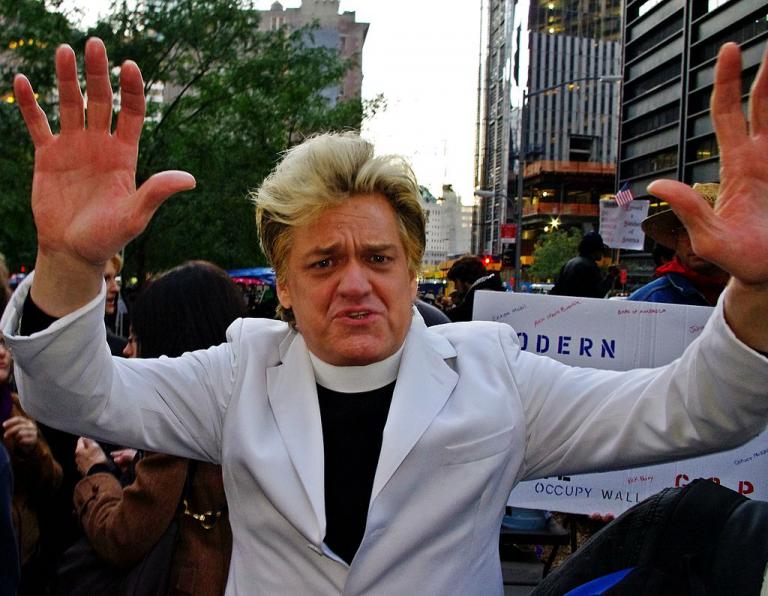 Rev Billy, above – real name Billy Talen – was arrested on Sunday when he sought to bring attention to the homophobia rampant within Graham's organisation
After he was roughly thrown to ground, more police swarmed to the scene and Talen, 69, was arrested and charged with criminal trespass, disorderly conduct, obstructing government administration, and resisting arrest.
However, video footage clearly shows that Talen was peacefully protesting and not resist arrest.
The well-known New York activist who leads the anti-consumerist Church of Stop Shopping, spent 20 hours behind bars before being released following a Skype arraignment.
Talen accused Samaritan's Purse of being "right-wing apocalyptic Christians" trying to "take advantage of our sorrow."
Samaritan's Purse, led by notoriously anti-gay and Islamophobic preacher Franklin Graham, opened the 68-bed respiratory facility in Central Park last week to care for spillover COVID-19 patients from Mount Sinai. They said they were treating dozens of critically ill people as of Monday morning.
The group
has drawn the ire of some New Yorkers
, and concerns from Mayor Bill de Blasio, for forcing all health care workers and volunteers to adhere to an anti-gay statement of faith. The group has allegedly turned away volunteers over their sexual preferences — sparking at least one complaint to the NYC Commission on Human Rights.
Civil rights attorney Norman Siegel, the former executive director of the New York Civil Liberties, said the relief organisation appeared to be violating New York City's human rights protections.
All of us are appreciative of Samaritan's Purse. It's needed, thank you. But you can't have a place of public accommodation in a public space discriminating based on religious belief. There should not be a requirement in order to help in this unprecedented situation.
In addition to the Central Park Field Hospital, Samaritan's Purse will also be setting up 400 beds for non-COVID-19 patients at the Cathedral of St John the Divine in Manhattan.
Bishop Clifton Daniel, the dean of the church, told Democracy Now's Amy Goodman on Monday that he rejected the group's values, but would accept their help regardless.
I know what Franklin Graham stands for, and I am not for what he stands for at all. But at the same time, we're in the business of saving lives and helping people.
Hat tip: Stuart Hartill