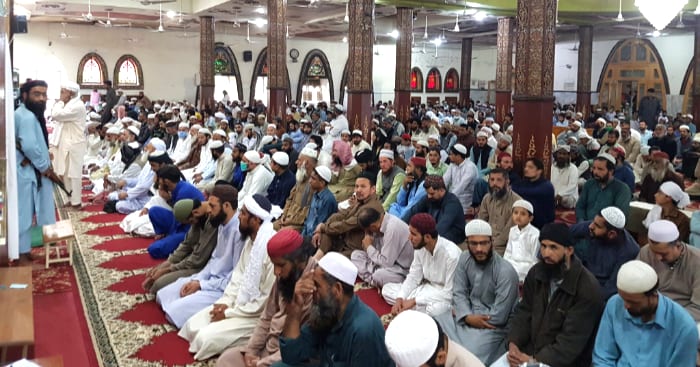 PROOF that stupidity knows no boundaries: Muslims packed mosques across Pakistan for Friday prayers today in defiance of lockdown orders.

According to this report, authorities failed to enforce Section 144 imposed earlier to control spread od COVID-19 in Pakistan.
Said Awais Ali, a devout Muslim in the Bilal Gunj area:
Why should I fear when I believe that life and death is in the hands of God? I came to offer prayer and to seek forgiveness and blessings of Almighty Allah instead of staying at home at this testing time.
He also said that people must come to God and surrender themselves before him amid fears of this global pandemic.
In an earlier report Sabir Durrani, 52, who prays nearly every day at mosque in the central Pakistani city of Multan, said:
Our prayer leader told us that the virus can't infect us the way it does Western people.
Durrani said the prayer leader told devotees:
We wash our hands and we wash our face five times a day before we say our prayers, and the infidels don't, so we need not worry. God is with us.
More than 60 percent of Coronavirus cases in Pakistan so far have been tied to Muslims returning from pilgrimages in the Middle Easter and followers of the Islamic missionary movement Tablighi Jamaat.
As hundreds of people gathered for a funeral in the country recently, a local leader of a religious party told the crowd that the government's orders to put a limit on congregations were not right.
If you do this, we will be forced to think that mosques are being deserted on America's instructions. We're ready to give our lives, but not ready to desert our mosques.
In Pakistan's largest city of Karachi police were attacked for a second week in a row as they attempted to break up prayers at a mosque, but in other Pakistani cities authorities were reportedly ignoring defiant gatherings at mosques.