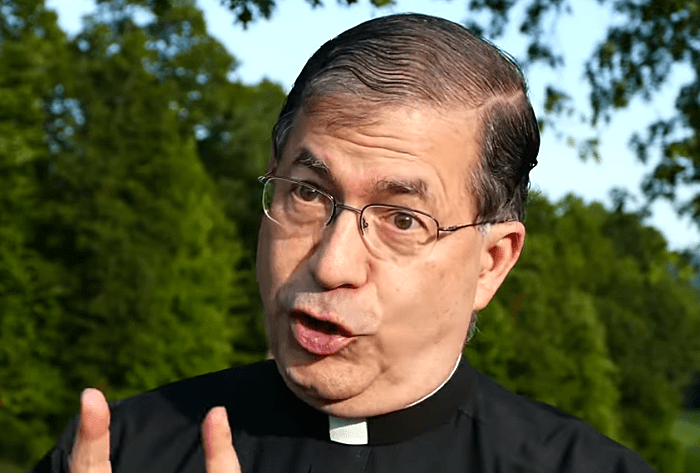 AT a 'Catholics for Trump' launch yesterday (Thursday) Rev Frank Pavone, above, a staunch anti-abortion advocate and National Director of Priests for Life, said in an interview that Donald Trump's policies are 'completely consistent with Catholic teaching.'
He's protecting our people by strengthening borders, not to stop immigration but to stop crime, to protect families, to protect neighborhoods.
The launch of the "Catholics for Trump" coalition marked the beginning of a push by Trump to woo the Catholic vote as he seeks re-election. Ahead of a general election where Catholics could prove to be vital swing voters, particularly in the Midwest, the coalition launch indicates that Trump doesn't plan to limit his faith-based outreach to evangelicals, who think he's the next best thing to Jesus Christ.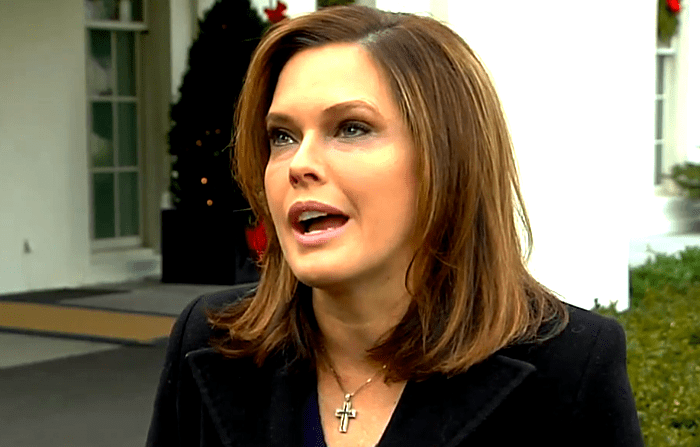 Also at yesterday's kickoff were Mercedes Schlapp, a senior communications adviser to the campaign, and husband Matt Schlapp, chairman of the American Conservative Union and a co-chair of the new Catholic outreach effort.
Schlapp, a former White House communications adviser, described Trump's Democratic rival Joe Biden as "an extremist" on abortion.
In an earlier attack on Biden Schlapp said in a wide-ranging interview in March that she believes Biden shares more of the policies of Senator Bernie Sanders, a democratic socialist, than people might think.
He's gonna run as far left as he can, which is free health care for illegal aliens, far extreme position on abortion … and an attack on our religious freedoms. Joe Biden is a closet Socialist.
Republicans saw an opening to peel off Biden's Catholic support last year when the former Vice President, who often talks about his Catholic school upbringing, said last year he supports the repeal of the Hyde Amendment, which bars federal funding for most abortions, after facing criticism for his support for the measure.
Trump's campaign, on the other hand, touts his embrace of anti-abortion policies prominently in its materials.
The group's senior political adviser, former Kansas GOP Rep. Tim Huelskamp, is also a member of the Trump campaign's Catholic outreach project. Huelskamp accused Biden of failing to live out his faith, while:
You've got a non-Catholic in Donald Trump who's delivering on Catholic social teaching and principles.
But John Gehring, Catholic Program Director at the liberal-leaning group Faith in Public Life, challenged that assumption. He said that promoting Trump's anti-abortion record to Catholics but ignoring the President's proposed cuts to immigration and aid for the poor:
Isn't how traditional Catholic teaching asks us to think about protecting life. Being pro-life isn't about a single issue for our church. Our church teaches that respect for life has to be consistent.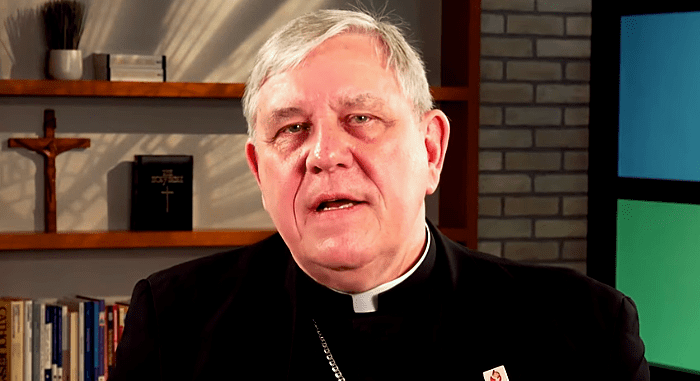 The Catholic outreach campaign was due to be launched at a rally last month in Milwaukee, but was but was delayed by the COVID-19 outbreak. At the time the Archbishop of Milwaukee Jerome Listecki, above, issued statement saying:
The event is not hosted by the Catholic Church nor the Archdiocese of Milwaukee, the local church of southeastern Wisconsin. Second, the Catholic Church and the Archdiocese of Milwaukee are not endorsing the rally and are in no way affiliated to or sponsoring this event or campaign locally, statewide, or nationally.

As Catholics, we bring the richness of our faith to the public square. Catholic citizens are encouraged by the Church to participate in public life and contribute to the common good, including through the political process of our country.

However, I would like to take this opportunity to remind the Faithful that the Catholic Church is not a political organization, nor is it politically affiliated. The mission of the Church is religious, not political. For reasons that are both theological and legal, the Church's involvement in public life does not extend to endorsing candidates for election to public office nor calling for their defeat.
Listecki said the church:
"Seeks to uphold and protect justice, equality, human rights, and care for God's creation through ethical and moral decision-making.