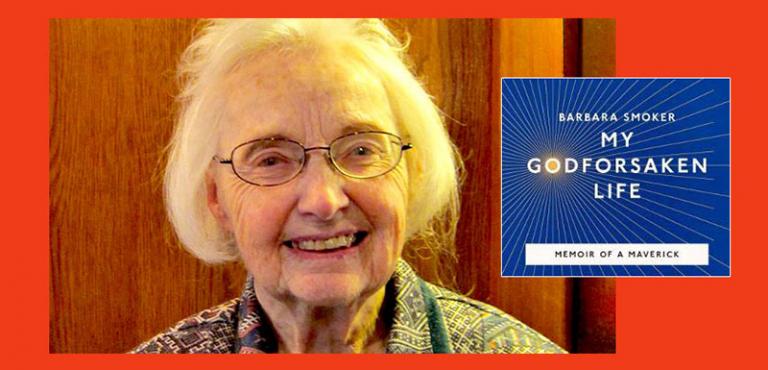 I LEARNED with sadness today that Barbara Smoker, former President of the National Secular Society, has died – two years after she published a long-overdue memoir.

She had been diagnosed as having advanced breast cancer in May 2018. This I learned from her December 2018 'egotistical' year-end newsletter.
Rather than send cards for the festive season, for more 30 years Barbara would send a newsletter her many friends and contacts. In each she would detail her extraordinary activities over the previous 12 months.
Her newsletters were proof positive that age is no obstacle to a life devoted to promoting rationalism and freethought, for Barbara, a writer and activist on many radical issues, was still gamely engaged with various radical campaigns until well into her 90s.
In several of her missives, Barbara informed her readers that she was working on a memoir, and when I received her 2018 letter, I was overjoyed to learn that she had finally completed it, and that My Godforsaken Life: Memoir of a Maverick, had just been published.
I first met Barbara in the 1970s when I was a member of the Anti-Apartheid Movement, a gay rights activist, and a new recruit to the National Secular Society (NSS), of which she was President.
Around 20 years on, when I became the 15th editor of the Freethinker magazine, founded in 1881, Barbara took on the role of proofreader and was was also periodic contributor of some of the finest articles the magazine ever published.
When I last saw Barbara, it was at a Secularist of the Year function in London in 2017, where I dead chuffed to be presented with a Lifetime Achievement Award for my years of campaigning against racism and homophobia. She looked marvellous, as the picture above shows. Two years later the NSS handed her a Lifetime Achievement Award.
But what I accomplished is nothing compared to Barbara's record. Apart from her speaking engagements on radio and TV, and conducting non-religious weddings and funerals, she financed the manufacture of the first 'Make Love, Not War' badges that were popular in Britain during the 1960s.
Being at the forefront of radical movements for 70 years, she has combated religion, and opposed nuclear weapons and illegal wars. At the same time she was championing humanism, women's right to choose abortion, prison reform, freedom of speech, and voluntary euthanasia.
Her memoir, according to publisher Thornwick Press:
Is a compelling account of her intellectual journey, her ruthless focus on ethics and principles, and her eccentric bloody-mindedness in challenging the accepted and wrong wisdom of the day.

Barbara was born into a devout Roman Catholic family. As a girl she was torn between being becoming a nun or a writer. At the age of 26, after war service in Ceylon, she renounced Christianity and joined the ranks of the secular, humanist army.



For 25 years she was President NSS and led speaking tours in the USA and India to promote atheism. She even teamed up at one point with Madalyn Murray O'Hair, the US atheist who was dubbed 'America's Most Hated Woman' after she won a court case that banned prayers and Bible-readings in public school.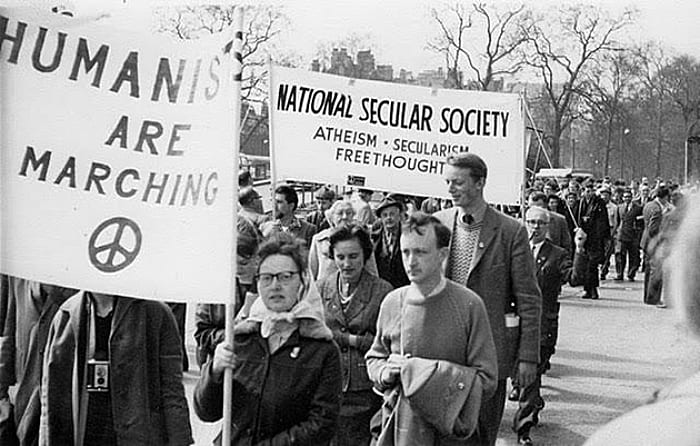 Barbara has written books on Humanism for Inquiring Minds, voluntary euthanasia, a book of satirical verse Good God, a collection of essays, Freethoughts, and innumerable articles in journals and the press.

For many years she was editor of The Ethical Record and she appeared often on TV and radio to explain why she is an atheist and why segregation of children in religious schools should be abolished.

She was among the first to officiate at gay and lesbian marriages, and at humanist funerals.

On more than one occasion she has been arrested, and in 1989 was attacked by a mob of Muslim extremists when she held a banner for free speech in support of Salman Rushdie.

In her early years she described herself as an anarchist. Latterly she prefers the term 'radical liberal'.

For anyone who wishes to campaign effectively against social injustice Barbara Smoker's life has been a blueprint based on logic, ethics and bloodymindedness.
In revealing her diagnosis, Barbara said she had decided not to go through with recommended surgery.
My decision was as rational and irrevocable as the one I made on the 5th of November 1949 when I renounced religion.
She added:
In my opinion, medics give far too much priority to prolonging human life, irrespective of its quality – especially for oldies.