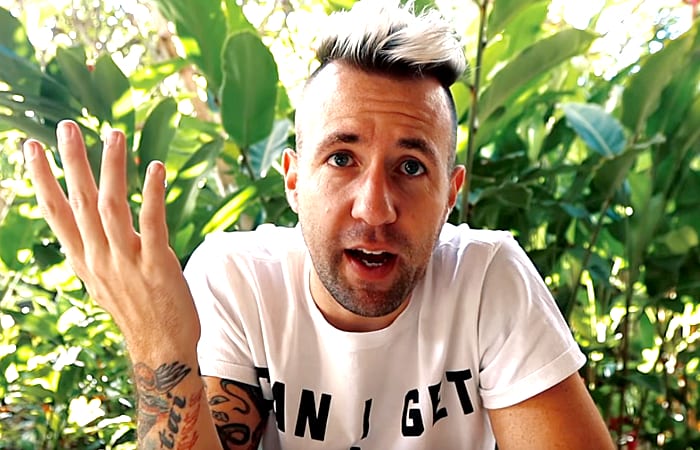 JUST three years after he traveled from the US to Canada to take part in the country's 52nd Annual Canadian National Prayer Breakfast, Jonathan Steingard, above – lead vocalist and lead guitarist for the Christian pop-punk band, Hawk Nelson – yesterday announced on Instagram that he no longer believes in God.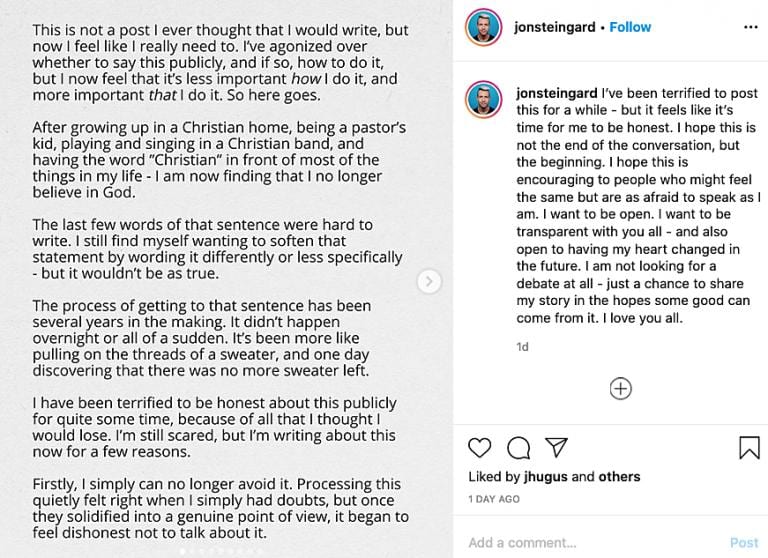 In an interview a while back the Canadian-born Steingard was asked where he finds his inspiration to write and where he likes to be when writing. He described the circumstances which give him the best environment for being able to get the needed inspiration and to be able to focus on God speaking to him:
I write most of my music when my body is busy, but my brain is not. When riding in a plane, or mowing the lawn. Those are times when I am doing something mindless. My body has to be in a certain place, but my mind is free to think. I used to struggle with wondering if the thoughts I had were mine or if God was bringing them to me.

One day, God gave me the revelation that everything I have is from Him. He gave me everything. I couldn't come up with an idea for a song if not for what He has given me.
Christian music is more about the lyrics as opposed to secular music which focuses on the music itself.
Steingard feels God deserves all the credit for his music, but he admits that:
Drops in the Ocean was the most difficult song for me to write because it is written from God's perspective, not my own.
Talking about that song, he banged on about God's "love" and "grace."
As of writing, news media appears not to have cottoned on to Steingard's move from the dark side to the light. I only learned of it via Reddit.
UPDATE (May 28, 2020): The religious and secular press has finally caught up with this story. Christian News Network reported on May 25 that his post has generated over 2,700 likes as of press time. That number, according to a Huffpost report, has now risen to over 20,000.
CNN said his post had stirred various reactions, including from those who likewise acknowledged that their faith has little foundation or that they have turned their backs on Christianity.
"Jon, I will never judge you, and honestly, I have been struggling as well. I don't think I can ever constitute myself as Christian anymore," wrote one commenter.
"What I found was that my faith was based on a deep emotional desire to believe, and not based on anything substantive that could save it once I started peeling back the layers," advised another. "I never would have thought at that point that someday I wouldn't be a Christian or that I'd be reaching out to you on Instagram to offer my sincere support and congratulations."
"I remember seeing Hawk Nelson in concert many years ago. I've also stepped away from the faith and I'm so proud of you for having the courage to post this. Maybe I'll be brave and tell my friends and family one day too," a third wrote.
However, others expressed concern that Steingard likely was never regenerated by the Holy Spirit but rather simply experienced an external American Christian culture. Some opined that it was shallow American Christianity that clouded Steingard's ability to know biblical Christianity in the first place.
"Seems like your walk was one of habit or culture, rather than one of newness of life brought about true faith and regeneration," one wrote.
"I'll be praying for you. You were never saved to begin with but rather were the soil that was choked out by the weeds," another stated. "I hope you take the time to read the Bible and find the answers to the questions you have. The answers are all there."
"I'm really sorry for any part my industry (Christian radio) played in frustrations on your journey," a third posted. "Mixing faith, commerce, and the American Christian culture releases a lot of toxic fumes and we don't provide good ventilation."
This is Steingard's follow-up post: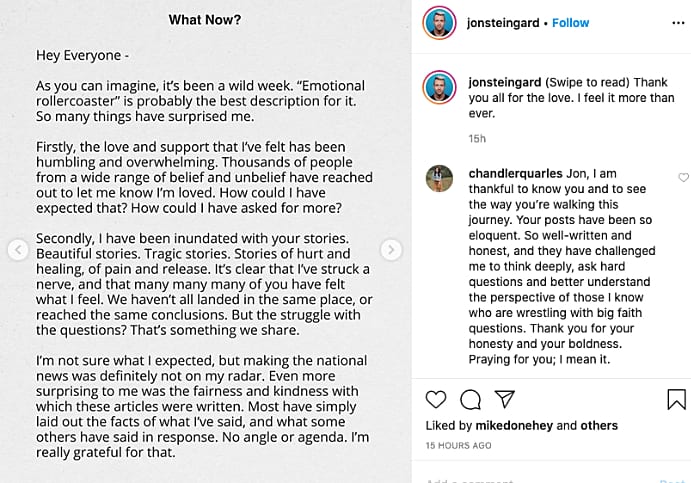 • If you wish to report any typos/incorrect info in this piece, please email me at barry@freethinker.co.uk
If you'd like to buy me a cup of coffee – and boy, do I get through a LOT of coffee keeping this blog active – please click this link.