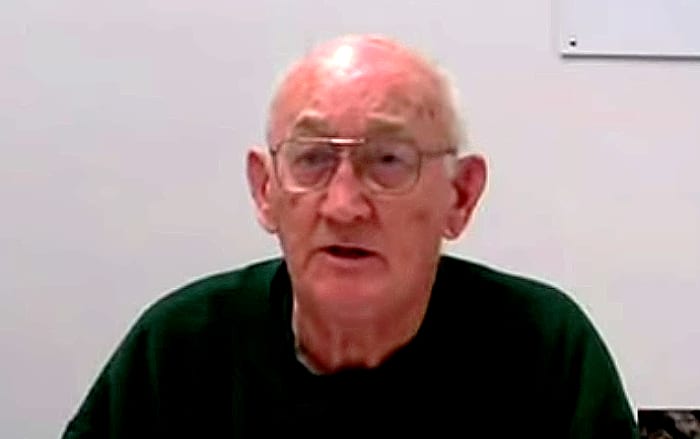 GERALD Ridsdale, above, sentenced to 34 years in 1994 for abusing at least 69 children – some aged as young as four – was today told he would have to serve another 24 months in prison.
The Catholic predator, whose activities as a serial abuser were known to George Pell, was sentenced to extra jail time after admitting to crimes against another four boys in the 1970s.
The former Catholic priest had been eligible for parole in 2022. But Victorian County Court Judge Gerard Mullaly extended Ridsdale's non-parole period by another two years, by which time Ridsdale will be 90 years old.
Mullaly told the pervert:
You knew what you were doing was profoundly wrong and harmful, but you kept doing these things to these children over and over. It seems you knew no boundaries or had any sense of restraint.
Ridsdale's latest crimes involved two brothers who were abused when the then-parish priest took them rabbit shooting.
The elderly parents of the brothers said:
We trusted our beautiful, innocent children with this bastard without question when we should have been more vigilant on their behalf.
They labelled Rodsdale as:
A filthy, conniving, make-believe priest and pedophile.
Ridsdale admitted the abuse but his lawyer Tim Marsh had earlier argued his client shouldn't spend more time behind bars. Marsh had suggested an appropriate sentence would be one that did not interfere with the earliest possible release date, and if Ridsdale had been sentenced for all his crimes at once, his jail time would not exceed the previous sentence. Mullaly, however, dismissed the argument.
Ridsdale worked as a school chaplain at St Alipius Primary School, a boys' boarding school in the Victorian regional city of Ballarat. Australia's Royal Commission into Institutional Responses to Child Sexual Abuse found that senior figures in the church, including Pell, knew about Ridsdale's abusing children but protected him.
• If you wish to report any typos/incorrect info in this piece, please email me at barry@freethinker.co.uk
If you'd like to buy me a cup of coffee – and boy, do I get through a LOT of coffee keeping this blog active – please click this link.