PRIESTS who claim that pandemics such as COVID 19 are not a manifestation of God's wrath are 'immersed in atheism.'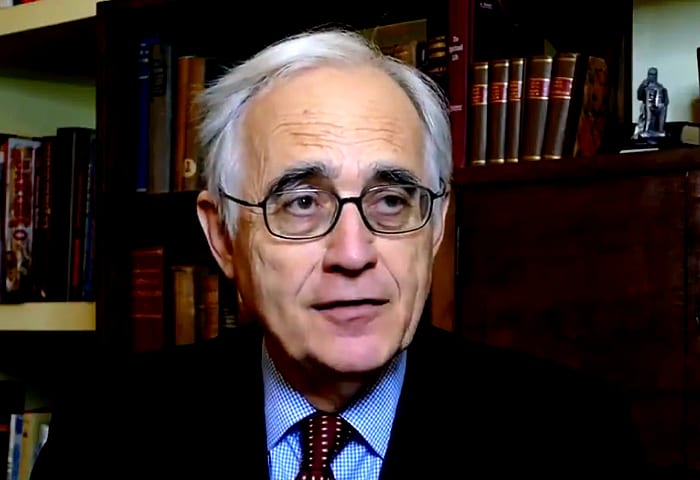 That's the view of Roberto de Mattei, above. In a talk today (Thursday) at the virtual Rome Life Forum, de Mattei said that Catholic "shepherds" who reject the idea of God inflicting scourges on humankind are inviting the Almighty to go apeshit. In his talk entitled "The Judgment of God in History", the simpleton said:
When it is the very men of the Church who deny the idea of divine punishment, this means that the punishment is already underway and is irremediable.

In the days of the coronavirus outbreak, Archbishop Mario Delpini of Milan even went so far as to say that 'it is a pagan idea to think that God sends scourges.'

In reality, thinking that God does not send scourges makes someone not a pagan but an atheist. The fact that this is exactly what many bishops throughout the world think means that the Catholic episcopate throughout the world is immersed in atheism. And this is a sign of a divine chastisement that is already under way.
In his talk, De Mattei argued that God sends humankind chastisements in the form of "war, plague, and famine" because of sin and to call humankind back to God.
He described the infinite justice of God, and what this means, not only for individuals, but for nations. Every person faces his particular judgement at the moment of death, but there will also be a second judgement at the end of time. This will be the universal judgement at which every human action, idea, and society that has ever been "will be perfectly and clearly judged."
De Mattei explained that in order for perfect justice to be accomplished, reward and punishment must be assigned, for "justice means giving to each his own."
Human beings, who are eternal, will be rewarded and punished throughout eternity. However, nations are rewarded or punished throughout the course of history because they do not have eternal life.

All the misfortunes that strike the nations over the course of their history have a significance. Their causes sometimes elude us, but it is certain that the origin of every evil permitted by God lies in the sin of man.
The historian pointed out that both Scripture and tradition agree that the punishment of God upon the nations in history are war, plague, and famine. Using St. Bernardine as his source, Mattei also described the signs by which we can know that the judgements of God are near. One sign is the inability of those who deserve the punishment to be aware they are approaching.
The professor makes the case that chastisement is not only an act of God's justice for sin, but also an act of mercy directed toward calling people back to right relationship with God.
All this baloney reminds me of something Friedrich Nietzsche once said:
After coming into contact with a religious man I always feel I must wash my hands.
• If you wish to report any typos/incorrect info in this piece, please email me at barry@freethinker.co.uk
If you'd like to buy me a cup of coffee – and boy, do I get through a LOT of coffee keeping this blog active – please click this link.