LAST month gloomy church officials in Germany predicted that COVID-19 church lockdowns would put a massive dent in the RCC's coffers, saying they believed the pandemic would prompt people to stop paying church taxes.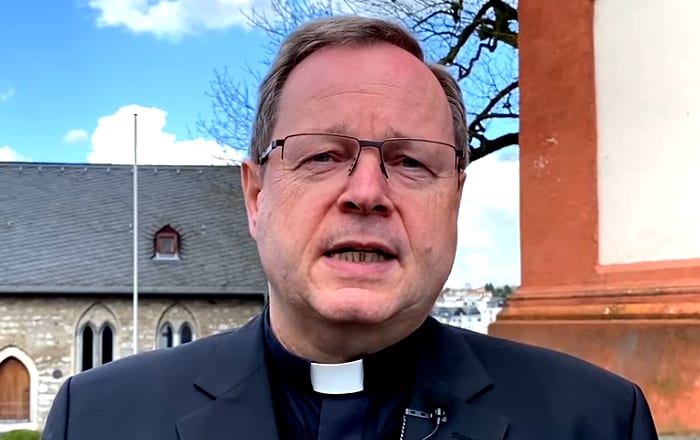 Bishop Georg Bätzing, above, President of the German bishops' conference, above, warned on April 27 that:
It is going to be a painful process. The corona pandemic is forcing us to enter a process in which we must weigh what we as a church can still afford in the future and what we must say farewell to.
More bad news was to follow. This week the Catholic News Agency reported that even before the outbreak of COVID-19 a record number of people left the Church in the German Archdiocese of Munich and Freising last year. The Munich statistical office said that 10,744 Catholics formally withdrew from the Church in 2019. It noted that this was a fifth higher than in 2018, when 8,995 people left.
Statisticians said this was the first time that annual departures had surpassed the 10,000 mark since records began. Previously, the highest figure was 9,010, set in 1992.
In March, Bayerischer Rundfunk, Bavaria's public-service broadcaster, reported that people gave a variety of reasons for leaving, including a desire to stop paying church tax, the clerical abuse scandal and the attitude towards women within the Church.
The Church in Germany is largely funded through a tax collected by the government. If an individual is registered as a Catholic then 8-9 percent of their income tax goes to the Church. The only way they can stop paying the tax is to make an official declaration renouncing their membership. If they leave they are no longer allowed to receive the sacraments or a Catholic burial.
It's not only the Catholic Church that is haemorrhaging numbers in Germany. Earlier this month Crux reported that the two main Christian churches will lose millions of members over the coming decades and will have to tighten their financial belts as a result.
Researchers at the University of Freiburg predict that the combined membership of the German Catholic and Protestant churches will drop from about 45 million now to 34.8 million by 2035 and 22.7 million by 2060. As of 2019, Germany's population stood at just over 83 million.
The study, which was commissioned by the Catholic German Bishops' Conference and the Evangelical Church in Germany, blamed the decline on a number of factors, including more members dying than children being baptised, and adults deciding to abandon churches.
• If you wish to report any typos/incorrect info in this piece, please email me at barry@freethinker.co.uk
If you'd like to buy me a cup of coffee – and boy, do I get through a LOT of coffee keeping this site active – please click this link. By way of a 'thank you' I will send you a copy (pdf) of the rollickingly funny illustrated Atheists Limericks and Cartoons, published by the Humanist  Global Charity.