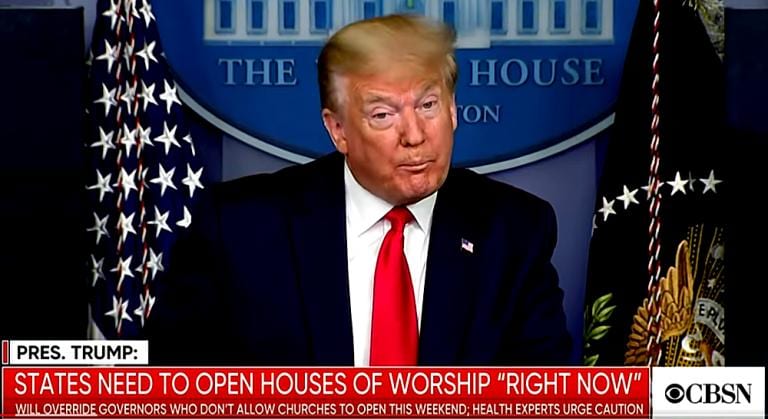 DESPITE the fact that churches have been hot spots of COVID-19 infections in America and other parts of the world, President Donald Trump yesterday (Friday) declared places of worship 'essential' and threatened to 'override' state governors if they demurred. 
Said Trump
Some governors have deemed liquor stores and abortion clinics essential, but have left out churches and houses of worship. It's not right. So I'm correcting this injustice and calling houses of worship essential … these are places that hold our society together and keep our people united.

Trump said he was calling upon governors:
To allow churches and places of worship to open right now. If there's any question, they're going to have to call me, but they're not going to be successful in that call. The governors need to do the right thing and allow these very important essential places of faith to open right now, this weekend. If they don't do it, I will override the governors.
Later in the briefing, White House COVID-19 task force coordinator Dr Deborah Birx and White House press secretary Kayleigh McEnany emphasises that reopening was at the discretion of governors and religious leaders.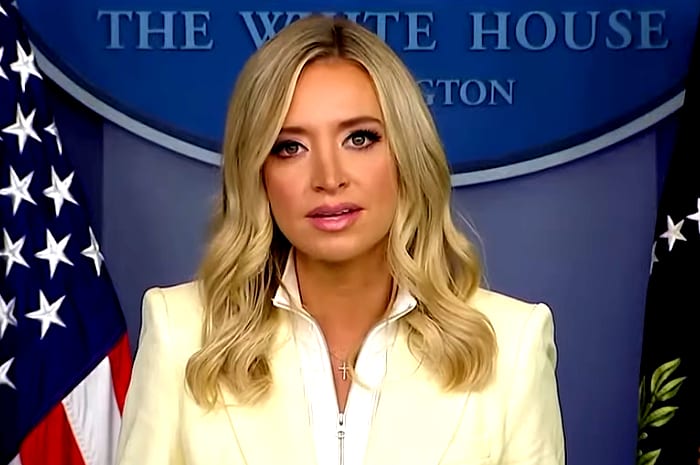 McEnany, above, would not explain what authority Trump would use to "override" governors' decisions to keep places of worship closed.
Representatives of two of Judaism's major branches, Reform and Conservative, said Trump's declaration does not change their stance and that their members are not expected to hold religious services soon. CNN has also reached out to a representative of the Orthodox branch for comment.
According to Business Insider, research has found time and again that the risk of COVID-19 transmission is much higher indoors, in poorly ventilated spaces where lots of people have sustained contact. That's because it primarily spreads via droplets that fly through the air when an infected person coughs, sings, talks, or sneezes.
William Schaffner, an infectious-disease expert from Vanderbilt University, said:
Any gathering, from the point of view of the virus, is ideal. People congregate, hug each other, exchange stories, and thank you very much, the virus is going to go from me to you.
A recent study found that talking loudly can produce enough droplets to transmit the virus, and that those droplets could linger in the air for at least eight minutes. Vigorous singing, too, has been linked to the virus' spread. That's what makes religious services dangerous. Trump indicated that it's up to religious leaders to minimize these risk factors.
Back in April, Kevin Kavanagh, MD, writing for Infection Control Today, said:
One of the cruelest characteristics of the coronavirus epidemic is that it strikes fear in the hearts and minds of many causing them to ask for comfort and protection from the God they believe in. And at the same time this virus has made a church service one of the most deadliest places to be in. The combination of singing in close quarters and decreased ventilation is nothing short of a petri dish (or cell plate) for viral growth. 

Observed infection rates can be astronomical. In Washington State, a choir practice of 60 individuals who practiced social distancing resulted in 45 infections, 3 hospitalizations and 2 deaths.

One may ask: Why am I calling out churches? The answer is asymptomatic spread and aerosolization of the virus from singing. It's been determined that this virus is much more infectious than the flu.
Trump said:
Ministers, pastors, rabbis, and imams and other faith leaders will make sure their congregations are safe as they gather and pray. They love their congregations, they love their people, they don't want anything bad to happen to them or to anyone else.
• If you wish to report any typos/incorrect info in this piece, please email me at barry@freethinker.co.uk
If you'd like to buy me a cup of coffee – and boy, do I get through a LOT of coffee keeping this blog active – please click this link.