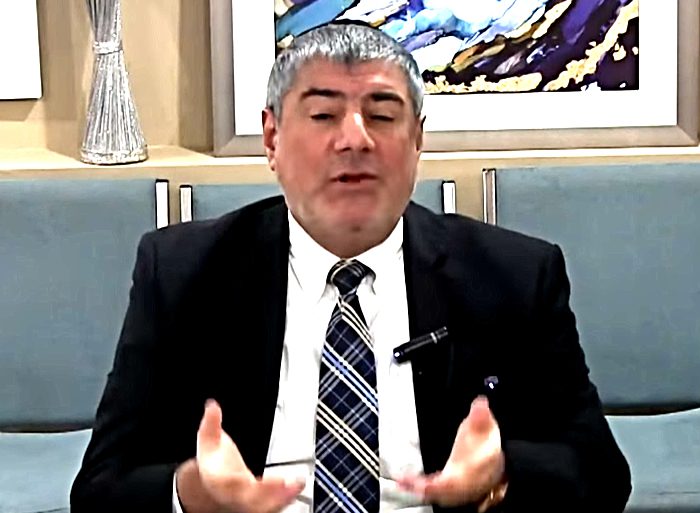 NEW York rabbi Yosef Mizrachi, above, has placed himself on the rapidly growing list of nutters, including Donald Trump, who advocate crackpot cures for COVID-19.
This quote from Jewish News:
You take a hot hair-blower, you open up your mouth, you blow hot air into your throat… until you feel your throat gets very, very hot inside. Twice a day for five minutes. If you do what I tell you it will kill the virus immediately. It's dead and it's guaranteed. There are other ways, but it's not guaranteed. This is guaranteed.
He added:
If you count on the hospitals to take care of you, then you are dreaming. There's no more beds. In Israel they told people, 'don't come, come after the fever goes away.' Why? 'We don't want to catch it.'… Technically there is nothing they can do for you in hospital.
Mizrachi said the virus targets weak immune systems, saying:
Weak immune system come from depression, sadness, lack of faith, low spiritual level, anxiety, fear… The more you think like a loser, the more your immune system becomes weak. What's the solution to prevent those viruses entering the body? Be happy, trust God, focus on your Torah, focus on your prayers …
Mizrachi may appear to be nothing more than a swivel-eyed crank, but the authorities in the UK apparently regarded him as enough of a threat civil society that they denied him access to the country.
Mizrachi, who once said autism and Down 's syndrome were punishments for the sins of a past life, had planned to embark on a speaking tour of London and Manchester but the Home Office intervened to block him from flying to the UK.
The Home Office declined to comment, saying it does not "routinely comment on individual cases".
His planned tour was preceded by media reports that exposed some Mizrachi's controversial decrees – including that Ashkenazi Jews helped to bring about the Holocaust by "assimilating".
In December 2015, he also suggested the possibility that only a million Jews perished in the Holocaust, because:
Eighty percent of the Jewish people were assimilated and intermarried with non-Jews.
Mizrachi also upset people with other utterances. Last year he said Britain's Chief Rabbi Ephraim Mirvis was "a cancer" who would bring about another Holocaust on the Jewish people after Mirvis supported an educational guide urging the protection of Jewish schoolchildren who identify as LGBT.