'SLAPSTICK' antics that diminish the sanctity of Catholic rituals could give atheists the idea that people of faith do not take their beliefs seriously and that religion is a load of superstitious nonsense.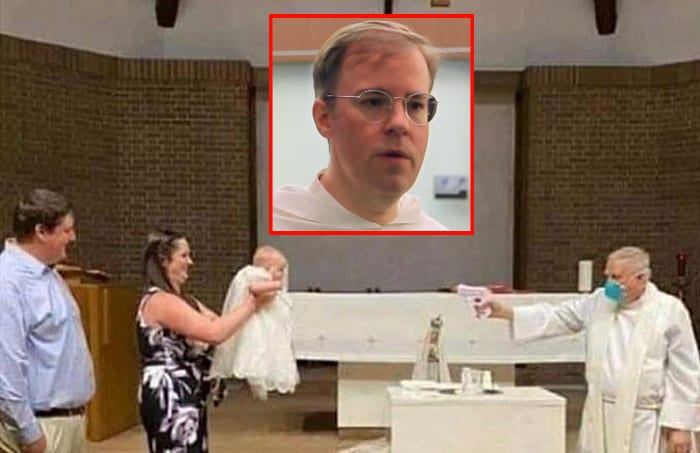 That's the view of Californian priest Pius Pietrzyk, inset above, who condemned the actions of Fr Stephen Klasek, pictured firing a water gun at an infant at a Nashville, Tennessee, baptism.
A Facebook post explained that:
The family had requested for him to do this pose as copied from several posts of priests circulating around the internet. He agreed because he thought it was funny. The water in the water gun is not holy water and was squirted towards the dad and not the baby for humor impact. Bottom line, it was meant to be for fun.
But Pietrzyk doesn't think the caper at St Mark Catholic Church at all amusing and said that even a staged photo raises the possibility of the sin of scandal, which the Church defines as:
An attitude or behavior which leads another to do evil.
Staging such a photo, he said, may lead others to:
Treat the things of God and of Divine Worship as mere objects of derision, stripping them of their sacral import and infusing them with a sense of the slap-stick. It especially leads non-believers into concluding that people of faith do not take their beliefs seriously and, in extreme cases, can lead people to conclude that the priests involved think that such acts of religion are no more than superstitious nonsense.
He noted that the Catechism teaches that profaning sacred objects or treating them unworthily is a sin – the sin of sacrilege.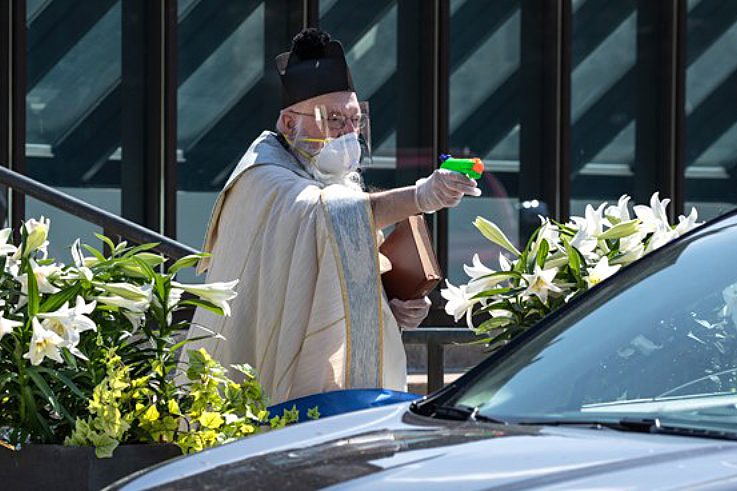 On May 18 we reported that a photo of Detroit Catholic priest Timothy Pelc squirting holy water at passing cars had gone viral.
Pietrzyk, assistant professor of canon law at St Patrick Seminary in Menlo Park, California, said of this incident:
Putting holy water into a squirt gun and treating it as if it were a comedy sketch on SNL [Saturday Night Live] is treating both the sacrament and the blessed water unworthily.
Fr Daniel Cardo, who holds the Pope Benedict XVI Chair of Liturgical Studies at St. John Vianney Theological Seminary in Denver, noted that there is a liturgical instrument specifically intended for the sprinkling of water – the aspergilium – which is used during the Easter Season and in other ceremonies when holy water is sprinkled.
We do this all the time. We bless people at a distance with holy water. We have a beautiful thing that we can use [the aspergilium]. We don't need toys to do that.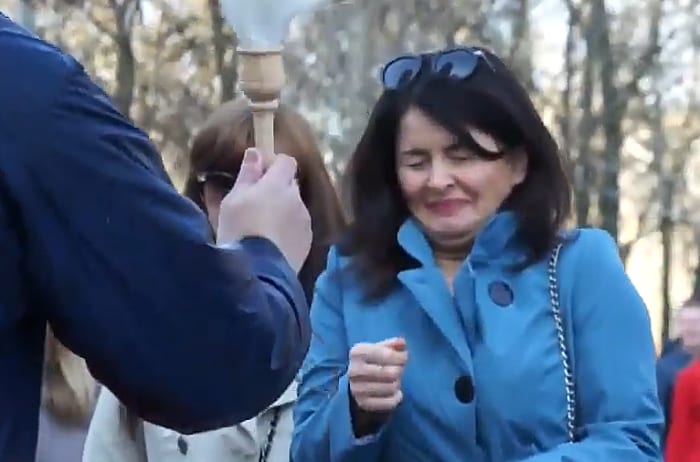 • If you wish to report any typos/incorrect info in this piece, please email me at barry@freethinker.co.uk
If you'd like to buy me a cup of coffee – and boy, do I get through a LOT of coffee keeping this site active – please click this link. By way of a 'thank you' I will send you a copy (pdf) of the rollickingly funny Atheists Limericks and Cartoons, published by the Humanist Global Charity.