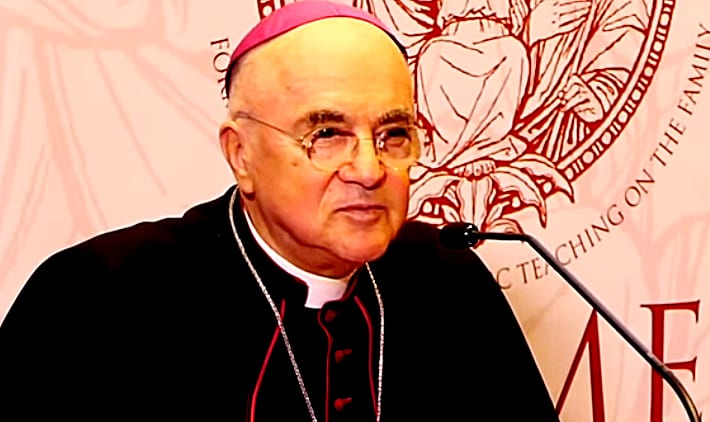 LAST week Archbishop Carlo Maria Viganò, above, who served as Papal Nuncio to the US from 2011 to 2016, wrote a nauseatingly obsequious open letter to Trump in which he touted a bunch of conspiracy theories – including one that claimed the COVID-19 crisis was part of a 'colossal operation of social engineering.'
Trump was dead chuffed by Viganò baloney, which came after the President had been excoriated by another archbishop – Washington D C's Wilton Gregory – for using the Pope St John Paul II Shrine in Washington D C as a photo-op in the midst of demonstrations over the murder of George Floyd.
The Viganò letter so delighted the POTUS that today (Thursday) he tweeted:
So honored by Archbishop Viganò's incredible letter to me. I hope everyone, religious or not, reads it!
In his letter, according to LifeSiteNews, Viganò interpreted recent events facing the nation, the Church, and the Presidency in spiritual terms, calling attention to the ancient biblical battle between "children of light" and the "children of darkness."
He explained to the President that "children of darkness" are now clearly revealing themselves, notably by:
Those who managed the Covid emergency not only in the area of health care but also in politics, the economy, and the media. We will probably find that in this colossal operation of social engineering there are people who have decided the fate of humanity, arrogating to themselves the right to act against the will of citizens and their representatives in the governments of nations.
Viganò also praised the President for standing up for the unborn and religious liberty:
For the first time, the United States has in you a President who courageously defends the right to life, who is not ashamed to denounce the persecution of Christians throughout the world, who speaks of Jesus Christ and the right of citizens to freedom of worship. Your participation in the March for Life, and more recently your proclamation of the month of April as National Child Abuse Prevention Month, are actions that confirm which side you wish to fight on. And I dare to believe that both of us are on the same side in this battle, albeit with different weapons.
Archbishop Viganò also drew attention to the presence of a deep church working hand in hand with the deep state to create a new world order :
There are Bishops … who, by their words, prove that they are aligned on the opposing side. They are subservient to the deep state, to globalism, to aligned thought, to the New World Order which they invoke ever more frequently in the name of a universal brotherhood which has nothing Christian about it, but which evokes the Masonic ideals of those who want to dominate the world by driving God out of the courts, out of schools, out of families, and perhaps even out of churches.
The former nuncio concluded:
Mr. President, my prayer is constantly turned to the beloved American nation, where I had the privilege and honor of being sent by Pope Benedict XVI as Apostolic Nuncio. In this dramatic and decisive hour for all of humanity, I am praying for you and also for all those who are at your side in the government of the United States. I trust that the American people are united with me and you in prayer to Almighty God.

United against the Invisible Enemy of all humanity, I bless you and the First Lady, the beloved American nation, and all men and women of good will.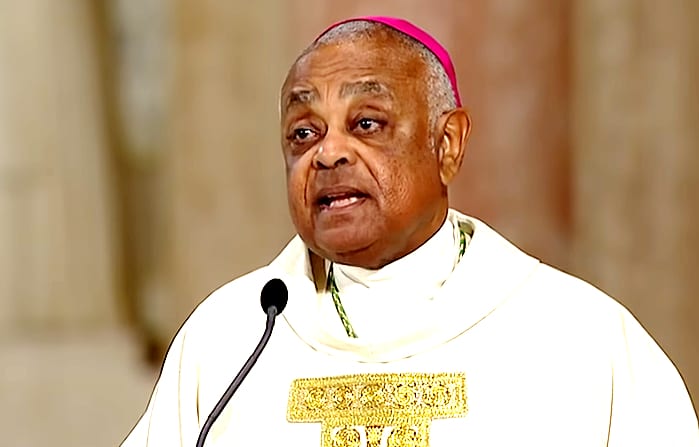 Meanwhile LifeSiteNews has launched a petition, calling on Gregory, above, to apologise to Trump and the Knights of Columbus, for making "divisive", "hateful" and "ill-mannered and discourteous remarks". The petition says:
With caustic and deeply divisive remarks, unbefitting an Archbishop of Washington, Gregory called the President's visit "baffling and reprehensible." And, he went on to suggest that the Shrine and the Knights of Columbus allowed themselves to be "egregiously misused and manipulated" by the President.

Of course, nothing could be further from the truth!

Archbishop Gregory is a Catholic priest and, supposedly, a spiritual leader. Not a politician.

One would think that a spiritual leader – not a politician – would welcome and invite the President to pray more, especially at this time of crisis.

One would think that a spiritual leader – not a politician – would applaud the Knights for hosting the President and the First Lady in prayer.

One would think that a spiritual leader – not a politician – would strive to unite Catholics, as well as other Christians, rather than divide them.

In the current atmosphere where tensions are running high, he should easily see the need for reconciliation and unity on the matter of prayer and the benefit to be gained from visiting holy sites, as well as extolling the virtues of Pope St John Paul II, who was a strong defender of human rights.
Let's not forget that that this "strong defender of human rights" facilitated the spread AIDS in Africa by strongly condemning the use of contraceptives. In 2005, when John Paul II died, Guardian columnist Polly Toynbee castigated then Prime Minister Tony Blair for attending the funeral of "a man whose edicts killed millions."
And then there's this from the British medical journal, The Lancet:
Pope John Paul II is … unforgiving in his interpretation of Church doctrines when he speaks about stopping the spread of HIV. He is harshly critical of traditional African practices, such as polygamy, without signalling any understanding of African history or culture.He abhors what he labels the continent's 'contraceptive mentality'. And, displaying an astonishing lack of knowledge about the daily pressures of African life, he condemns what he describes as African 'irresponsible and immoral sexual activity'. Worse still, the Pope opposes concepts central to AIDS prevention, such as sexual and reproductive health.
So Saint John Paul II – whose ascension to divine glory was the fastest "since the Virgin's Mary's" – also appears to have been an out-and-out racist. Colour me surprised.
• If you wish to report any typos/incorrect info in this piece, please email me at barry@freethinker.co.uk
If you'd like to buy me a cup of coffee – and boy, do I get through a LOT of coffee keeping this site active – please click this link.