FOUR years of effort to establish an organisation for Satanists finally paid off when the South African Satanic Church was awarded official recognition earlier this month.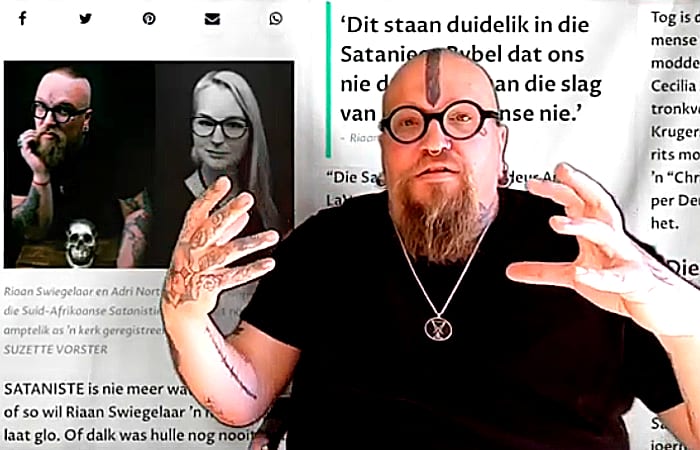 Co-founders of the church are Adri Norton and Riaan Swiegelaar, pictured above – and their future plans include translating Anton LaVey's The Satanic Bible into Afrikaans.
The SASC website declares:
Satan to us is a symbol of Pride, Freedom and Individualism, and it serves as a projection of our highest potential … Our mission is to educate the public to what legitimate Satanism is, but also more importantly; to address the misconceptions that exist in South Africa as a result of the 'Satanic Panic.'
According to Wikipedia, this refers to the creation in South Africa of the Occult Related Crimes Unit in 1992, described as the "world's only 'ritual murder' task force":
According to anthropologist Annika Teppo, this was linked with powerful conservative Christian forces within the then-dominant white community in the last years of apartheid. Christian belief is was prerequisite to serve in the unit. The concern with the alleged presence of Satanism and occult practices has continued into the post-apartheid era.
The church's website makes clear that:
• We do NOT worship the "Devil", but simply revere Satan as an Archetype for our true nature.
• We do NOT practice, nor condone animal, and/or human sacrifice.
• We are NOT a bunch of "haters" banding together to curse people.
• We are NOT evil magicians invoking spirits to make money.
• We are NOT anti-God, anti-Allah or anti-Buddha.
• We are NOT perfect and we don't have all the answers.
• We provide a safe platform, where like minded individuals can meet, and enjoy fellowship with other Satanists and Seekers.
It adds:
Our Satanic Family is very large … We are teachers. We are students. We are business owners. We are CEOs of large SA corporations. We are leaders. We work in hospitals, schools, universities and in the police service. Some of us are also parents, your neighbours and co-workers. We live in all cities of South Africa. We are in rural areas, and in all suburbs.

Some of us wear our Satanic pride on our sleeves, out in the open for all to see, some of us do not. Some of us have family and friends that accepts us for who we are, some of us don't. We are many, and we are strong.

We don't spend our lives living in guilt, or waiting for someone to punish us for who we are. We accept all consequences of our actions. We are the only ones whose forgiveness we need.

Hail Yourself! Hail Satan!
Last year, the Satanic Temple in the US revealed that more then half of its membership came from LGBT communities. Co-founder of the Temple, Lucien Greaves, said at the time:
Within the Satanic Temple, we're all pretty much one and the same. We're all Satanists and it's not like we have 'tolerance' for trans people or gay people or sex workers – we just don't fucking care, and a lot of people in those communities appreciate that.
Thomas Matthew Miles-Nell, a member of the church, said as a Satanist he found it refreshing that there was now an organisation that is representative of what true religious satanism was.
Jaco Venter, another member, said:
I am really proud of my country that my religion is being acknowledged and empowered.
The church is a registered non-profit company under the category of a religious organisation.
Norton and Swiegelaar said they would like to dispel some of the misconceptions people may have about satanism. Said Norton:
We are not a get-rich organisation but rather a religious organisation.
Swiegelaar added that they were not after your children nor were they part of the "Illuminati" or a cult.
Our organisation does not even allow anyone under the age of 18 to partake in any gatherings, ceremonies or rituals. We do not yet have the rights, but are negotiating to translate the Satanic Bible into Afrikaans. We will then be the first organisation to do so.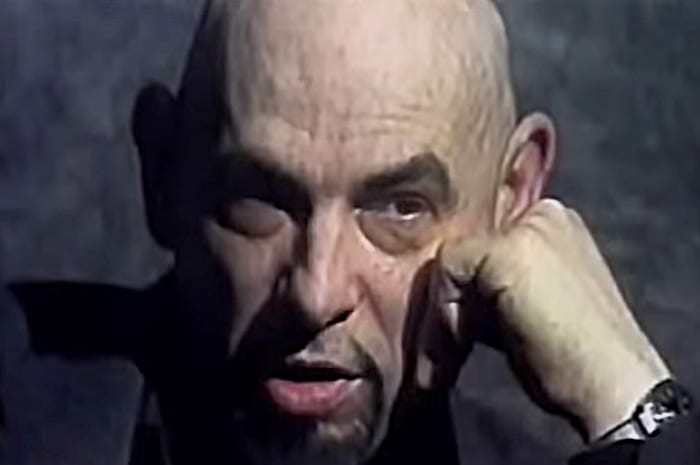 The opening of the church has prompted many comments on social media. Here are but two:
Jacques Owora said:
Not judging any one's faith, which is a right for people to believe what they want to believe in. I have a problem though with the word church associated with this, not a problem per se, but I thought and have looked this up, the definition of church is associated with Christian worship and ideals or am I missing something?
Kaisara July Moshabane said:
They seem like nice guys to be around.
The South African Satanic Church has a presence on Facebook, with more than 5,000 followers.
• If you wish to report any typos/incorrect info in this piece, please email me at barry@freethinker.co.uk
If you'd like to buy me a cup of coffee – and boy, do I get through a LOT of coffee keeping this site active – please click this link.