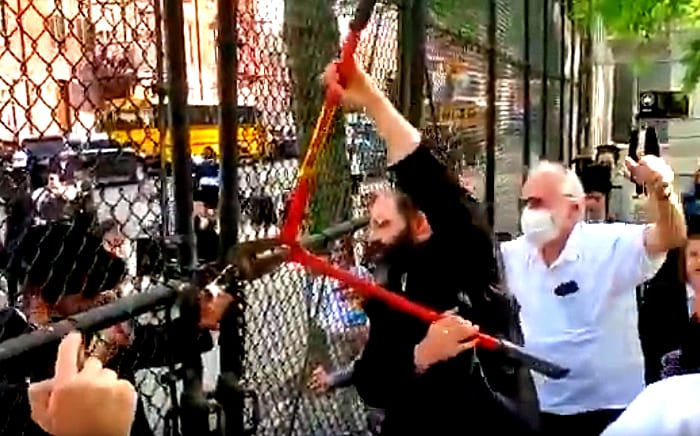 DESPITE the fact that all parks and playgrounds in New York City remain closed due to to COVID-19, some in Orthodox Jewish areas believe they are being unfairly targeted, and yesterday a group of activists used bolt cutters to gain entrance to a playground in Williamsburg.
Led by activist Heshy Tischler and a number of state assemblymen, the group was seen in videos shared to social media breaking the lock off a gate.
Tensions between New York's Orthodox population and the city administration have soared to new heights in recent months, with community members insisting Mayor Bill de Blasio's Covid-19 containment measures have been applied more heavily to Jewish neighborhoods.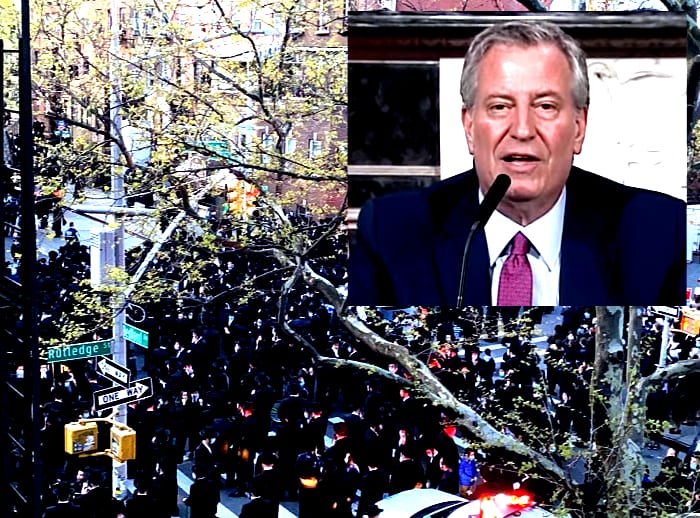 In April, de Blasio came under fire after he personally supervised police as they broke up a large funeral procession for a popular local rabbi, singling out the "Jewish community" by name in a chastising tweet warning of the dangers of the virus. When De Blasio, inset, saw scenes of the gathering, he tweeted:
Something absolutely unacceptable happened in Williamsburg tonite: a large funeral gathering in the middle of this pandemic. When I heard, I went there myself to ensure the crowd was dispersed. And what I saw WILL NOT be tolerated so long as we are fighting the Coronavirus.

My message to the Jewish community, and all communities, is this simple: the time for warnings has passed. I have instructed the NYPD to proceed immediately to summons or even arrest those who gather in large groups. This is about stopping this disease and saving lives. Period.
More recently, city workers were seen welding shut some parks in an effort to enforce the lockdown and keep residents away, but that has done little to tamp down on frustration over the measures, apparently inspiring Tischler's act of civil disobedience earlier on Monday. He may have taken cues from others, however, as dozens of other locks have reportedly been snapped off park gates in recent weeks.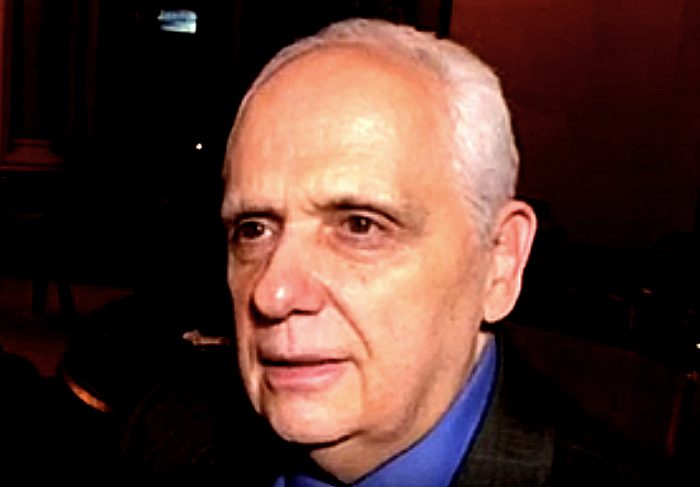 Assembly Member Joseph Lentol, above, who organised the mob, issued the following statement:
When attending today's rally, I said I believe that the playground should be open and said so very strongly. While I did not see the locks being cut, I understand the frustration which would lead that to happening.

Our families do not feel that they are being heard. I see this rally as a peaceful message, with the clipping of the locks as a strong signal that the families are unhappy and fed up. They want activities for their children and they want to be heard. The city must come up with a better plan than cutting off access to playgrounds entirely.
Now I may be wrong, but it looks as if the man wearing a face mask and cheering on the vandal is Lentol. Would he lie about not witnessing the locks being cut? Check out the video and decide.
The NYC Parks Department says just like all the playgrounds in the city, Middleton is currently closed.
They say the playground has been broken into at least 25 times in recent weeks.
Said Jane Meyer, deputy press secretary for de Blasio's offic:
Every playground in the city is closed. This is a matter of health and safety.
The city Parks and Recreation Office, meanwhile, noted the welding was a "reversible procedure" and said the gate would soon be re-locked.
In a similar effort to discourage park-goers, the city has removed basketball hoops and other amenities, which has also sparked outrage among community members – even those taking careful precautions to limit exposure to Covid-19.
Local lawmakers have waded into the row, with New York State Senator Simcha Felder stating that residents are "running out of patience" with the lockdown. He demanded that the mayor opens every playground in his community, vowing that he and other officials would "cut the locks open" themselves if de Blasio failed to act.
Meanwhile its reported that here that five defendants, including three Orthodox Jews from Brooklyn, are suing New York Governor Andrew Cuomo, Attorney General Letitia James and New York City Mayor Bill de Blasio for violating their civil rights by forbidding religious gatherings and requiring "oppressive conditions" that limit gathering sizes during the coronavirus pandemic. The lawsuit, filed last week, alleges that:
Defendants have exploited the COVID-19 pandemic to create, over the past three months, a veritable dictatorship. While defendants jointly impose this arbitrary, pseudo-scientific regime of strict gathering limits for some groups and activities but not others, they are permitting closely packed gatherings of thousands to protest the wrongful death of George Floyd at the hands of a police officer, which have been taking place in New York City and every other major city in New York State day-after-day since Floyd's death on May 25.
The defendants, Reverends Steven Soos and Nicholas Stamos, as well as Daniel Schonbrun, Elchanan Perr and Mayer Mayerfield, claim that the government's enforcement of social-distancing rules has been uneven, and has targeted religious groups.
The suit accuses the defendants of "singling out the free exercise of religion for strict regulation" and alleges that the Governor, Attorney General and Mayor have violated the plaintiffs' constitutional right to freedom of religion, speech, assembly, expressive association and equal protection under the law for allowing and even encouraging protests regarding the police killing of George Floyd.
The suit claims that unlimited in-person gatherings for things like state beaches and de Blasio's infamous tweet to the "Jewish community" saying that he had "instructed the NYPD to proceed immediately to summons or even arrest those who gather in large groups" illustrate an uneven enforcement under the law.
Religious people have filed legal challenges against stay-at-home orders in at least 19 states, including New Jersey, a filing backed by a Lakewood rabbi.
William Barr's Justice Department has specifically warned states and local authorities to steer clear of "discrimination against religious institutions and religious believers" during the pandemic.
The department sent a letter to California Governor Gavin Newsom saying the state's stay-at-home order:
Does not appear to treat religious activities and comparable nonreligious activities the same.
The plaintiffs are being represented by lawyers from the Thomas More Society, a conservative law firm based in Chicago.
Hat tip: Antony Niall (forced entry report)
• If you wish to report any typos/incorrect info in this piece, please email me at barry@freethinker.co.uk
If you'd like to buy me a cup of coffee – and boy, do I get through a LOT of coffee keeping this site active – please click this link.