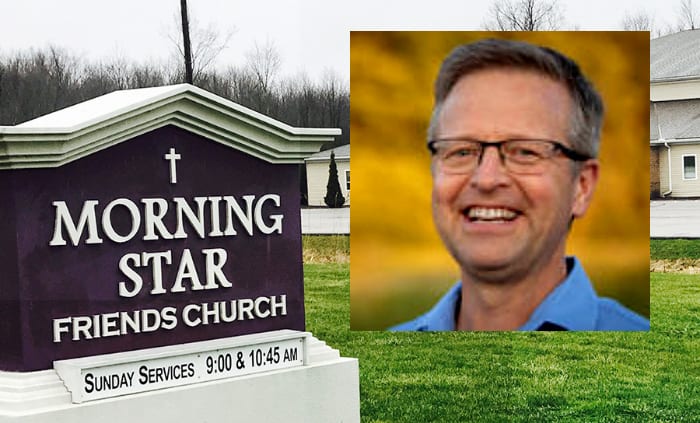 BACK in 2018 American Atheists filed a lawsuit against the evangelical Morning Star Friends Church in Chardon, its lead pastor, Matthew Chesnes, inset, above, and an outfit called Big Brothers/Big Sisters of Northeast Ohio after a disabled child, aged 11, was forcibly baptised against the expressed wishes of his non-religious parents.
The brain-damaged child, referred to as "V" in the court filing, was taken to a church picnic in August 2016 by the child's mentor. During the picnic, the mentor and the church's pastor subjected the boy to a full-immersion baptism. American Atheists said at the time that the baptism was the culmination of more than a year of religious harassment by V's guardian ad litem and V's mentor, Margaret Vaughan.
Last week the case was settled. American Atheists announced that their clients, April and Gregg DeFibaugh, were awarded an undisclosed sum.
The baptism, which occurred on August 28, 2016, left the boy traumatised with severe anxiety and recurring nightmares of drowning, preventing him from sleeping by himself.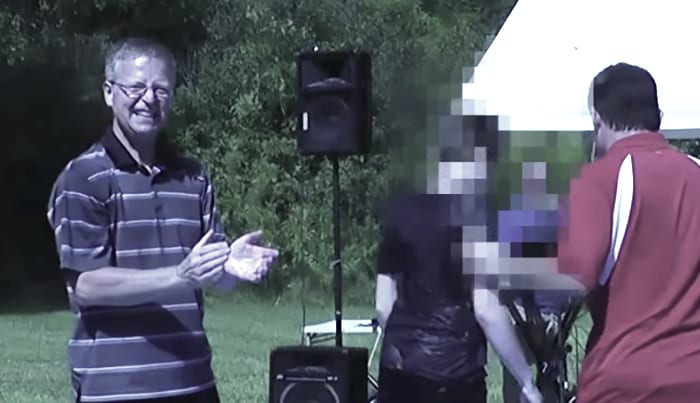 Footage of the incident, showing Chesnes applauding after the boy was baptised, was handed to the Geauga County Sheriff's Office as evidence. But the prosecutor in the case decided not to press criminal charges. In the video Guarnera is seen standing next to the boy outside the inflatable pool. He tells those gathered that the boy's father does not believe in God and his mother knows Jesus but is not a follower.
The lawsuit stated that Vaughan and Guarnera used their positions of authority over the boy for church "indoctrination."
Guarnera also told (the boy) repeatedly that he did not like families that did not believe in God. The boyvalued the social interactions that Guarnera offered … but came to feel intimidated by Guarnera's discussions, believing that if he did not allow Guarnera to continue to talk about religion … Guarnera would reject (him) as a little brother.
Said Geoffrey Blackwell, American Atheists' Litigation Counsel.
Although no settlement or verdict could undo the anguish their son suffered, the DeFibaughs are pleased with the outcome. They are glad that he will not have to go through the ordeal of a trial.
Cleveland-based attorney Kenneth D Myers, who collaborated with American Atheists in representing the DeFibaughs, said:
We applaud the defendants' decision to settle this case and allow the family to move forward. Everyone, whether a pastor or a volunteer mentor, must respect the family's values.
In announcing the settlement, American Atheists said:
Stigma and discrimination against nonreligious people is widespread in the United States, and Ohio nonbelievers are no different. American Atheists' U.S. Secular Survey, the largest ever data collection project on secular Americans, found that nonreligious Ohioans face a significant amount of stigma.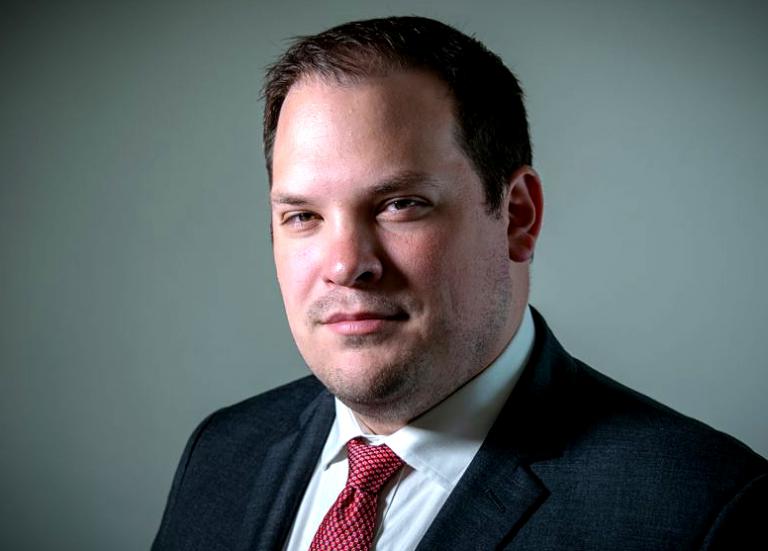 The organisation's President Nick Fish, above, added:
Unfortunately, nonreligious families like the DeFibaughs too often face discrimination and disapproval because of the choices they make in raising their children.

For example, nearly one third (29.4%) of U.S. Secular Survey participants or their children had negative experiences at school due to their nonreligious identity. Of those who experienced this discrimination in education, there was a 21.5% higher rate of likely depression.

While we hope the settlement brings a sense of closure to the family, the fight to ensure the most basic rights for our community continues with the mental health of millions of Americans at stake.
The lawsuit alleged that Margaret Vaughan, along with Chesnes, recruited David Guarnera, a member of her church, to act as a mentor for V through the Big Brothers/Big Sisters of Northeast Ohio, which has since been renamed Torchlight (Mission: "To foster the development of youth to reach their highest potential as responsible, adaptable, caring adults.")
According to the suit, despite explicit instructions from the DeFibaughs to refrain from religious activities with V, Guarnera would frequently discuss religion with the boy.
In 2016, Guarnera took V to a picnic at the Morning Star Friends Church and, along with Chesnes, forcibly baptised him, pushing him under water.
In launching the lawsuit, Geoffrey Blackwell, American Atheists' staff attorney, said:
Ms. Vaughan's, Pastor Chesnes', and Mr. Guanera's actions are appalling. We are pleased that the DeFibaugh family will finally have their day in court.
Attorney Myers added:
The DeFibaughs put their trust Mr. Guarnera and Big Brothers/Big Sisters. They betrayed that trust. No one has the right to lay a finger on a child without parental consent, let alone forcibly submerge a child in water.
• If you wish to report any typos/incorrect info in this piece, please email me at barry@freethinker.co.uk
If you'd like to buy me a cup of coffee – and boy, do I get through a LOT of coffee keeping this site active – please click this link. By way of a 'thank you' I will send you a copy (pdf) of the rollickingly funny illustrated Atheists Limericks and Cartoons, published by the Humanist Global Charity.