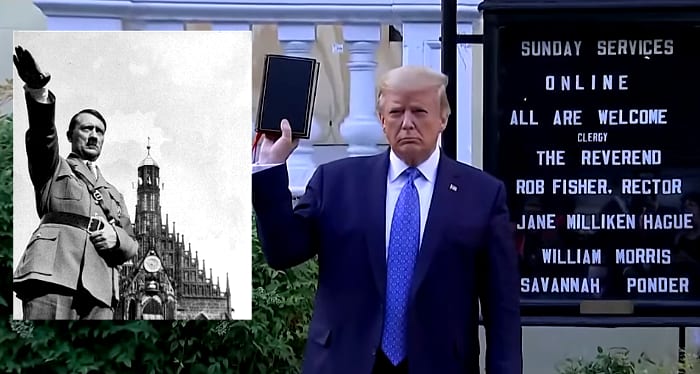 IMAGES linking Hitler and Trump standing outside churches are popping up all over social media sites after Donald Trump strode through a park that had just been cleared of peaceful protesters to stand outside a church and brandish an upside-down Bible. He said, over the noise of sirens, that America is a great country, and will be greater than ever before.
The church Trump chose for a brief photo opportunity was St John Episcopal Church – and its presiding bishop was less than impressed by the tasteless and insensitive stunt.
The Most Rev Michael Curry condemned the action, saying:
The Bible the President held up and the church that he stood in front of represent the values of love, of justice, of compassion, and of a way to heal our hurts.

We need our president, and all who hold office, to be moral leaders who help us to be a people and nation living these values. For the sake of George Floyd, for all who have wrongly suffered, and for the sake of us all, we need leaders to help us to be 'one nation, under God, with liberty and justice for all'
Trump's action came after "an incendiary" Rose Garden speech on Monday in which he threatened to deploy the military if mayors and state governors refused to call out the National Guard to end protests of police brutality.
Accompanied by a phalanx of Men in Black, Trump crossed Lafayette Park where earlier police has used tear gas and rubber bullets to disperse protesters.
Amid weekend protests over the police killing of George Floyd in Minneapolis and the ongoing scourge of police brutality against black people, a fire was started in the basement of the church. No one was injured.
According to Michelle Boorstein of the Washington Post, D C Episcopal Bishop Mariann Budde was "outraged" that they used the church "as a prop."
Said Rabbi Jack Moline, President of Interfaith Alliance:
Seeing President Trump stand in front of St John's Episcopal Church while holding a Bible in response to calls for racial justice – right after using military force to clear peaceful protestors out of the area – is one of the most flagrant misuses of religion I have ever seen. This only underscores the president's complete lack of compassion for Black Americans and the lethal consequences of racism.
Trump said earlier in the day in a private call to governors obtained by Reuters:
You have to dominate. If you don't dominate, you're wasting your time – they're going to run over you, you're going to look like a bunch of jerks.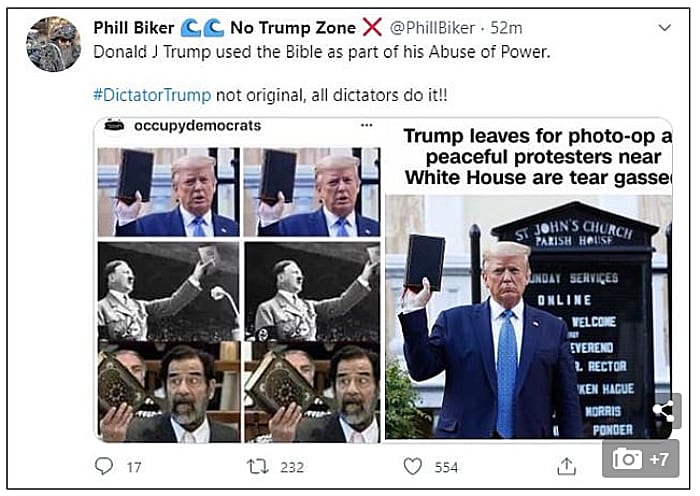 Drawing a parallel between Trump and Adolf Hitler, Christian writer Leah D Schade wrote:
Hitler surrounded himself with the trappings of religion and a few empty phrases of Christianity while undermining and destroying everything that Jesus Christ stood for. Brute strength and domination were favored over the 'weakness' of Jesus. Yet millions of Germans fell for his racist bigotry masquerading as piety.
She added:
Trump, too, has surrounded himself with radical right-wing 'Christians' who flock around him like pious pigeons. They bestow blasphemous benedictions on this Beelzebub as he cages children in concentration camps and stokes the fires of racial hatred. With full-blown toxic narcissism, he has called himself 'the chosen one.'

Clergy of all religions must unite to condemn what Trump has done and is doing. Of course, many have been protesting his regime from the beginning. But now, many more are needed to join voices and link arms. We must vociferously and publicly oppose what is happening. We must stand on the values we hold in common – values that are now threatened. Justice. Peace. Honesty. Restraint of evil. Protection of the vulnerable.
Here's Joe Biden's brilliant response to Trump's disgusting caper:
UPDATE: The original image used to illustrate this piece showed Hitler holding a Bible. Thanks to the many who have pointed out that this was a Photoshopped image. I substituted it with a pic of Hitler outside a church.
• If you wish to report any typos/incorrect info in this piece, please email me at barry@freethinker.co.uk
If you'd like to buy me a cup of coffee – and boy, do I get through a LOT of coffee keeping this site active – please click this link. By way of a 'thank you' I will send you a copy (pdf) of the rollickingly funny illustrated Atheists Limericks and Cartoons, published by the Humanist Global Charity.