AFTER writing a song that became a gay anthem, George Hargreaves, 62, went full-on homophobic – a stance that landed him in hot water with a homeless charity he worked for.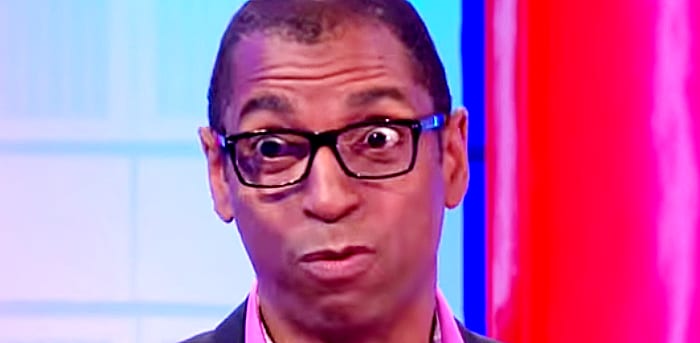 Hargreaves, above, who wrote the 80s disco anthem So Macho, slunk off to to an employment tribunal to complain of religious harassment he suffered at London's Evolve Housing and Support after he got into an argument about homosexuality with a colleague, Elizabeth Akano.
Akano stated that 'people are born gay'. Hargreaves retorted:
Paedophiles make the same argument.
Akano then researched Hargreaves' religious views on homosexuality, then cold-shouldered him, saying last year that she had no respect for him. Akano also complained, claiming his comments amounted to homophobia.
He then launched a complaint, stating that her actions created an "humiliating environment." Akano also complained, claiming his comments amounted to homophobia. Neither complaints were upheld by Evolve, and Rev Hargreaves then appealed. He said:
It is not illegal to put the two words in the same sentence.
In their judgement, the panel said:
[Rev Hargreaves] replied to the effect that paedophiles make the same argument, that they are born that way. (He) went on to state that even if people are born with a condition, that does not put it beyond God's ability to change or "heal" it.

Rev Hargreaves said that by saying the above words, he was not alleging or suggesting that homosexuals are paedophiles. He did not consider that the comment would be offensive, or what he said was rude.
Judge Andrew James then ruled Rev Hargreaves was harassed and discriminated against on grounds of his religious beliefs because he was ignored by Akano and inappropriately questioned by area manager Jon Deakin, who asked about his political background.
Hargreaves founded the right-wing Christian Party in 2004.
But the judge also noted that the pastor's comparison of homosexuality to paedophilia was likely to cause offence and could even have amounted to harassment in itself. He said:
This case raises extremely difficult questions about the balancing of legal rights to freedom of speech, freedom of expression, religious belief and sexual orientation. Balancing those rights is not easy and navigating between them can result in employers walking something of a legal tightrope.
He continued:
The claimant is correct to say that it is not illegal to use those words together, in the sense that it is not a criminal offence. Many people however, whatever their sexual orientation, who do not share the claimant's deeply held and genuine religious beliefs, would find the use of those words in that context to be offensive. Ms Akano found them offensive, as did Mr Deakin.

The members of this tribunal understand why they would do so. Indeed, making such a remark in a work context could well amount to harassment related to sexual orientation.
Judge James went on to say that comparisons between the gay community and paedophiles had been:
Drawn in the past, to the detriment of the gay community. It was not so long ago that employees could justify dismissing gay employees on the basis of the prevailing view at the time that gay men were a potential threat to children.
According to
this report
, compensation for Hargreaves will be decided at a later remedy hearing.
Hat tip: BarrieJohn
• If you wish to report any typos/incorrect info in this piece, please email me at barry@freethinker.co.uk
If you'd like to buy me a cup of coffee – and boy, do I get through a LOT of coffee keeping this site active – please click this link. By way of a 'thank you' I will send you a copy (pdf) of the rollickingly funny illustrated Atheists Limericks and Cartoons, published by the Humanist Global Charity.