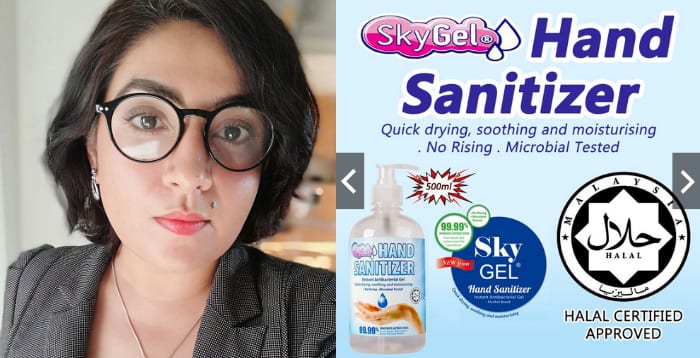 AUSTRALIAN neuroscientist and author Dr Sumaiya Shaikh, above, has hit out at companies who are capitalising on COVID-19 by selling 'halal' hand sanitisers to Muslims at greatly inflated prices.
In a Twitter post she said:
Seeing a surge of searched for halal, non-alcoholic hand sanitizers & some online vendors selling them. No, it doesn't get absorbed via the skin; it evaporates. They are not effective. Please stop using religion to market pseudoscience.
Shaikh spoke out after it was reported that in Malaysia that some vendors are offering "halal" hand sanitisers that don't contain alcohol – a substance forbidden in Islam – but experts say they are essentially useless as a deep cleaning agent.
Other products on offer provide hand sanitisers made of ethanol as an alternative to alcohol – but isopropyl alcohol and ethyl alcohol (ethanol), both of which can be used to make hand sanitisers , are both chemical compounds classified as alcohol.
Meanwhile, from India comes a report that a priest in a temple in Madhya Pradesh's Bhopal has said he is against the use of sanitisers at places of religious worship, which will open on Monday, June 8, in the first phase an unlock plan amid the coronavirus pandemic.
The government has issued standard operating procedures which include physical distancing of at least six feet, mandatory use of face covers; frequent hand washing for at least 40-60 seconds, use of alcohol-based hand sanitisers and covering mouth and nose while sneezing or coughing.
Chandrashekhar Tiwari, the priest of Bhopal Maa Vaishnavadham Nav Durga Temple said:
The task of government is to issue the guidelines but I am against the sanitiser machine in the temples because it contains alcohol. When we cannot enter a temple after drinking alcohol, then how can we sanitise our hand with alcohol and go inside?
He then gave another option for people to maintain personal hygiene at public places.
The machines for washing hands can be installed outside all the temples and soaps can be kept. We will accept that. Anyway, a person enters the temple only after taking a bath at home.
• If you wish to report any typos/incorrect info in this piece, please email me at barry@freethinker.co.uk
If you'd like to buy me a cup of coffee – and boy, do I get through a LOT of coffee keeping this site active – please click this link.