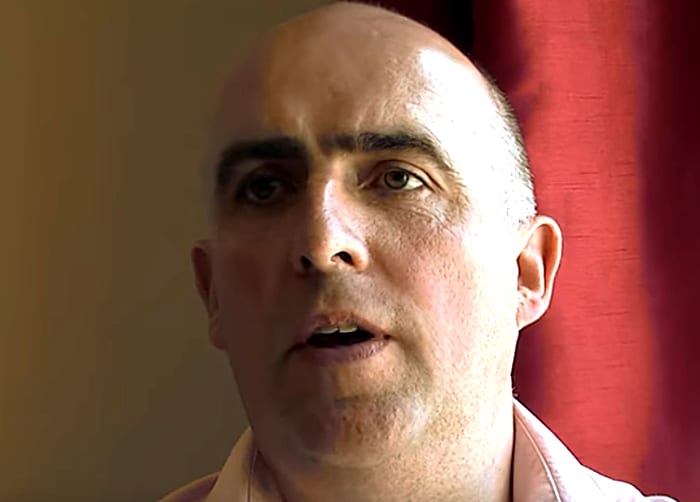 THE MAN pictured above is Northern Ireland pastor Barrie Halliday, who is complaining on his Facebook page (now deactivated) that he's receiving 'dozens of death threats' since he was arrested and charged last week with 'improper use of a public electronic communications network.'
The despicable Christian was arrested at his home in south Armagh on Thursday after a video was posted on Facesbook showing him ranting against anti-racism protestors in the province. Speaking from the sanctuary of his church, Halliday, a staunch loyalist, made a series of offensive remarks about those he deemed to be unwelcome in the country.
He said:
I am not a racist. I am fair, but I expect you to play fair. I expect you to put your best into the country, to realise we are a Christian country. We are a white civilisation. That's who we are. You want us to be embarrassed by it. You want us to change our life.

Would you like us to paint our faces? Would that make you happy? Would you like us to carve the trees down, carve them up and worship them?
Halliday added: "You may have been brought here 300 years ago, under duress or against your will," but that there are:
Boats sitting there empty at the minute doing nothing … you are welcome to get on them and go back home if you think we're so bad.
The video was removed from Facebook for breaching community standards, but it's been reposted on Twitter.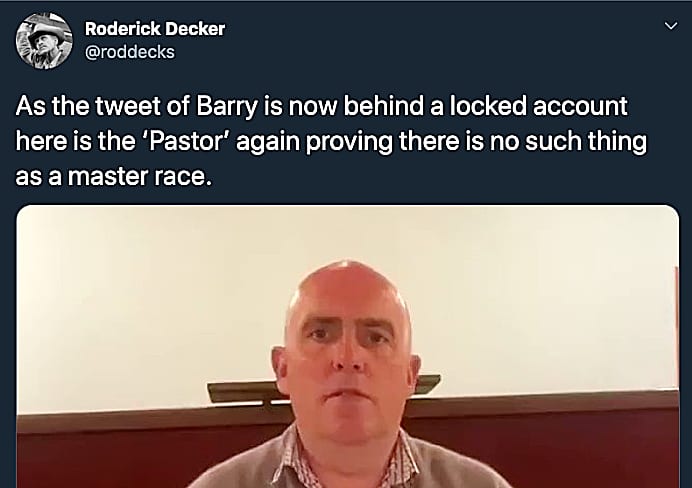 He was later arrested and charged. He said on Facebook that he was taken to Lurgan PSNI station:
For a so called hate crime of telling people who are involved in the black life's (sic) matter protest, violence and the vandalising of the Churchill statue to go home.
He also made it clear he has:
No interest or tolerance for racism whatsoever. I simply wanted everyone to settle down and hysteria to stop.
He claims he believes
100% that I didn't ignorantly or intentionally say anything that was out of place. I made the statement, I put up the post, I will have to see where it goes from there.
Court it'll be and we'll just have to see what happens after that.
A spokesman for the PSNI said:
Police in Newry have charged a 52-year-old man with improper use of public electronic communications network. He is due to appear at Newry Magistrates' Court on July 8.
Halliday is a well-known figure in the loyalist community, having been a former member of the Ulster Defence Regiment, a candidate for the Traditional Unionist Voice party, and a longtime associate of the late loyalist activist Willie Frazier.
In a BBC spotlight documentary series that aired last year, it was alleged that Frazier had been involved in supplying weapons to the loyalist paramilitary group Ulster Resistance, which were then used in a number of sectarian killings.
• If you wish to report any typos/incorrect info in this piece, please email me at barry@freethinker.co.uk
If you'd like to buy me a cup of coffee – and boy, do I get through a LOT of coffee keeping this site active – please click this link.