YESTERDAY Donald Trump drew fire from numerous quarters – including Joe Biden – for brandishing a Bible outside a church near the White House.
Today (Tuesday) he was castigated again – this time for turning up at the John Paul II National Shrine.
D C's Archbishop Wilton Gregory said in a "stinging rebuke":
I find it baffling and reprehensible that any Catholic facility would allow itself to be so egregiously misused and manipulated in a fashion that violates our religious principles, which call us to defend the rights of all people even those with whom we might disagree.

Saint Pope John Paul II was an ardent defender of the rights and dignity of human beings,. His legacy bears vivid witness to that truth. He certainly would not condone the use of tear gas and other deterrents to silence, scatter or intimidate them for a photo opportunity in front of a place of worship and peace.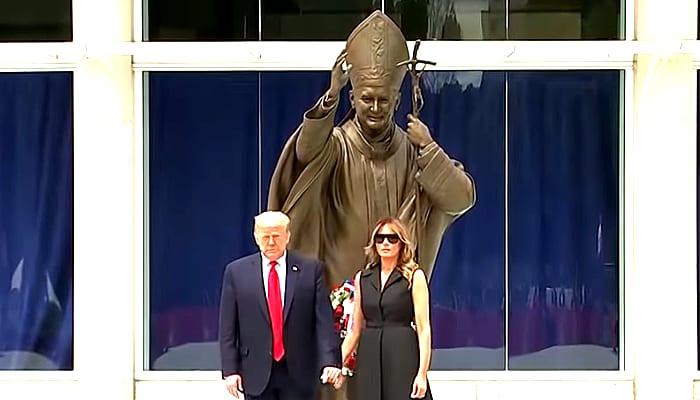 A spokesperson for the shrine indicated on Tuesday that the White House had scheduled the President's visit long before the recent violent uprisings in cities across the nation, countering Gregory's implication that this was nothing more than a political photo op.
Writing for LifeSiteNews, "ex-gay" Doug Mainwaring expressed puzzlement over Gregory's statement, saying the archbishop overlooked:
Donald Trump's record as the most pro-life president in the history of the nation, and his strong efforts to protect religious liberty.

Trump's pro-life gains include allowing states to defund Planned Parenthood of Title X and Medicaid funds; defunding the United Nations Population Fund and very recently the pro-abortion World Health Organization; reinstating and expanding the Mexico City Policy preventing taxpayer money from funding abortions overseas; creating a new office for conscience protection at the U.S. Department of Health and Human Services; and strengthening enforcement of federal laws protecting the conscience rights of health care workers who do not want to participate in abortion.

Trump also declared churches "essential" on May 22, telling state governors to allow them to reopen as coronavirus lockdowns begin to loosen. All public Masses in Washington, D.C. remain cancelled.
And he pointed out that Trump:
Has long been the object of criticism by many Catholic prelates because of his strong stance on immigration and secure borders.
Mainwaring added:
The president's visits to two important sites of Chrisitianity's [sic] presence in the nation's capital have left Catholics divided.
One Catholic woman from Charlotte, North Carolina who asked to remain anonymous because of employment concerns told LifeSiteNews that it would have been better if the President had prayed in front of St. John's Church:
In the tradition of the presidents before him. I wish he had not held the Bible up. It was poorly orchestrated from a PR perspective. What WAS effective was his calm and defiant manner of reclaiming what the looters tried to destroy. The female bishop who spoke out showed no appreciation for his desire to defend and protect her and her Church. Personally I liked the determined and defiant, frankly courageous walk there. Just fell short by not saying anything or reading a relevant verse or praying.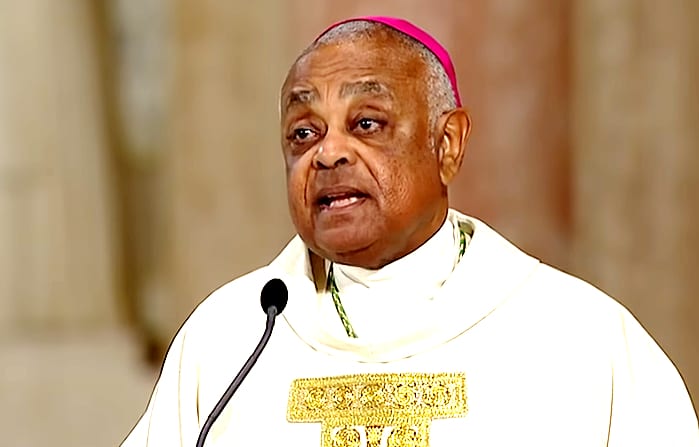 Gregory, above, according to Mainwaring:
Has a long record of supporting liberal causes. During his tenure as Archbishop of Atlanta, Gregory did nothing to stop a pro-LGBT parish from promoting, participating in, and hosting a booth at, the Atlanta 'Pride Parade.'

Gregory also personally invited pro-gay priest Father James Martin to give a speech at the Shrine of the Immaculate Conception, titled 'Showing Welcome and Respect to LGBT Catholics,' in 2018.
Update (June 3): In a op-ed – 'At St. John Paul II shrine, Trump's use of religion goes from bad to ugly' – published by yesterday by Religion News Service, Jacob Lupfer pointed out that the Trumps' appearance at the shrine:
Was a nod to the Knights of Columbus, who provided a cash infusion to the shrine in 2011 after years of financial difficulties. While Pope Francis offered a message of unity for the faithful in the United States after Floyd's death, the Knights' leadership is evidently untroubled by the timing or optics of providing political cover to Trump, who has a concerted campaign underway to hold white Catholic voters close to him in this fall's election.

A wealthy but declining fraternal organization of Catholic men, the Knights of Columbus increasingly appears too comfortable with the conservative legal and political establishments. Once respected as a community service organization, the Knights are in perilous danger of forsaking their legitimate mission in favor of becoming too white, too right-wing, and too Trumpy.
Update II (June 3): Yet Another humiliation for the Trump creature: Defense Secretary Mark Esper said today (Wednesday) that he does not support invoking a law that would allow President Trump to use the US military for domestic law enforcement amid nationwide protests surrounding the death of George Floyd.
I've always believed and continue to believe that the National Guard is best suited for performing domestic support to civil authorities in these situations in support of local law enforcement.

I say this not only as secretary of Defense, but also as a former soldier and a former member of the National Guard, the option to use active duty forces in a law enforcement role should only be used as a matter of last resort and only in the most urgent and dire of situations. We are not in one of those situations now. I do not support invoking the Insurrection Act.
• If you wish to report any typos/incorrect info in this piece, please email me at barry@freethinker.co.uk
If you'd like to buy me a cup of coffee – and boy, do I get through a LOT of coffee keeping this site active – please click this link. By way of a 'thank you' I will send you a copy (pdf) of the rollickingly funny illustrated Atheists Limericks and Cartoons, published by the Humanist Global Charity.