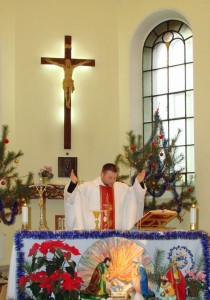 Probably – without much exception, if you attend church, your minister is walking around with an "it's the most wonderful time of the year" look on his or her face.
I mean, what's not to love about this "most wonderful time of the year"?
The sanctuary has had a facelift – upgraded with poinsettias, garlands, bows, wreaths, and probably even a beautifully lit and decorated Chrismon tree.
Children are vibrating with the excitement of the season as they dress up and reenact one of the most central stories of Christendom. There are special services of celebration, the music program pulls out all the stops, and gifts are stacked all around the edges of the minister's desk.
Ah! Christmas!!
Beautiful, huh?
Yeah, were it only true.
I mean, those things do happen — and they are most certainly wonderful, but speaking as a minister who experienced these joys for many years, and now has the opportunity to experience Christmas without the responsibilities of leading a church, I must tell you, I much prefer Christmas from this slightly removed pastoral distance.
Sure, your pastor probably does have "it's the most wonderful time of the year" look on their face and for many ministers it's a feeling that runs all the way down to their toes; but, many of your ministers are having the peace, love and joy of the season interrupted by more humbug moments than you will ever know.
Some of those Grinchy moments are just the realities of the season and some are people loosing sight of the "reason for the season" if you are Christian.
I'd like to share just a few of the reasons you should go out of your way to thank your minister this Christmas, even if they are wearing their "it's the most wonderful time of the year" look.
1) The biggest reason to thank your minster this Christmas is that so many people won't and some even think Christmas isn't that much stress on a minister.
I can't tell you the number of times I heard, "It's, what, just one more service of something? What's the big deal?"
To answer that question, I simply say, "read on."
2) It's a dark reality of this season of tinsel and lights that the pressures of the season can pull out the less appealing character traits in even the most lovely of people.
This time of the year, a lot of people become very intent on this being the perfect Christmas. Many people have the tendency to push their desire for a perfect Christmas onto other people.
Frequently, these "perfect Christmas" people just "know" what it takes to make the "perfect" Christmas and insist that other people fall into line, follow directions and do their part in creating a "perfect" Christmas.
If they are churchgoers in their mind, the single person who can most impact their religious experience this Christmas is their minister. If you are their minister, there are going to be many moments when "joyous" is not the word you'll choose to describe the season.
3) For some people the colors of Christmas aren't the brights or red, green, gold and white, but, rather, Christmas is a time of blue.
While their fellow church members might never see it outwardly, many people find certain holidays to be a time of profound sadness. The reasons for the sadness can vary greatly, but are frequently connected with some sense of loss connected to a loved one. It's truly a difficult time. When you are in a place like that, the Christmas bells still ring – they just sound very different to you.
Frequently, ministers know about the people who are experiencing that kind of profound sadness during the holidays, and they spend time with those folks. Regardless of their training, if they have even the tiniest bit of empathy, they carry some of that sadness with them.
While most ministers are counter-intuitively happy to walk with those who find Christmas difficult, doing so does change their experience of Christmas.
Please remember:
4) Ministers have families too.
In the midst of the Christmas merriment, mirth and (sometimes) mayhem that it is to be a minister during this high Holy time of the year, the goings on of family Christmastime are not simply put on hold.
Christmas Eve and Christmas Day are frequently not days off for ministers. The same goes for the Sundays leading up to Christmas – days when many families like to travel for family Christmas gatherings.
So, not only is there the pressure of coordinating momentous Sundays in the Church calendar for their congregational year "right" along with all the changes to the worship services, but there's the added pressure of squeezing in all the family events, without having your extended family feel too much like you are squeezing them in.
5) It's a lot more than just one more service – even when it is technically just one more service.
For better or for worse (depending upon who you ask), Christmas is the biggest season in the Christian year for the majority of churchgoers. The four Sundays of Advent leading up to Christmas, Christmas Eve, Christmas Day (for some) and all the various programs and recitals and parties are just the tip of the seasonal iceberg for most ministers.
In the eyes of most of their congregants, not only do all of those things need to achieve some hyper-elevated level of excellence (after all it is Christmas) but, on some level, the minister's leadership ability – and possibly even "choosiness" are to be called into question if the Christmas spirit of the events don't launch us all into a low orbit, mildly utopian, seasonal high.
Honestly, this list could go on and on, but frankly, it's Christmas. Who has that kind of time?
I'm not saying minster do or don't have Christmas harder than anyone else. I'm just saying it's harder than you might think.
I have to admit; it is much better experiencing Christmas out of the pulpit.
Yet, I find that sort of sad and sort of not surprising, but I would ask just one simple thing of you this year…
Say, "thank you," to your minister this Christmas for all they are doing.
Say it a lot.
 
 
Consider supporting Mark's blogging. Help create a market for Progressive Christianity. Not through big publishers or big denominations, but through the grassroots. We need to encourage the growth of progressive Christian voices in the marketplace. Even a dollar will help.
Facebook continues to make it increasingly difficult for me to let you know about new blog posts like this. Please consider signing up for my mailing list where we can insure you are notified.  Just click here!
Mark is a co-founder of The Christian Left. Come and join the conversation!