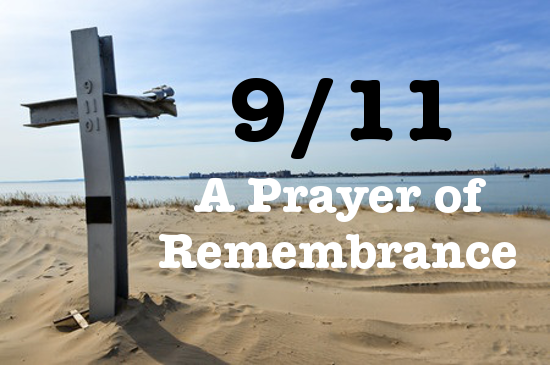 Good and gracious God,
Today
we come before you with heavy hearts
as we remember the events of 9/11.
For some of us
today is a mixed bag of emotions.
We hurt deeply
for those who lost their lives
and those who lost their loved ones.
We mourn the nearly 3000
who died that day.
We are humbled by the bravery of the first responders.
We continue to grieve with our neighbors
in the loss of our national innocence –
our false sense of constant safety.
As we think of the way
New York and D.C. responded
with churches, synagogues and temples
opening their doors to ALL people,
as we remember strangers
carrying each other out of buildings,
as we are reminded of how
those who had much
shared with those who had lost,
and as we recall the bravery
of the passengers and crew
of United Airlines Flight 93 –
our pride wells up in us.
Yet, we struggle today,
not wanting to get caught up
in the macabre celebration,
the sometimes too prideful
remembrance of loss.
We still remember
how the world responded,
supporting us
and even declaring us one people.
"Today We Are ALL Americans,"
the headlines read.
And we remember the immediate call to war.
And the more than 1.5 million deaths from it.
God of all people,
teach us to be patriotic
but humbly so.
Teach us to see
the frailty, beauty and value of life
in light of this tragedy
rather than using it to elevate
trivial difference
to the heights
of divisive reasons for hatred.
Remind us
of the response of the American people
and not the response of the government
and its war machine.
Remind us
of the way
the true heart
of this nation's people was reveled
in open doors, open arms and open hearts.
May we never forget
that on that day
we did not focus
on nationality, wealth, education, sex or sexuality.
We focused on need.
On humanity.
On love.
Call us back to that place in our hearts.
Instill in us the deepest sense of call
to be that people once again.
We remember all those
who, even today,
still suffer from the loss.
From NYC to Iraq the tragedy
has deeply and profoundly
impacted millions.
May we continue to heal
and help each other
just as we did
that
day.
Amen.
Consider supporting Mark's blogging. Help create a market for Progressive Christianity. Not through big publishers or big denominations, but through the grassroots. We need to encourage the growth of progressive Christian voices in the marketplace. Even a dollar will help.
Facebook continues to make it increasingly difficult for me to let you know about new blog posts like this. Please consider signing up for my mailing list where we can insure you are notified.Just click here!
Mark is a co-founder of The Christian Left. Come and join the conversation!