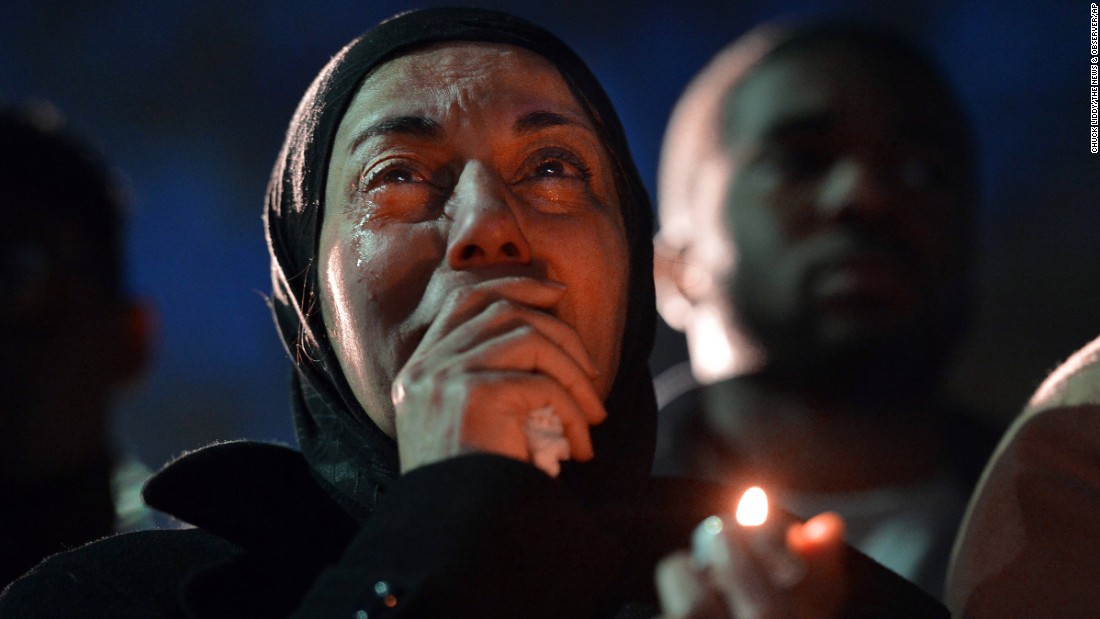 Nearly everyone in the Atheist community chimed in on the murder of three Muslim students this week by an atheist. Numerous excellent and poignant points already made, enough that I almost had nothing to contribute. However, as a father of an incredibly empathetic teenage daughter whose closest friends are Muslim, I wondered whether some of my points would interests others. I inked a portion of my relevant comments and responses to her in the following:
To My Daughter,
This week the public learned of the murders of three fellow human beings by someone reported to share our mutual religious ideology. Before diluted hashtags of contrition, support, denial, or righteous repudiation flood your social media feeds – I wanted to share my thoughts on this tragedy with you and your friends.
I am an Atheist – and I value life. I want to believe most Atheists (and people) do. This senseless killing appears motivated by hate from one person, who identifies as atheist, against three who identify as Muslim. He is part of our global secular community, which consists of a plethora of beliefs and varying special interests, but we share no other convictions. Just as there are multitudes of atheists who do not share our beliefs on poverty, race, and our role in the world, there are atheists and other humans that do not share our values in life. As a family, we lean towards pacifism and civil discourse, yet understand that sometimes safety, freedom, and civil liberties necessitate armament. Nevertheless, this does not appear to be a case for that. I want to dismiss him as crazy because "our" doctrine says – well, our doctrine does not say anything because – it does not exist.
I do not subscribe to the unspoken Atheists canon, nor do I prostrate myself before Saint Hitchens, Harris, Dennett, or Dawkins. Their gospels of apostasy and reason are good reads, but do not dictate my actions (those are my own). As an atheist, my accountability is my own, though the laws of man may have something to say about my future domicile and housing should I break them. Their words inspire people to think, talk, argue, and occasionally ban books, as they should. The verbal miscues they are prone to, move some to boycott conferences where they keynote. Their occasional acrimonious slip-ups make for great fodder and ill conceived train wrecks on Twitter. I understand the blame they will get for contributing to the air of anti-Islamic sentiment that exists in the US and some of it deserved. I contribute to it myself when I do not speak up in a group where someone says something hateful that offends me. I try my best and sometimes fail.
Fitting in is hard, but the cost of group membership should not be the passive acquiescence to what you "say" you find deplorable. You can challenge belief without dehumanizing the believer. This is not an appeal to tone policing. Nor is it a suggestion or justification for you to "RAGE quit" when someone says something that crosses your invisible line of acceptable because, as we have found in our groups, often people just do not know what that line is. This is an appeal to speak up.
I want to get past his atheism. That should not be the news. Can we talk about mental health, gun control, and general anti-Islamic sentiment that exist not only in the Atheist community – but in greater America? Or what about the greater discussion on diversity that this is also part of – or…
"But.. Dad… Atheists don't go around doing that. So this IS new and it is news."
Good point.
The actions of one, should not define a group. No atheist writ advocated this, requiring exegesis and interpretation, yet this has fallen back on us, therefore how we respond is important. No group has come out in support of this and though not representative of every nonbelieving variant, every national pro-secular group has publicly condemned this. This was the act of one person who took his anti-Islamic sentiment and hate to somewhere unknowable to me.
Nevertheless, here is an uncomfortable reality. We in this community of freethinkers and secularists, benefit from that sentiment. We want to see more people leaving religions in mass. 16% unaffiliated or "none" is a good start, but we want more. The more we can show that fundamentalism is a hindrance to progress, the more we project the growth of the unaffiliated. That results in little incentive to change our tonal rhetoric, no matter how quickly your preferred national group put out their statements. Your favorite author is still in the business of selling books. The news will fade. What's more, new headlines will appear, declaring another religiously affiliated or motivated attack in the Middle East or in Africa, and three people here will still be dead. The atheist onslaught relegated to another footnote. This may even give Fox News a slight reprieve before they get back to Benghazi.
If you want to do something, keep challenging "what you think ain't right". Bullying on any front, if you see it – stop it. Words uttered or typed should not revile you and still evoke your silence, whether the leader you elected with your recent book purchase – or someone trolling behind a screen share them. Doing good is not just what others see, but what you are unashamed of being revealed. Some may posit that this is a case of the rooster coming home to roost. I do not agree. There is no Atheist/Muslim war outside of very strong words and more ALL CAPS! No Atheist army is strapping up. It is a reminder to us, that words have power and consequence. We may never know inside the mind of a killer and whether he felt empowered to pull the trigger because of a manifesto he read, the rap music he didn't listen to, or simply because of mental impairment.
This was about one person who did not value life as I, who did not share that conviction. It doesn't say anything about atheist's morality, it just says something about his.
If you want to do something, remember the names of the victims:
Deah Shaddy Barakat, 23
Yusor Mohammad, 21
Razan Mohammad Abu-Salha, 19
If you want to do something more, Speak up.
If you want to give, the Foundation is sponsoring a drive to support Syrian American Medical Society Foundation to honor the lives of these victims.
Here is the Link:
https://foundationbeyondbelief.org/chapel-hill-shooting-drive