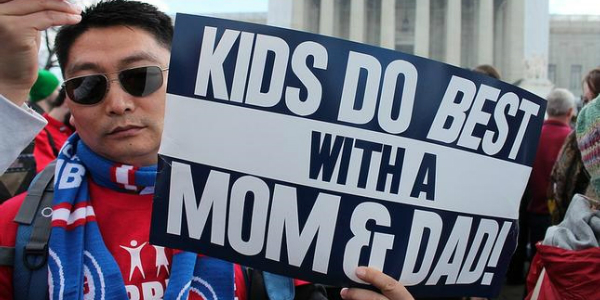 WACO, Texas – in a move that should surprise no one (in – or outside of the State), some Baptist Churches in Texas are beginning to arm themselves with legal ways to avoid participating in America's shift towards marriage equality. Speaking at a Baylor University event sponsored by Baylor's religion department, John Litzler (contracted by the Baptist General Convention of Texas), gave legal guidance on marriage, human sexuality, and how to defend against the possibility of having to manage marriage equality as law of the land.
"Churches that object to same-sex marriage should include language in their bylaws that make plain their stance on marriage and human sexuality"
According to the Waxahachie lawyer, simple changes in bylaws may be all that's needed.
He suggested amendments stating :
"Marriage is a biblical institution established by God as described by Scripture. We believe that biblical marriage can only occur between one man and one woman. This church recognizes that marriage is the uniting of one man and one woman in covenant commitment for a lifetime. Accordingly, this church, its pastors, staff and members will not participate in same-sex unions or same-sex marriages, nor shall its property or resources be used for such purposes."
Regarding human sexuality, he suggests amending bylaws to include the following:
"The Bible teaches that legitimate sexual relations are exercised solely within marriage. Hence, this church opposes all forms of sexual immorality, including adultery, extramarital behavior, homosexual behavior and pornography."
The line between legality and morality, isn't always a fine one – as he shows us:
"I'm not telling you that you have to use this language… I'm not telling you that you have to address homosexuality in your bylaws, though a lot of people have asked me about it. So, if your church is interested, I wanted you to have it."
Propagating bigotry, regardless of whether divinely inspired, obviously does not shake his moral compass. He continues by suggesting:
"The marriage statement also should be included in staff position descriptions and facility policies—especially if the church makes its facilities available for rental… If you don't want this happening at your church, I'm suggesting you put it in your bylaws…"
Consistency he noted, was equally important. As an example, no church retreats for you if you're a legally married gay couple couple in the State, the Church can not recognize you:
"Well, you've defined marriage as between one man and one woman, and it's clear in your bylaws."
As the US continues its shift towards marriage equality and its attitudes change on LGBTQ issues, is the church willing to shift too?