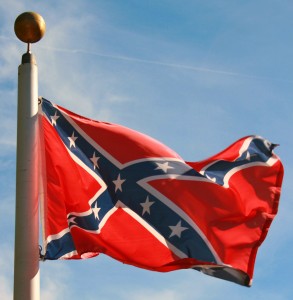 The South Carolina House just approved taking the flag down. Its coming down, for real this time (probably… as long as the Gov. doesn't change her mind… again)
The South Carolina House has approved taking down the Confederate flag from the Capitol grounds, a stunning reversal in a state that was the first to leave the Union in 1860 and raised the flag again at its Statehouse more than 50 years ago to protest the civil rights movement.
Can we address the 27 that voted to keep it up yet? Or will South Carolina take care of that themselves the next election? Remember that the Senate only had three opposed, which was three too many. The House had an vote of 93 to remove it, reaching the two thirds vote.
Hey, while they're at it, could we get them to address the Heritage Act that prohibits its removal elsewhere? That only takes a simple majority vote, or is that asking for too much. Or can they start catching up with ALABAMA who took their flag down weeks ago and are now addressing their confederate state monuments. Come on, Disney is erasing Cosby from their Magic Kingdom, the Confederacy can pack General Lee into the General Lee and find a home for them both in a confederate museum somewhere.
While you're at it, drop the charges against Bree Newsome, who showed you what that bare impotent poll looked like undressed.
"It's time for a new chapter where we are sincere about dismantling white supremacy and building toward true racial justice and equality.".
Now that the flag is down in SC, can we start addressing the system of inequality and white supremacy that kept it up? Or the fundamental issues that are still at play regardless of WHICH flag flies?
The bill is headed to Republican Governor Nikki Haley for approval. The flag could come down in a matter of days. Its important to note, that it wasn't easy.
A group of Republicans mounted opposition to immediately removing the flag. Changing the Senate bill could have meant weeks or even months of delay. Republican Rep. Jenny Horne reminded her colleagues she was a descendent of Confederate President Jefferson Davis, and scolded fellow members of her party for stalling the debate with dozens of amendments. She cried as she remembered the funeral of her slain colleague state Sen. Clementa Pinckney, the pastor of Emanuel AME who was gunned down as his wife and daughter locked themselves in an office.

"For the widow of Sen. Pinckney and his two young daughters, that would be adding insult to injury and I will not be a part of it!" she screamed into a microphone.
The bill ultimately passed.
 (Update: Governer Haley has signed the bill, authorizing the removal of the flag as of Thursday, July 9, 4:00 PM EST)
So now to FLORIDA, where they shan't be outdone …
Over in Marion County Florida, another region in the old but "new again" confederacy, the Marion County commissioners voted unanimously Tuesday to put the Confederate flag back up at the county's government complex.
County officials said the decision to remove the flag last week was in response to growing controversy surrounding the flag following the shooting deaths of nine black men and women at a historic church in Charleston, South Carolina on June 17. The suspect, 21-year-old Dylann Roof, had posed with a Confederate flag in photos posted on a website that displayed a racist manifesto attributed to him.
The county had initially removed the flag specifically because of the nine deaths in South Carolina. I guess the period of mourning is over?! A week? It was down for a week and that's too long?
Within minutes of Tuesday morning's vote, the Civil War-era flag was seen flying once again outside the government complex as one of the five national flags which have flown over Florida since European explorers first landed on its shores more than 500 years ago. The other four are Spanish, French, British and American flags.
Interestingly enough, the general sentiment in the county of 300,000, was the flag should never have been removed in the first place. That's no surprise. Most South Carolinians didn't care either way until Dylann Roof soiled their symbolism.
Still a lot of work to do.
Confederate Flag Whack-A-Mole anyone?