Defense Secretary Chuck Hagel is out, soon. There are lots of conspiracy theories about why, but in my opinion, it's a combination of a mission he wasn't hired to do (ie, drawdown has become ISIS response) and a convenient lead time prior to the next election cycle. But one incomplete mission is implementing open service for nearly 15,000 transgender personnel and joining an international military profession already open to transgender persons.

Secretary Hagel personally delivered remarks at the LGBT Pride Month celebration in 2013. But the truth is that at that time lesbians and gays were celebrating a win that largely left behind transgender persons. After declaring victory the military gay rights movement essentially broke down and is now reorganizing to advocate for transgender service. Sparta Pride is one organization that brought former SLDN leaders Allyson Robinson and Sue Fulton. In a SPARTA press release, Director Allyson Robinson called on Secretary Hagel to keep his promise to review policies:
"In his remaining days in office, we call upon him to uphold those values by initiating a review of the Department of Defense's obsolete policies that bar fully qualified transgender Americans from serving."
Presumably such a review could be initiated in Hagel's final days and provide for an explicit accounting of all those policies that hinder or bar Transgender service. Secretary Hagel has been praised for his openness to Transgender service. Recently Justin Snow wrote for Metro Weekly reminding Chuck Hagel of promises to perform such a review before leaving office.
"I go back to the bottom line — every qualified American who wants to serve our country should have an opportunity if they fit the qualifications and can do it," [Secretary Hagel] said [to NBC on May 11]. "This is an area that we've not defined enough."
The Senate must confirm Secretary Hagel's replacement before his resignation becomes effective, so that might be a long time. In the interim, he could act on Transgender service. With "lame duck" freedom, action on Transgender service is not entirely unlikely. Just last month, Representative Pelosi is quoted endorsing Transgender service: "There is no place for discrimination in the U.S. Armed Forces, including on the basis of gender identity." And the Military Times is reporting that changes to disability regulations (DoD Instruction 1332.18) might already open the door.
While many are warming to Transgender service, there is still limited understanding of the real issues. In a review of the case of Chelsea Manning, a Transgender service member in prison for leaking classified information, The Military Association of Atheists & Freethinkers laid out many of the issues. Of those issues, two key factors stick out: The first is that Commonwealth nations often provide for open transgender service. Having Transgender persons serve in the military is no more groundbreaking than having gays in the military. The US is lagging other countries. The second point is that the medical community universally recognizes the gender identity issues to be a serious mental health threats that should be treated fully, to include gender reassignment surgery and hormones if necessar. Gender reassignment is a medical treatment not cosmetic or elective surgery. While there are many other considerations and nuances, especially in law, the medical and military precedents are clearly in favor of open service for all. The US military is setting aside gender barriers in other ways, and accepting open Transgender service will be a great leap forward in gender equality.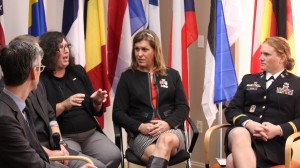 More about former Navy Lieutenant Paula Neira (speaking), photo credit: SHFWire photo by Wesley Juhl; read full story