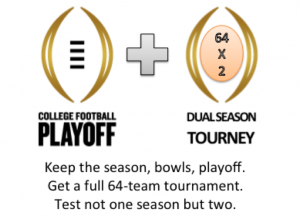 Let's have a football tournament to crown an über-champion not only for one season but two: a dual-season tournament. We can have a 64-team tournament to spice up the regular season, reward football programs that survive yearly graduations, allow for losses without losing the whole meaning of the season, AND allow for keeping all the best bowl games and championships we already have as well as the best parts of the regular season as it exists now. Sounds great? read on.
The problem: People often joke that in hockey the playoffs are the season and the regular season is just practice. In football, the opposite is true. Any failures in the regular season can scuttle a chance at a championship. To solve this problem, there has been a trend toward a playoff system. There is much jealousy about the 64-… make that 68-team college basketball tournament. "Wouldn't it be great to have that," everyone says, but we can't intrude even more on holidays and final exams. I prefer the bowls and the uncertainty of what could have been, but apparently playoffs are en vogue, so let's focus on that.
The conventional wisdom in college football is that it's one loss and you're out of contention for the national championship. Teams may have a great season but lose once and then are by virtue of that loss out of contention for the national championship, which seems to be all that matters. The truth is the majority of BCS champions had one loss (look it up), but still there is a big drop-off in excitement or attention for any team that loses even once. That is because there is such disparity in quality of schedules and un-shared opponents. And related to that is the problem of teams with generally low-quality schedules. That leads to perfect records but no real challenges to confirm their quality. (Everybody is looking at you Big 12.) So there is increasing pressure to ratchet up competition to better test the top-tier teams.
Competition isn't the only issue. Logistics has been put up as a concern for a playoff system. Yet it only takes 6 weeks for a 64-team tournament to play out, maybe 7 if you add an extra week before the championship. There are basically 15 weeks in the college football season from late August to mid-December. Teams generally start with 4 non-conference games* and then play 8 conference games and have one bye-week with no game. (Teams often start one week after the end of the season or one week before.) Then there are additional games at the end of the season for conference championships and/or bowl games. The 4 non-conference games have traditionally been more 'warm-up' games with lower-tier teams than true challenges.
More conventional wisdom is that a playoff should supplant the beloved January bowls. And that has basically happened, but there are only two weeks – Jan 1st and January 8th – so that means only 4 teams playing two games to determine a champion, which is happening in 2015. Adding more games means pushing into final exams and holidays in December. This is ok for just one game, but a team could never work through a playoff. And this ain't basketball or baseball so games can't be closer than 7 or maybe 5 days.
So what does that leave? Putting the playoffs during the season seems to be the only logical option. That has the serious downside of having teams who have not proven themselves and have little performance by which to judge their quality. There is often significant turnover in personnel between seasons because of graduation or at least departure to pro sports. But on the other hand, the current polling system has significant and justified favoritism for 'programs' that have been traditionally successful (which influences the Playoff Committee). The facilities, coaches, staff, and recruiting for these teams does indeed justify favoritism in rankings and bowl selection. But there is certainly counter-evidence and much consternation from those 'Cinderallas' and spoilers — small programs that rise up to dethrone the traditional favorites. A good system has to accommodate both. College Football would love to recreate Jimmy V or Butler or those many Cinderallas in March Madness.
Instead of trying to crown teams after one season only, why not attempt to crown a team over the course of two years? Spreading over two seasons adds a new level level of champion. Difficulties are easy to overcome for great reward. And the single-season champ still gets crowned, so we add without having to subtract.
(the solution after the schedule.)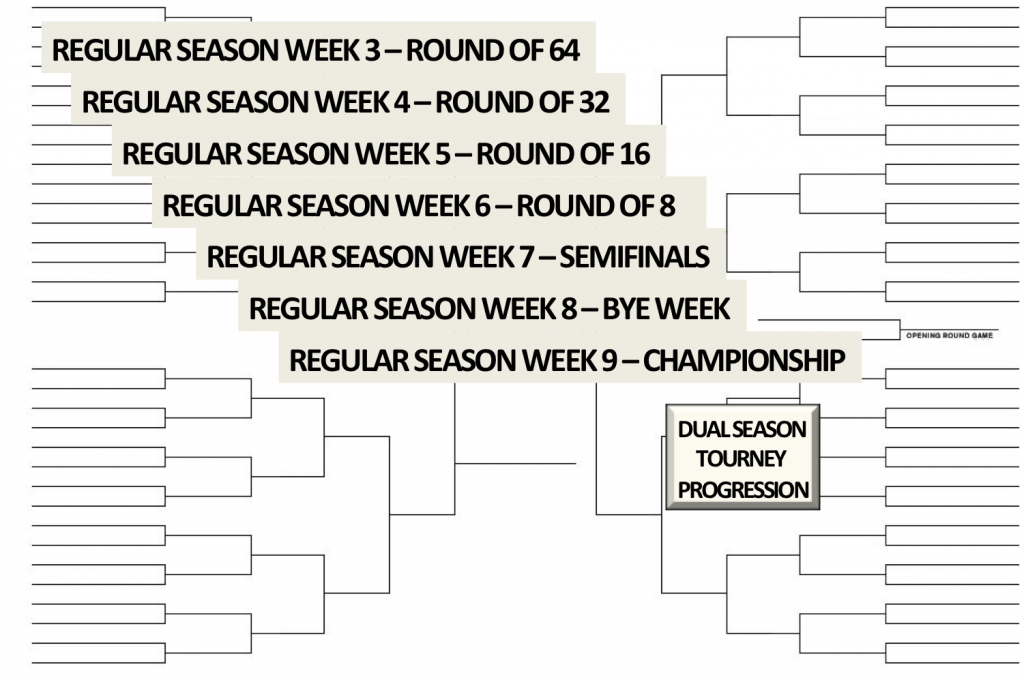 The 64-team dual season solution: The planned 2014-15 playoff system (or even the old bowl alliance) system stays in place with normal scheduling to allow teams to work through their normal one-season race for a championship. But there is ALSO a single-elimination 64-team playoff embedded within the regular season. The first two games of the season are as-normal, including those fluff/warm-up schedules we all normally see for top-tier teams. Starting week 3, tournament matchups would replace regular season games. The bye-week for tournament teams would always fall before the championship game, week 8 in a tournament lasting from weeks 3-9. So where does that leave the regular season?
The outstanding question is how the tournament gets seeded. A Tourney Committee would start with the previous final rankings of the top 64 "new BCS" teams (the old BCS only went to 25 but it could easily be expanded) would be seeded and matched by the Tourney Committee. The previous season's top 64 teams are available for seeding, but the Tourney Committee seeds based on the quality of the current team. The Tourney Committee would accommodate departed students or staff, recruiting, early-season performance, scheduling, and attendance. The team selection from the previous year would allow cinderalla performances for teams that were impressive the previous year but seem unimpressive in the second year.
Rescheduling Tourney Teams and their Opponents:
The non-tourney regular season opponents of tournament teams would play each other to minimize re-scheduling. For example, seedings might place UCF at OSU (OSU being the higher seed). But the regular season schedule shows UCF at OSU and PSU at Cal. So the equivalent regular season replacement game is PSU at Cal. A game occurs at Cal just with PSU instead of OSU visiting. PSU loses a game and OSU must host. This is problematic, but not unheard-of in playoff scenarios in the NFL and other sports. There will be more limited issues than are found in some other sports. Odd-man-out teams might arise either due to bye weeks or 3 of 4 teams in a playoff. That scenario occasionally happens now due to weather or other issues, so it is manageable. Also, OSU at PSU would become PSU at OSU if both were Tourney teams but OSU was seeded higher.

Dealing with Conference Conflicts:
Conferences are arguably more powerful than the NCAA itself. This Tourney invades the conference schedule and rivalries and TV contracts. The two teams in the championship of the season tournament would have potentially 5 fewer conference games. Conferences would have to adjust their conference championship selections and conference season champion awards to accommodate successful Tourney teams. In return for Conference issues, there is perpetuated success from season to season, stronger matchups, more visibility, and more excitement. And some matchups may be recreated. The "Iron Bowl" for the season could potentially be an Alabama v Auburn tourney championship game depending on seedings and game outcomes instead of or even in addition to their regular season contest.
So let's do it.
There is a tournament concept rewarding excellence not just for one season but for two. And the tournament would itself feed into rankings for the existing season bowl and championship schedules. And in the end, we get two football championship game schedules – the dual-season tournament games leading up to the week-9 championship and then the run-up to the conference championships, bowl games, and single-season Playoff. And there is a whole layer of media frenzy, analyst 'meat', basketball style bracketology analysis and betting for football, and greatly-increased excitement for mid-season games.