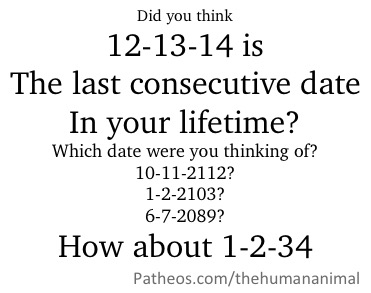 Facebook was all a-twitter with the consecutive date – 12-13-14. I was pleasantly surprised not to see end of the world conspiracy theories. Congrats to our more credulous friends on their restraint. But everyone seemed to be excited.
ABC was excited to announce the birth of a baby at 10:11am 12/13/14. This year's Army Navy Game was at on 12/13/14 at 1516 hrs and 17 seconds. I don't recall the final score, but I'm pretty sure Army won…
But what really jumped out at me was all the memes about how 12-13-14 was the last consecutive date in 100 years or in our lifetime. Obviously in Europe, it's 14-12-13. The Jews celebrated 21 Kislev 5775 and Parshah Vayeishev. But for us, it's a nice consecutive date, ignoring the century, but it's not by any means special or unlikely to occur again soon. It is fair to say it will be less frequent now that the year is beyond 13. The months are 1-12, so there will also be a day after the month, and from 3-14, each year will have a consecutive date. But we don't have to wait for 1-2-2103. Putting the years together makes it a lot easier. So that means all the consecutive years (34, 45, 56, except 23) also have a consecutive date opportunity. So as these memes come up, think it through a bit. It's a quick opportunity for a bit of skepticism.