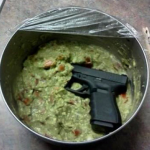 A new vegan option is on the scene – Thug Kitchen blog and cookbook. Advising "Eat like you give a f*ck" and offering "delicious plant-based recipes" that will really inspire you to "get your shit together" without "prepackaged bullshit" because "who has the f*cking time to hunt for a dozen exotic ingredients?".
As far as I can tell, this the potty-mouth cookbook. Other than gratuitous cursing, there was nothing resembling thuggery. No urban settings or even people who looked like they've ever been in a dark alley at night. It's really just cursing yuppies. But the recipes and the message of healthy eating is good. And the trailer is tragically funny.
Especially as another feast approaches us – Christmas dinner – grab a few healthy recipe options to bring along to the in-laws or make at home. And cold weather can inspire eating to defend against old and boredom. Here are a few options that jumped out (yes, all vegan):
hot chocolate
,
potato and swiss chard gratin
,
herb and mushroom stuffing
, and
more vegan recipes you won't believe
.
End your meat sweats and sugar shakes with Thug Kitchen Cookbook. [NSFW]