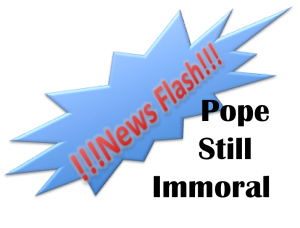 Kudos to my friend JT at patheos WWJTD for joining in the lambasting of the Pope's recent support for violence. Brian Dalton's latest Way of the Mister installment. Dalton expresses the outrage any moral person should feel: Words alone never justify violence. Threats might justify violent opposition to prevent someone acting on the threat. Someone might insult another person when they really mean, "I'd like to fight you now." But that's violence in response to an invitation not an insult. The Pope's example was that if someone insults his mother, that person can expect a punch. He laughed it off as it were the funniest thing in the world. It's not funny. You, dear audience, may insult my mother, whom I love, all you like without ever having to fear violence from me. And that is the only moral position to hold on the matter. And with the Charlie Hebdo attacks being the topic of conversation, there is nothing funny to discuss.
It is not the blasphemy that creates violence. It is the condoning of violence that leads to violence. Women should not be told 'don't get raped'. Men should be told 'don't rape.' People should not be told 'don't get killed'. People should be told 'don't kill'. Some actions might expose us to the violence of immoral people, but we must be clear to blame the perpetrators not the victims.
Catholics should be sorely ashamed at their pontiff, again, perpetually it seems, but specifically now at his abject failure in learning from the Hebdo massacre. Sister Theresa at patheos Catholic Blog Pursued By Truth attempts to defend the Pope. She quotes the Pope saying, "The best way to respond is always with meekness — meek, to be humble. Like bread, no? Without causing aggression." And there are certainly lots of quotes from the Pope and scriptures of peace we can point to to present a peace-loving Catholic Faith or Pope or Muslim faith for that matter. But the violence against words must be denounced clearly. The message should be not to engage in aggression rather than not to cause aggression. The Pope seems to be saying "Why do you make me hurt you?" Sister Theresa says, "[V]iolence in freedom of expression begets violence. Giving offense [with Muhammad cartoons] … does violence to another's religion." All the words about peace and meekness disappear in this equating of blasphemy and violence. Platitudes and excuses cannot do the work of a plain language commitment to free speech over violence.
I am also somewhat surprised at the great outrage directed at the Pope, even my own. (hence a few days' delay in responding.) With the Crusades, perpetuation of poverty by Mother Theresa, protection of pederasts by the Church leaders, opposition to sexual health in Africa and elsewhere, and shaming of gays and lesbians, you'd think we would have learned our lesson: Moral Catholics are moral in spite of, not because of their Catholic leaders. So when Pope Francis can't bring himself to clearly denounce violence as a response to blasphemy, we should not be surprised. But I guess we all want to believe the best about people, even one who leads an institution that so reliably disappoints us on very simple matters of morality.
I recommend listening to the Way of the Mister to really drive the point home. [NSFW]