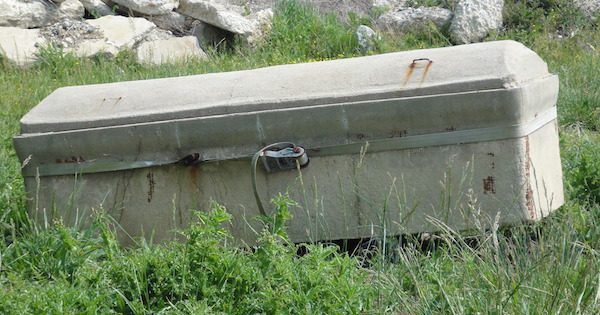 Long before my kids' first experience of a death in the family — their 97-year-old great-grandmother in 2010 — we had talked about the idea that every atom in us has been here since the beginning of time, part of planets, stars, animals, plants, and people before coming together to make us. The fact that every bit of us then returns to the world to fuel the ongoing story is a gorgeous natural symmetry that appealed to them immediately.
Grandma's funeral service was personal and emotional in that Southern Baptist way, including the usual fluster of pastoral assurances that she had ascended to heaven and was now in the very Presence.
Twenty minutes later at the grave, the same minister read this from 1 Thessalonians:
[At the Second Coming,] we believe that God will bring with Jesus those who have fallen asleep in him. According to the Lord's own word, we tell you that we who are still alive, who are left till the coming of the Lord, will certainly not precede those who have fallen asleep. For the Lord himself will come down from heaven, with a loud command, with the voice of the archangel and with the trumpet call of God, and the dead in Christ will rise first. After that, we who are still alive and are left will be caught up together with them in the clouds to meet the Lord in the air.
I glanced around for evidence of a theological crisis on the faces around me. Nothing. For an hour we'd heard about Grandma's current seat in heaven, and now Paul tells us she will sleep in the ground until the Second Coming, only then rising to meet the Lord. It may be the single greatest gap between common belief and actual binding scripture, and the minister had put it right out there.
As we dispersed, Delaney (8) pointed at the casket and whispered, "What is that thing on the outside?"
Just as she asked the question, the cemetery workers closed the lid of a metal box surrounding the casket, something I've since learned is called a burial liner, an innovation used in the U.S. and apparently nowhere else. They cranked down hard on four handles, sealing it tight.
The girls' eyes ballooned as they realized what this meant. "So much for returning to the earth," muttered Erin (11). "She's never getting out of there."
After all of our talk about the beauty of going back into the system, of being a link in an endless chain, Grandma's atoms end up biking around a cul-de-sac until the sun swallows the earth. Until then, the license to dance is revoked. It struck them as just wrong.
That was when my kids decided on cremation. I'm following other processes with interest. But one way or another, I want my atoms on a through street.
---
Photo by Preservation Maryland, CC BY-SA 2.0