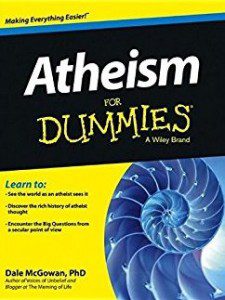 Atheism for Dummies
The easy way to understand atheism and secular philosophy
For people seeking a non-religious philosophy of life, as well as believers with atheist friends, Atheism For Dummies offers an intelligent exploration of the historical and moral case for atheism. Often wildly misunderstood, atheism is a secular approach to life based on the understanding that reality is an arrangement of physical matter, with no consideration of unverifiable spiritual forces.
Atheism For Dummies offers a brief history of atheist philosophy and its evolution, explores it as a historical and cultural movement, covers important historical writings on the subject, and discusses the nature of ethics and morality in the absence of religion.
A simple, yet intelligent exploration of an often misunderstood philosophy
Explores the differences between explicit and implicit atheism
A comprehensive, readable, and thoroughly unbiased resource
As the number of atheists worldwide continues to grow, this book offers a broad understanding of the subject for those exploring atheism as an approach to living.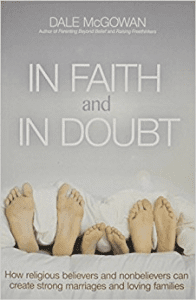 In Faith and in Doubt
How Religious Believers and Nonbelievers Can Create Strong Marriages and Loving Families
The claim is often made that interfaith marriages fail more often than same-faith partnerships. So what are the chances of survival for the ultimate mixed marriage – one between religious and nonreligious partners? Nearly 20 percent of Americans now self-identify as nonreligious, including millions who are married to religious believers. Despite the differences, many of these marriages succeed beautifully. In this landmark book, author and secular humanist Dale McGowan explores some of the stories of these unions, whose very endurance flies in the face of conventional wisdom, including his own marriage to a believing Christian. Drawing on sociology, psychology, and real-life experience, he shares: negotiation tips that set the stage for harmonious relationships; strategies for dealing with pressure from extended family; profiles of families who have successfully blended different world views; insights for helping kids make their own choices about religious identity; and advice for handling holidays, churchgoing, baptism, circumcision, religious literacy, and more. The first book of its kind, In Faith and In Doubt helps partners navigate the complexities of their situation while celebrating the extraordinary richness it affords their relationship, their children, and those around them.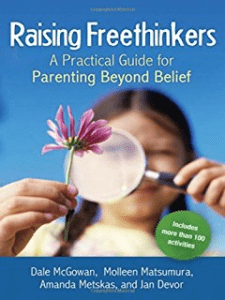 Raising Freethinkers
A Practical Guide for Parenting Beyond Belief

Praised by Newsweek as "a compelling read" and Library Journal as "accessible and down-to-earth," Dale McGowan's Parenting Beyond Belief offered freethinking parents everywhere a compassionate introduction to raising caring, ethical children without religious guidance. Now, for the more than 40 million people in the United States who identify themselves as nonreligious, Raising Freethinkers offers solutions to the unique challenges secular parents face and provides specific answers to common questions, as well as over 100 activities for both parents and their children. This book covers every important topic nonreligious parents need to know to help their children with their own moral and intellectual development, including advice on religious-extended-family issues, death and life, secular celebrations, wondering and questioning, and more.
Complete with reviews of books, DVDs, curricula, educational toys, and online resources relevant to each chapter topic, Raising Freethinkers helps parents raise their children with confidence.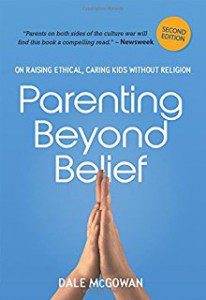 Parenting Beyond Belief
On Raising Ethical, Caring Kids Without Religion

"Parents on both sides of the culture war will find this book a compelling read."
– Newsweek
Why am I here? What happens after we die? These are some of the hardest questions a child can ask–and even harder for parents to answer, especially if you've chosen to raise your child without religion. Gathering the perspectives of educators and psychologists, as well as wisdom from everyday parents, Parenting Beyond Belief offers insights and advice on a wide range of topics including: Instilling values – Finding meaning and purpose – Navigating holidays – Coping with loss – Finding community without religion…and more.
The second edition of this secular parenting bestseller brings back reflections from such celebrated freethinkers as Richard Dawkins and Julia Sweeney, and adds new voices including journalist Wendy Thomas Russell, essayist Katherine Ozment, sociologist Phil Zuckerman, and many others. Wise, entertaining, and deeply supportive, the book will empower parents in their quest to raise ethical, compassionate, and open-minded children–without religion.