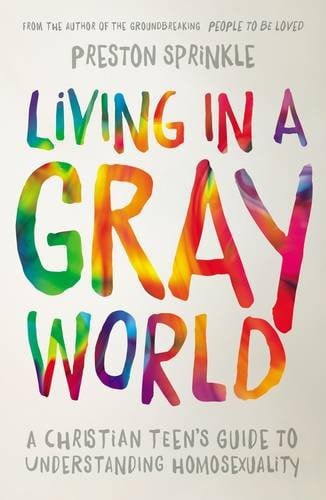 How to befriend and love someone who is gay…
In today's world, the topic of homosexuality seems to be part of everyday conversation in the media, in politics, and even inside churches, with pressure to accept one view or the other. And if you're a Christian teen, there seems to be few easy answers to the issues you regularly encounter, such as:
How can straight Christians be genuine friends with someone who is gay?
What if your sister is a lesbian, or you sometimes wonder if you might be as well?
Does the Bible really say homosexuality is wrong?
What does God want us to do and say?
Preston Sprinkle has encountered these same questions, and as a theologian and a college professor he has dealt with these issues firsthand. Through honest conversation, real-life examples, and biblical research, Sprinkle unpacks what we can know to be true, and how Scripture's overall message to us today allows us to move forward and find answers that align with God's intent.

Order Now, Get Free Bonus Content!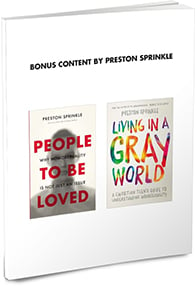 Includes must-read articles, a deep debate, and a 1-page "Fact or Fiction" cheat sheet on homosexuality in Bible times.
Order People to Be Loved or Living In a Gray World today and get FREE bonus content! Please email an image of your receipt from any retailer to preston.sprinkle@zondervan.com to get 20 pages of Preston Sprinkle's most insightful writings on homosexuality.
____________________________________________________________
Watch the Book Trailer
____________________________________________________________
What Others Are Saying
"I'm grateful for Preston's loving, biblical, and relevant treatment on such a controversial topic."
–FRANCIS CHAN, Author of Crazy Love
"This book is hands-down the best resource I've seen on this subject for Christian young people—biblical, grace-soaked and incredibly practical. So many Christian teens (and their parents!) are confused about, scared of, and yet immersed in a culture where formerly black and white lines about sexuality have blurred gray. But rather than fear, judge or ignore this shift, Preston guides us through Scripture to not only see God's best plan for sexuality but, perhaps even more importantly, reminds us that we're talking about individual people—people with unique stories—not just discussing an 'issue.' I cannot recommend this book more!"
–JESSIE MINASSIAN, Resident "Big Sis" at LifeLoveandGod.com, and Author of Crushed, Unashamed and Backwards Beauty
"This is the book I have been waiting for! Living in a Gray World approaches the issue of homosexuality biblically and yet with tremendous compassion and care. I wish every teen would read it."
–SEAN MCDOWELL, Professor at Biola University and the Author of Fifteen Books Including Ethix: Being Bold in a Whatever World
"Preston Sprinkle has given teenagers a light for the dark path of knowing how to think about homosexuality. He lovingly and winsomely explains what the Bible says about the LGTBQ community. This conversational style book is a needed and helpful resource for the church."
–ELYSE FITZPATRICK, Director of Women Helping Women Ministries
____________________________________________________________
About the Author
Dr. Preston Sprinkle (PhD, University of Aberdeen) serves as the Vice President for Eternity Bible College in Boise, ID. He previously taught at Cedarville University (Ohio) and Nottingham University (UK). Preston is author of several books including Paul and Judaism Revisited (IVP Academic, 2013), Fight (David C. Cook, 2013), Charis (David C. Cook, 2014), and the New York Times bestselling Erasing Hell (David C. Cook, 2011), which he co-authored with Francis Chan. He is most recently the author of People to Be Loved (Zondervan, 2015), which explores the topic of homosexuality from a Christian perspective.
____________________________________________________________
Watch More
Finding Balance

The Outcasts

The Church

Behind the Book

Leslie's Story

The Church and The State