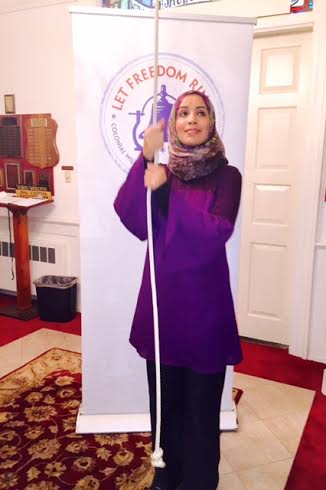 By Zainab Chaudry
Church bells call people to faith. They send people to do good in the world. Dr. Martin Luther King Jr., who prayed in our church, said that freedom rings. A silent bell represents the unfinished work of freedom and equality. – Rev. Reginald F. Davis, First Baptist Church, Williamsburg, Va.
Recently in February, I had the opportunity to travel 159 miles to Colonial Williamsburg to take part in the #LetFreedomRingChallenge at one of the oldest black churches in America.
>Founded in 1776 by black slaves and freed black men who yearned to congregate and worship in peace, the church is described as a symbol of the faith, struggle, and perseverance that marks the black experience in America.
As of Black History Month 2016, the church's bell, which had been silent for centuries, is silent no more. Church leaders partnered with local officials and invited leaders, activists and people from across the country to join them everyday throughout February to take part in the challenge and ring the freedom bell for a personal cause or purpose.
Words can't describe my emotions as I — an American Muslim activist guided by my Islamic faith that instructs me to work for justice and equality for all — stood in same space where civil rights icons Dr. Martin Luther King Jr. and Rosa Parks once worshipped, to ring the church bell that had remained silent for centuries. I rang the bell for justice for my Black brothers and sisters who,, decades after the civil rights movement, are still disproportionately subjected to racial profiling, discrimination, police brutality and extensive systemic injustices.
I rang it for religious freedom for my Muslim brothers and sisters (and those mistaken for us), who have been experiencing unprecedented hate crimes and bias attacks during the most islamophobic presidential election campaign in recent history.
I rang the bell for refugees desperately fleeing persecution from corrupt dictators and terrorist regimes, who have been barred safe haven and ruthlessly scapegoated by the same governments and groups who have contributed to their country's destabilization.
I rang the bell for freedom for Palestinians living courageously for decades under a brutal occupation, and for every man, woman and child who has ever sacrificed or lost their lives seeking freedom from oppressive forces who seek to conquer and destroy.
I rang the bell for the children of Flint who, through no fault of their own, have been unconscionably punished by an establishment that has systematically dehumanized them even before they were born — only because of the color of their mother's skin.
I rang the bell for our hometown of Baltimore, which has been increasingly plagued by corruption, crime, poverty and systemic issues, and which emerged from the deadliest year in its history with nearly 350 homicides in 2015.
I rang the bell for immigrants, like my own parents who arrived to America's shores years before my birth to seek better education and opportunities for their children. Immigrants who have sacrificed their entire lives to serve our nation and make it stronger and more robust, only to discover that Lady Liberty's torch has been extinguished and her shores no longer welcome them.
And — as polarizing headlines dominate the inexhaustible news cycle, pitting Americans against one another along racial and religious lines to sow suspicion, paranoia, and fear — I rang the bell for unity in our nation and throughout the world.
I pulled the cord, and willed the echoes of the bell's chiming to drive out the dark, divisive rhetoric designed to fuel tensions and perpetuate anger and hostility. All the while, keeping in mind Dr. King's  words: "We must learn to live together as brothers, or perish together as fools."
Stay in touch! Like Patheos Muslim on Facebook: