It's the most wonderful time of the year…Pantheacon season is almost upon us!
For those of you not familiar with it, Pantheacon is the largest indoor pagan festival in the country. Held every year over President's Day Weekend, upwards of 3000 people come from all over the world to San Jose, California to attend. There are over 200 presenters, a giant vendor room, hospitality suites, and much more. Check out the schedule of events here.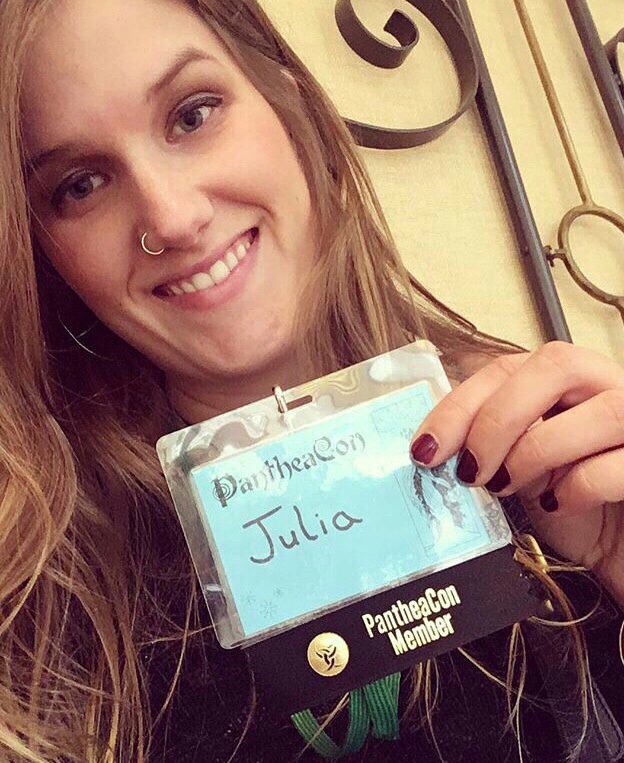 As one
Tripadvisor reviewer who unsuspectingly booked a room during the festival said
, Pantheacon "is a Witch/Warlock Pagan FEST…. I have never seen anything like it…seeing people walking around with dirks and daggers, scantilly dressed females" (I have to be honest, I laugh everytime I read this).
I thought I would write up a little survival guide for any first timers out there.
It can be overwhelming, to say the least. The first time I went I was a newbie witch and had no idea how to ground or shield myself. One of my friends found me walking aimlessly in the vendor room in a complete daze after just a few hours. I was totally stunned by how much active energy is just floating around! On top of this, the conference is huge! There are loads of workshops, several floors, and about a million things to do.
Logistics:
The parking situation can be really limited. Charges for all attendees and overnight guests is $10 with validation but the lots fill up quickly. There are lots of good public transportation options if you are flying in or staying somewhere else.
The conference is $80 for the whole weekend, $40 a day, $20 for an evening, or $25 for Monday. You can register online or onsite. The registration tables are located near the base of the grand staircase, around the left corner of the Sprigs Restaurant. Registration is open from 6pm-10pm on Thursday evening, 8am-11pm Fri-Sun, and 8am-1pm on Monday. Once you check in, you will be given a full program guide and a badge, which must be worn at all times.
If you are just now thinking about going, chances are the hotel is already fully booked. Every year when the rooms blocked out for the conference become available, they sell out within minutes. I was lucky enough to get one this year, if you are thinking about trying to get one next year, my tip is to call the Hilton line about 5 minutes prior to the bookings going live. That way you will already be on the line and as it takes a few minutes for the agents to get your details and dates, you will have a better chance of getting one. Just make sure to have your credit card, billing info, dates, and Pantheacon code (posted on the Pantheacon FB group and website) all ready to go!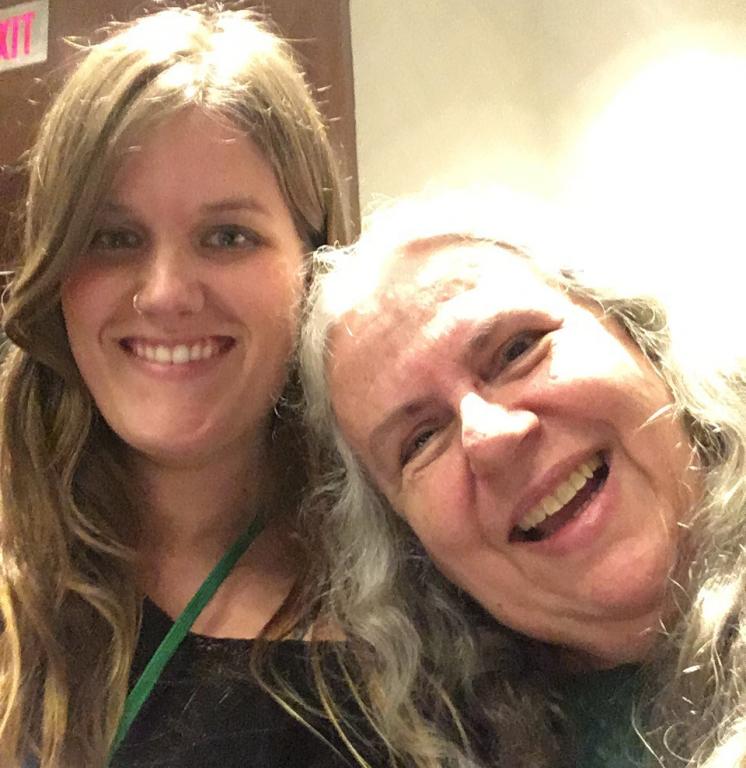 Do's and Don'ts
DO bring water and snacks. If you are going for the whole weekend and staying at the hotel, stop at a grocery store and pick some stuff up. Fruit, granola bars, crackers etc. There are two restaurants and a coffee stand on site but they aren't great (especially if you have food allergies, I'm celiac so I bring stuff). I highly recommend carrying a small snack and water with you as well while you're out and about. Especially after rituals, it is really good to munch on something to help ground out. And water, water, water! Hydration is key! The hospitality suites always have food as well, so if you're really starving go check one of those out.
DO go to the hospitality suites. These are large suites hosted by groups (such as Coru Cathubodua, ADF, and Church of All Worlds), where members are around to chat, host presentations, and even (like the case with Coru) have dedicated temple space. This is probably my favorite thing about Pantheacon. Getting the opportunity to meet people of different backgrounds and see what they're all about. Llewellyn, Weiser, and some other companies usually have suites as well which often have giveaways so that's definitely worth checking out too. The Pantheacon website will post the suites and room numbers sometime in January so be sure to check that for more info.

The banner outside of Coru Cathubodua's hospitality suite.

DO go to the parties on Friday, Saturday, and Sunday night! They are SO much fun. Even if you don't know anyone, go! Everyone is really friendly, accepting, and welcoming and I am sure you will fit in right away.* The Feri hospitality suite usually hosts a kickass party on Saturday night in full faerie style, you don't want to miss it!
DO NOT get totally wasted or high. If this is your first time attending, it could be tempting to drink a little too much to try and take the edge of. DON'T do it! There is already loads of high energy, psychic people wandering around and you don't want to be energetically overwhelmed and intoxicated at the same time. Talk about a bad hangover! I have always found the hotel to be completely safe, have never been sexually harassed or anything, but I think it's just always better to be on the safe side and to keep my wits about me. I advise you to do the same.

DO go to the rituals. I have attended some amazing rituals at Pantheacon. I've seen Starhawk, Christopher Penczak, and Selena Fox just to name a few. Having the opportunity to meet and ritual with some of our most well known authors and leaders within the pagan community is a chance not to be missed. And don't hesitate to ask for a selfie 😉


Christopher Penczak and I at the ritual led by Temple of Witchcraft.

DO check out the vendor room! And bring cash! There are so many amazing wares here. From sage bundles, to crystals, jewelry, clothing, art work, you name it. Anything you could ever want as a pagan is here! (One of my favorite booths every year is Opal Moon Designs.) I usually check it out once on the first day and then head back on Sunday or Monday to make any purchases, unless it's a one of a kind! In which case, grab it while you can.
DON'T hesitate to ask for help. If you are lost, confused, or sick- find one of the convention volunteers. They are there to help. The official PantheaCon Meet-n-Greet Room is located in room 954 and is open 23 hours a day once the convention starts. There is food, drinks, and staff members here as well.

DO wear whatever is comfortable for you! People dress from highly costumed to jeans and a t-shirt. Nobody judges either way. Just make sure you are comfortable in whatever you are wearing, keep in mind that there is a lot of walking, sitting, and sometimes dancing. So the only thing I make sure of is to wear shoes I can walk around in all day.
DO collect badge ribbons! Everyone at the con seems to have these. Vendors, individuals, rituals, groups, and hospo suites all them. Don't hesitate to ask for one! I usually end up with a trail down to the floor! *(And this year I'm making my own! So if you're going, make sure to keep an eye out for me and you can have your very own 'the wandering witch' ribbon! yas!)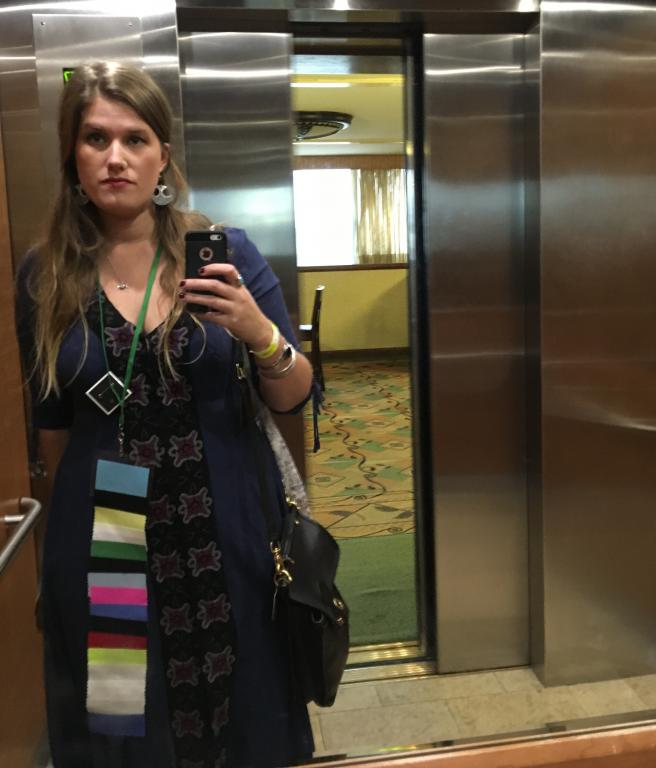 If any other Pantheacon attendee's have anything helpful to add, feel free to comment below! Hope to see you all there!!